Fri., March 4, 2016
Despite changes, the Spokane River and the Bs just keep rolling along
A GRIP ON SPORTS • The weather is warming up and basketball season is winding down. It's a nice combination, especially with the B tournaments at the Arena. Read on.
••••••••••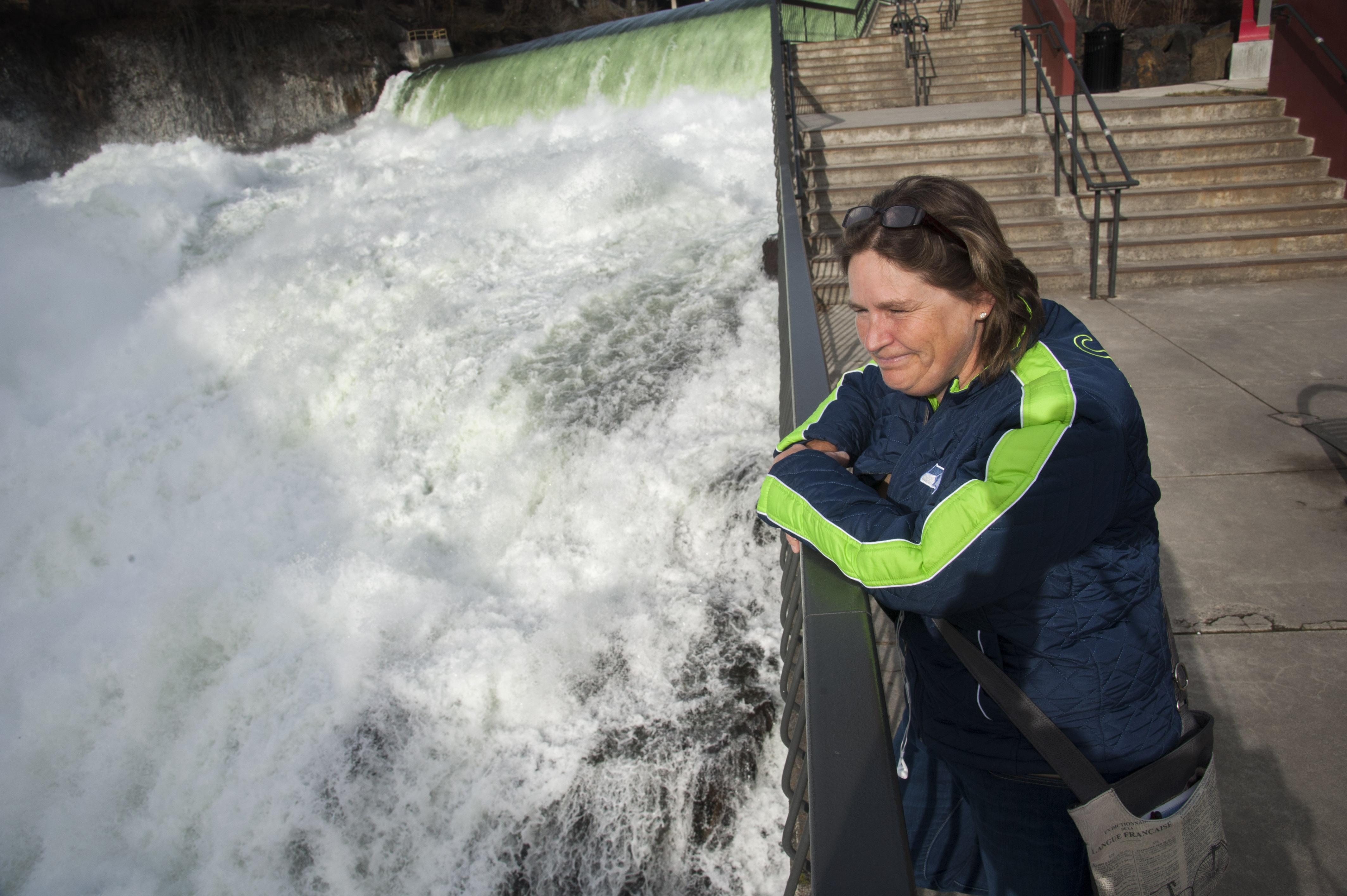 • Like Carmen Sandiego – that's still a thing, right? – I was on assignment yesterday. I covered 2B boys basketball over at the Spokane Veterans Arena. I got there early. And not necessarily to watch more games. I wanted to take a long walk through Riverfront Park. It wasn't as warm as it will be today – a high of almost my age is predicted for this fine Friday – but it was warm enough to enjoy our city's best attribute. Yes, I said it. The river that runs through us, and the park that allows us to enjoy it, is our finest attribute. OK, don't yell at me. I know Jess Walter and Mark Few are important too, but the river, wow. It's almost as if it has a personality of its own this time of year. Like a big, strong basketball team that rolls over everyone in its path. We also see those this time of the year, every year it seems, just a few steps up from the river's north bank. This year it is Brewster, the undefeated, top-ranked 2B boys team. Big, fast, skilled, the Bears take old-timers back to the 1970s, when the apple capital of the state was also the basketball capital. When the best Seattle had to offer wasn't any better than what Central Washington presented. But winning the gold ball is what matters this week. Morton-White Pass had won the last two, and was undefeated in 56 consecutive games while doing it. (The Timberwolves winning streak reached 61 until it was stopped late in December with a home loss to, yes, Brewster.) But MWP couldn't make it three in a row, mainly because the Timberwolves weren't sharp at the free throw line in the fourth quarter. How does 2 of 8 sound? Not good. Especially when your opponent, Northwest Christian, is hitting its final nine. But you have to wonder. With the Bears' 89-47 blowout of St. George's last night, can anyone plug up the inexorable flow of Brewster to another B title? Tonight the Crusaders have their chance. Brewster's Bears have five B tournament gold balls on their resume, though none since 1985. Northwest Christian has seven, the first of which came in 1989 – NWC was the first private school to win the title – and has finished second another time. The Crusaders won four consecutive titles from 2006 to 2009 while Brewster won three in a row in the 70s, going 27-0 each season. They are the only schools to win more than back-to-back titles. Which makes tonight's matchup akin to the Spokane River: something you shouldn't miss this time of year.
• By the way, recently in this space I wrote about Jamie Weisner, the Pac-12 women's player of the year, and her Spokane roots. In one of those typical small world items, when Brewster won back-to-back B titles in 1984 and 1985, the Bears' coach was her father, Darcy, now a education administrator in the Tri-Cities. Of course, that was long before Jamie was around.
•••
• WSU: It's been a frustrating basketball season in Pullman, with the women having a bit more success than the men. But yesterday in Seattle, the Cougar women ended their season with another close loss, this one 77-73 to USC. Jacob Thorpe was there and has this game story. ... The baseball team held its home opener and didn't score, losing 8-0 to Utah Valley. ... In Pac-12 men's basketball play, Arizona held off California at home and Arizona State handled Stanford in Tempe.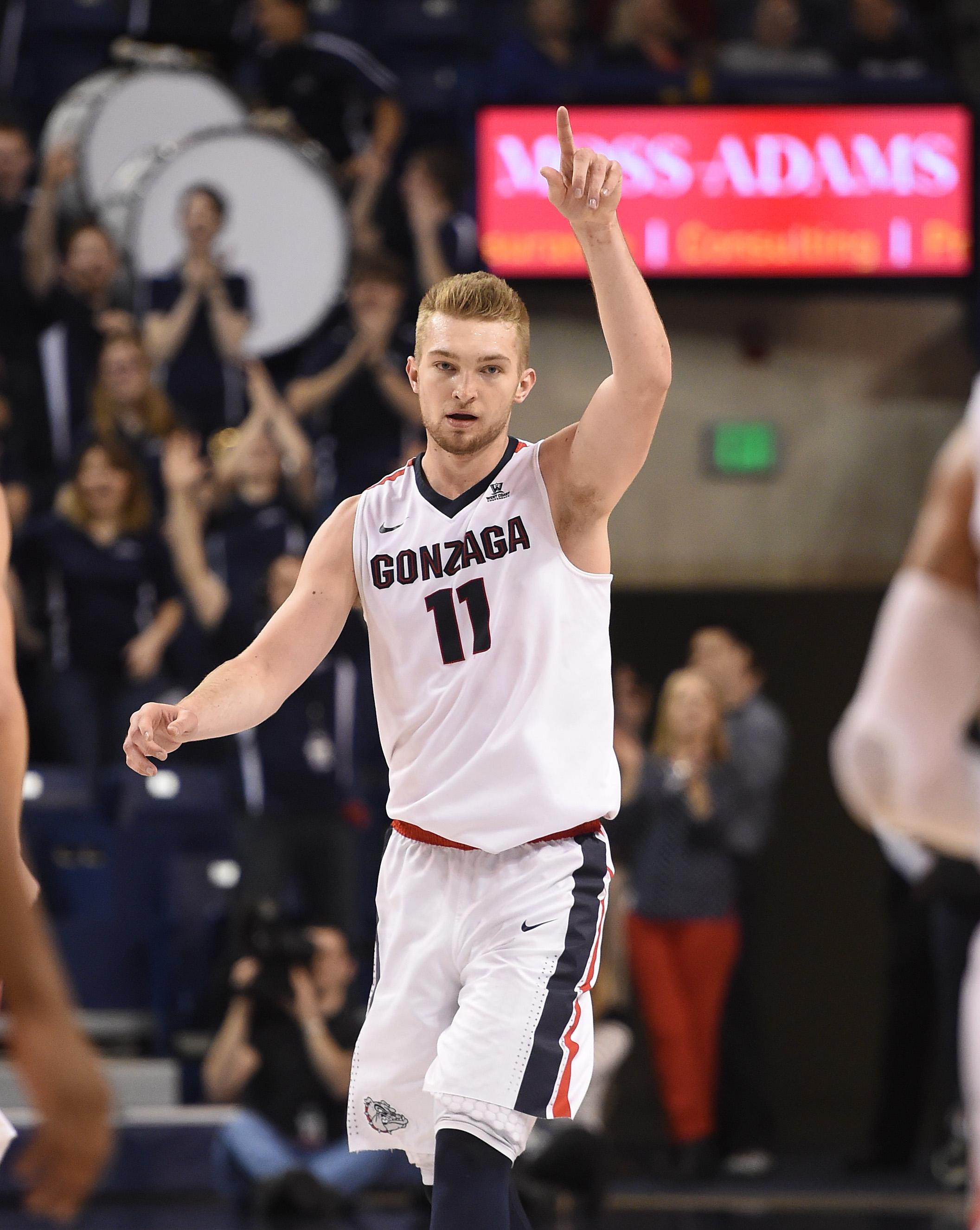 • Gonzaga: Speaking of frustrating, the GU women have endured the most frustrating season in the past decade. It ended – barring a NWIT berth – last night in Las Vegas with a 59-58 loss to Santa Clara. Jim Meehan was in Vegas – you could see him at midcourt on the fuzzy BYUTV broadcast with, I think, John Blanchette sitting to his right – and he has this game story. Gonzaga draws so well at home I would expect it to host a first-round WNIT game in 10 days or so. ... Jim also has this don't-miss feature on Domantas Sabonis in advance of the men's WCC tournament. ... Everyone, including BYU, knows they have to win the tournament to be assured of an NCAA berth.
• EWU: As losses go, last night's was pretty big, despite Venky Jois becoming Eastern's all-time leading scorer. The 75-71 home defeat to Idaho State ensures the Eagles will have to win four games in four nights to win the Big Sky tournament. Jim Allen has the game story and a morning-after post. ... Around the Big Sky last night, Montana pulled back into a first-place tie with Weber State following a 71-46 rout of North Dakota. ... Portland State earned a win over Northern Arizona and Montana State got past Northern Colorado.
• Idaho: As big as Eastern's loss was, Idaho's win over league-leading Weber State was just as important in the opposite way. The Vandals will now have a first-round bye in the tournament. Josh Wright has the game story of the 62-58 win. ... The Vandal football schedule for the fall has been finalized. Sean Kramer has more in this blog post.
• CCS: The men and women basketball teams will host playoff games this weekend. Jim Allen has an advance.
• Chiefs: The WHL season is winding down, so the games are growing in importance. If Tri-City wants to catch the Chiefs for the final playoff spot, the Americans need a strong late push.
• Preps: There were a lot of games yesterday, so we'll try to keep this as simple as possible: Greg Lee was in Tacoma where he covered the 4A boys – Gonzaga Prep won, Central Valley and Lewis and Clark did not – as well as the 4A girls – undefeated Central Valley won while Lewis and Clark lost in overtime – and the 3A girls – Mt. Spokane lost. ... We have a story on the 2A tournament as well as the 1A competition. ... From the Arena, I wrote the top 2B boys game and we can pass along a 2B girls, 1B boys and 1B girls stories as well. ... Also from the Arena, Colin Mulvany and Dan Pelle supply this in-depth photo report. ... Idaho's state boys basketball tournament is in progress and we have this roundup.
• Seahawks: The free agent countdown from the Times really got rolling with No. 9, No. 8, No. 7 and No. 6. And, oh yes, No. 5, Jermaine Kearse, who probably won't be back.
• Mariners: The M's won again, this time 6-5 over San Diego with the reserves coming up big. ... Nathan Karns isn't going to talk about himself. ... Franklin Gutierrez sees talking as a good thing.
•••
• Seriously, the river was impressive yesterday. The roar, the visuals, the overwhelming sense of power, it all left me speechless. Or maybe it was the fact I went up the hill too fast. Either way, I was not talking much. A good thing, really, as I was alone. Though talking to oneself never seems out of place in downtown Spokane. Until later ...
---
---