Tue., March 8, 2016
No matter who is playing, a great college basketball game is a great college basketball game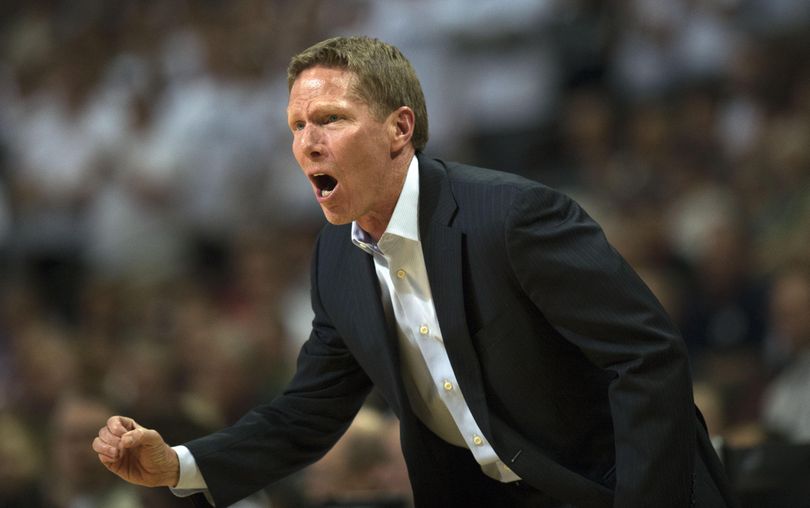 A GRIP ON SPORTS • No matter if you are a Gonzaga fan – and many of your are – or not – and many of you wearing crimson or purple aren't – you have to admit last night's WCC semifinal with BYU was a great college basketball game. Read on.
••••••••••
• Gonzaga's success – 17 consecutive NCAA tournaments, 19 (now) consecutive WCC tournament championship games – has bred some, well, let's call it envy, which sounds nicer, in this area. That's to be expected, even if it does seem everyone should be above that sort of thing. But if you enjoy college basketball, as I know many of you do, then last night's game was worth the price of admission. That is, your time. BYU and Gonzaga aren't really rivals, though the Cougars love winning in Spokane, where some of the GU students are tone-deaf enough to dress up as LDS missionaries, mocking another religious school's faith. Gonzaga's real rival awaits in tonight's final, but, as secondary rivals go, BYU will do just fine. The Cougars are the WCC's version of mercenaries, joining the conference only because the school wanted out of the Mountain West and the conference's secondary football status. BYU was chasing Power 5 prominence in football – something its football rival, Utah, found in the Pac-12 – and never grabbed the brass ring. It's no secret the Cougars would rather be playing all their sports in the Big 12 or Pac-12 but that isn't happening. So, this week at least, the WCC tournament will have to do. Funny thing, though. Brigham Young University may see itself as a Power 5 school, but its basketball results in the WCC haven't lived up to it. You would think a it would have won a WCC tournament title by now if that status was true, wouldn't you? That hasn't happened, not for want of trying. Last night it was the bruised Zags in the way. Heck, GU only had a handful or so more basketball scholarship players available than Whitworth, and still found a way to win. By the way, how many of you folks had Domantas Sabonis as the key defensive player before the game? You know, the guy who matched up with BYU's engineer, Kyle Collinsworth, and derailed him down the stretch. Not me. But Mark Few did. And it worked. The move wasn't the only reason Gonzaga won of course. Kyle Wiltjer had his usual big hand in it. So did all the guards, who threw in 3-pointers in from all over in the first half and tightened up defensively in the second. And Sabonis did all his other usual stuff too, like grabbing more rebounds than anyone else on the court. Add it up and Gonzaga kept its NCAA tournament hopes alive, BYU will get ready for an NIT game and us fans came up winners.
• Want to know another reason why the game was so much fun to watch? The officials did a great job keeping control of the action without being obtrusive. A big part of that is because the West Coast's best official was on the game, namely Dick Cartmell from Richland. He, Randy McCall and – it pains me to write this because I'm not a fan – Verne Harris made mistakes, sure (the missed offensive goaltending call at the end of the first half really stands out), but for the most part let the players play while still blowing enough whistles to keep the game from become too physical. There was a flow to the contest that made it enjoyable to watch. The western conferences – Pac-12, Mountain West, Big West, WCC – have reached beyond their borders recently in an attempt to upgrade the officiating. They've raised their per-game payments to attract the better officials to their games. And they've instituted more evaluation, training and education. All laudable. But there is one move that assures a well-officiated game: Put Cartmell on it.
•••
• WSU: The Pac-12 announced it basketball awards yesterday and once again Josh Hawkinson was an honorable mention selection. Jacob Thorpe has more in this blog post and story. ... If you were wondering why David Yost didn't talk to the media while he was in Pullman, this story from Eugene, where Yost is talking, explains it. ... Another person's view of the Pac-12 awards.
• Gonzaga: The late start didn't stop John Blanchette from coming up with a great read in this column. Or Jim Meehan from putting together this commendable game story. Or Colin Mulvany from catching all the images. ... There's more coverage, of course. Everyone wants to cover games in Las Vegas. We can pass along game stories from the Seattle Times, Tacoma News Tribune and the Salt Lake City-area newspapers. And coverage from Las Vegas. There are also columns about BYU and its failed quest for an NCAA berth. .... Saint Mary's defeated Pepperdine in the other semifinal to set up tonight's championship game. ... The WCC's contract with the Orleans Arena is running out and no extension has been signed. ... Santa Clara fired coach Kerry Keating yesterday after nine years at the helm. Speculation immediately centered round former Bronco guard Steve Nash, who just got engaged, so I can't see it. How about Gonzaga assistant Tommy Lloyd? Would another WCC school make that move again after Bill Grier's tenure in San Diego wasn't all that successful? Guess we will see.
• EWU: Up U.S. Highway 95 in Reno, the Big Sky schools are preparing for their tournament. Jim Allen is in Nevada and has this advance on Eastern's opener with Northern Arizona. ... Jim also has this feature on Venky Jois, named to the Big Sky first-team again Monday. ... The only other advance we could find for the tournament was about Southern Utah.
• Chiefs: Everett is back in the playoffs again.
• NIC: The Cardinals were given the No. 5 seed at the national tournament.
• Seahawks: So there was money available. For the right guy. And the Hawks decided defensive tackle Ahtyba Rubin was the first right guy. ... Free agency is going to interesting, isn't it? ... Russell Okung is No. 1 in this countdown. ... Ricardo Lockette opened up yesterday about his injury and how bad it was.
• Mariners: The M's lost again yesterday, mainly because former Mariners had a good day. ... The roster is reshuffled, the rotation has some new faces and everyone may be a bit uncomfortable.
• Sounders: Brad Evans is having his injured shoulder looked at.
•••
• If you peruse the Gonzaga box score you'll see almost everyone played a lot of minutes. I wonder if that will have an effect tonight. Until later ...
---
---