Thu., March 10, 2016
As it comes to an end, it's time to shed some light on Washington State's basketball season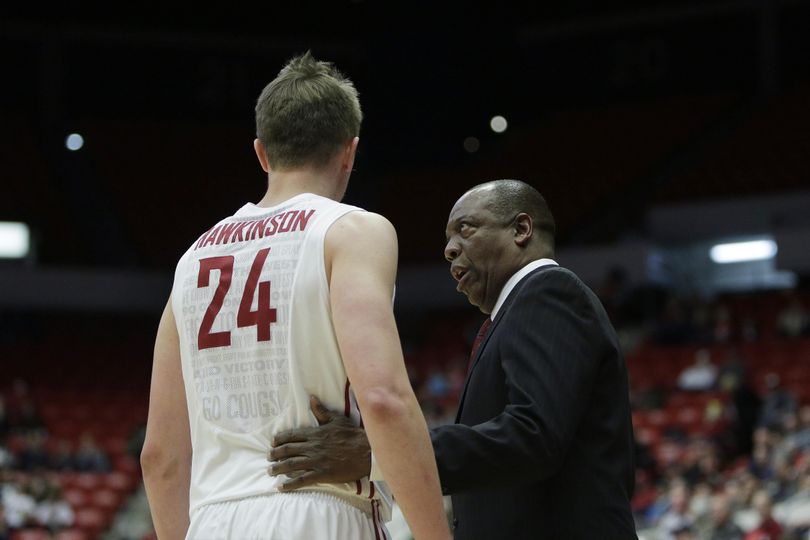 A GRIP ON SPORTS • Do you remember the last time Washington State won a Pac-12 (actually, Pac-10) basketball tournament game? Or the last time the Cougars lost at least 17 consecutive games? If you do recall those moments of yin-yang in the program, then you are probably shaking your head today. Read on.
••••••••••
• There seems to be only darkness in the Washington State University basketball program right now and that's too bad. It wasn't all that long ago the Cougars were rolling, with back-to-back NCAA appearances, consecutive 26-win seasons and all the brightness possible. Then Tony Bennett left for Virginia and Pullman's basketball world has never been the same. Ken Bone oversaw the inexorable slide toward mediocrity, replaced after four years by Ernie Kent, the former Oregon coach with a track record of success. Kent and the Cougars had some success last year but in this, his second season, WSU slid to spots unseen since even before Paul Graham made the Cougars the butt of Pac-10 jokes. Did you know Washington State went the entire calendar year of 1990 without winning a conference basketball game? And the coach then was a guy who actually won 20 games twice in Pullman, Kelvin Sampson? It was 1990 when the Cougars last lost 17 consecutive games – it was 18 actually, that year, including a non-conference loss to Tennessee, 16 consecutive Pac-10 regular season games and a 17-point loss to USC in the conference tournament. And that streak might not even have been the worst stretch of basketball played in the Palouse in the not-so-distant past. For that we have to delve into the Paul Graham years, four less-than-stellar seasons wrapped around the turn of the century. Graham's teams lost at least a dozen consecutive games in three of his four seasons, a record of ineptitude unrivaled in the program's modern history. But that's in the past, right? So what about today? The Cougars end the season saddled with a 17-game losing streak. Of those 17 losses, only four were by less than double digits. Five were by 20 or more points. In other words, the Cougars were not competitive in almost all of them. Which has fans wondering, where is the program headed? I'm sorry to say "up" isn't the word I would use. Look, Ernie Kent is a good coach, and a successful one in his previous stops, Saint Mary's and Oregon. But Pullman isn't Eugene – or even Moraga. Washington State is a special beast and demands out-of-the-box thinking. Don't take my word for it. That was Dick Bennett's opinion. Whenever Dick was in Pullman during Tony's tenure, I would spend as much time as possible sitting in the stands at practice, talking with the veteran coach, the guy who turned the program around and then turned it over to his son. He was adamant that WSU demanded a different take on basketball to be successful. He felt you can't try to recruit the same guys UCLA, Arizona and, yes, Washington is recruiting and win. If you did, Dick said, you wouldn't get the best. They would. And they would beat you. Dick didn't feel anyone would be successful at WSU trying to out-run teams. It was impossible to attract enough players to the school to play that way successfully. You had to attract kids who wanted to play a different game. Ones who were not afraid to play a tough, physical, grinding type of basketball. That was Dick's recipe. And Tony cooked with it. But since Tony left, Washington State has recruited differently. Oh, there have been the occasional Bennett-like player, but these days the Cougars are looking for speed and athleticism. That doesn't mean those kids can't also be tough, can't also be physical, can't also grind out wins. The problem is there just aren't a lot of those guys around. And most of them, sorry Cougar fans, are going to attend USC, California, Oregon and, yes, Washington these days. Not to mention Arizona and UCLA, just to keep it in the conference. The better players who like to play that way don't have Washington State on their radar, not even with a guy like Kent, highly respected for his basketball acumen, at the helm. You want to win in Pullman? You need to have a, for lack of better word, shtick. Like Dick Bennett did. Like Mike Leach does. Say what you will about those two, they recognized there is more than one way to win at their sport. Leach attracts players that fit his program. Players that other coaches see as so-so become oh-so-special in Leach's world. You think Leach is going to win many recruiting battles with USC and Oregon? Nope. But he finds guys who fit his system and beats those schools. It's what the Bennetts did in basketball. It's what WSU basketball has gotten away from in the ensuing years. Look, Ernie Kent is a good college basketball coach. He knows the game inside and out. He has enthusiasm, energy and passion. If anyone can recruit successfully to Pullman, it's him. But history tells us that those attributes won't be enough. There is a large chasm right now between the Cougars and the Pac-12 elite. It's a divide that won't be easy to bridge. It's not a next-year type of thing. It's a long-term project. And one has to wonder if Washington State has the right blueprint.
•••
• WSU: The 9-22 season came to a close last night in Las Vegas, with an 80-56 blowout loss to Colorado. Jacob Thorpe was there and has this game story as well as interviews with some players and with Kent. Some of the questions, and answers, were quite interesting. ... There are other angles on the game from places as varied as Seattle and Denver. ... Only one of the first-round games yesterday was close and that wasn't USC's win over UCLA. The Trojans won all three meetings with their cross-town rivals this year and that's led to some hand-wringing. ... Trying to watch the games in high-definition? Good luck with that. ... A couple of guys with Pullman connections are helping with a new post-season tournament in Las Vegas. ... Hey, the football team seems to be in good shape. As is Dom Williams.
• Gonzaga: Jim Meehan is back with a notebook wrapping up the Zags' stint in Vegas. ... Rex Walters is out at USF – if you are keeping score, that is two WCC coaching openings – and the Chronicle has a look at who might be on the Dons' list. One is a local head coach. ... The baseball team upset another ranked opponent.
• EWU: The Eastern women opened the Big Sky tournament by outscoring Sacramento State, 100-97. Jim Allen has the game story. ... Southern Utah will be looking for a new head basketball coach. ... Weber State opens its quest for a tournament title against Portland State.
• Idaho: The Vandals' search for an NCAA berth runs through Eastern tonight. Sean Kramer has an advance of the game. ... The UI women also won last night on an amazing last-second shot. Sean has that game story.
• Chiefs: Spokane had a great chance to open a bit of distance in the playoff race but instead lost 3-2 at home to Kamloops. Tom Clouse has the story.
• Skating: Tom also has a story on Team Asia for the upcoming Team Challenge Cup.
• Seahawks: Free agency opened in the NFL yesterday and the Hawks were hit hard early. Brandon Mebane. J.R. Sweezy. Bruce Irvin. But Seattle rallied and will re-sign Jeremy Lane, keeping its best position group, the secondary, together. ... It seems the team is also making a big push to keep Russell Okung. ... Matt Hasselbeck has retired and the Hawks, rightly, will probably make a big deal of him.
• Mariners: The M's won a game yesterday but Danny Hultzen wasn't around. He's injured again and resting his left arm. There are other relief pitchers also dealing with injuries but one veteran has made an impression. ... Felix is about ready to begin game work. ... Who will be the backup first baseman?
• Sounders: Seattle has an opening for a designated player, a top-flight guy who makes more money than most. ... Brad Evans is hurt and won't play this weekend. ... Portland has a young core that should ensure long-term success.
•••
• If you are a Cougar basketball fan, there is this hope: College basketball is a year-to-year sport. More than most. One player can improve mightily and raise the level of his teammates. One recruit can make a huge difference. One win can have a momentous effect. It's happened in other places. It could happen in Pullman. Until later ...
---
---