Fri., March 11, 2016
Idaho has a chance to do something it hasn't done much over the years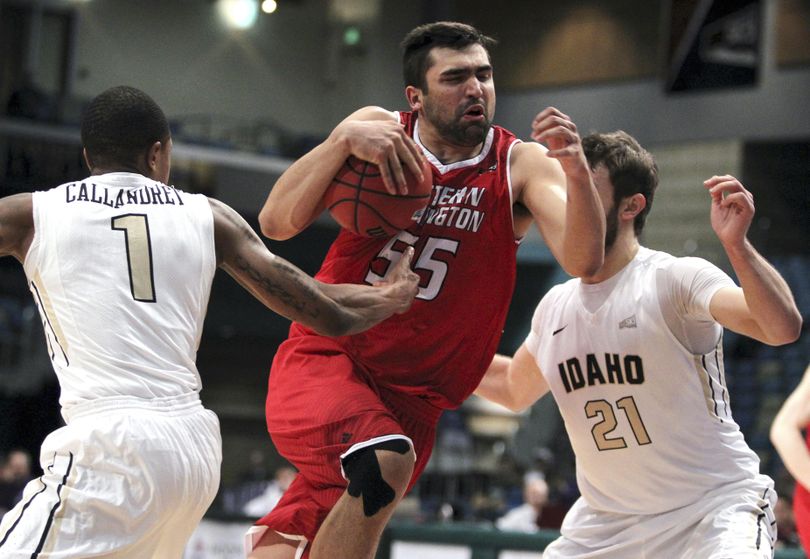 A GRIP ON SPORTS • Last season there were two local basketball programs in the NCAA tournament. Eastern Washington joined Gonzaga and came this close to upsetting Georgetown. This season there could be two again, though the second one is a bit farther down the road. Read on.
••••••••••
• It's been a while since Idaho has won 21 games in a basketball season (and it's only won that many or more five times in more than 100 years of playing), but that's what the Vandals have done this year after last night's 77-73 win over Eastern. That win, coming as it did in the Big Sky tournament quarterfinals in Reno, didn't end the Eagles' season (more on that in a second) but it did keep UI's hope of an NCAA tournament berth alive. Wouldn't that be something? Last year, EWU captured the Big Sky tournament title – on Montana's home floor no less – and headed to the NCAAs for the first time in years. This year Idaho has a chance to turn the same trick, giving Moscow a taste of the big time for the first time since, well, since I can't remember when. (I can, it was 1990, but it was hard to dig out of my memory.) The Vandals haven't been to the biggest dance all that often – four times – with respected coaches like Tim Floyd and Larry Eustachy – respected for their basketball abilities, not necessarily their off-court antics – unable to get them there. But Don Verlin is two wins away from doing something only Don Monson and Kermit Davis were able to do. Can he? Why the heck not. The Vandals play good defense – the utilize Dick Bennett's Pack, something that was all the vogue in the Palouse a decade ago – and they have experienced guards, a crucial element for March success. Tonight the bullies of the Big Sky, Montana, stand in the way and, if UI passes that test, then Weber State will probably await in the tournament final. It's not an easy road. But it never is in Moscow, especially not now, with the athletic program's flagship sport, football, facing a convoluted future. If the basketball program can win the next couple games and enjoy a sparkling moment in the spotlight next week, maybe that will turn on the lights around Idaho's administrators. Being in the Big Sky, having a chance to compete in the postseason, it's where the Vandals belong. In all sports. It's not a step backward, it's a step forward. It's not a step down, it's a step up – onto a platform where the brass ring is located.
• Back to the Eagles. Coach Jim Hayford said yesterday Eastern (17-15) isn't done playing this season. The Eagles will appear in one of the postseason tournaments. Which is good for a few reasons. One is Venky Jois, the Eagles all-time leading scorer, will get to play another game in an EWU uniform. Jois, from Australia, is the engine that powered the Eagles' run of success under Hayford. He bought into what Hayford was doing and made the long trek from Australia to the backwoods of the Inland Northwest. His presence helped immensely in recruiting, not only his home country but elsewhere in the world and the U.S. But that's not the only reason it would be good to have EWU continue on. A tournament berth would mark the first time since 2003-2004 Eastern has appeared in the postseason in back-to-back years. That's significant, though it could be a bit ominous for Eastern fans. After Ray Giacoletti led the Eagles to those back-to-back appearances, he left, taking the job at Utah. And Hayford? His name was mentioned in a San Francisco Chronicle article this week in regards to the open USF position. Would that be a step up? I'd argue it isn't. The pay may be better, but San Francisco is expensive – really expensive. The history is ... ah heck, USF's history includes a couple national titles, so that's not an argument. Its history is much better. But the basketball today? Eastern is a better program right now, thanks to Hayford, sure, but also because it has a better chance of getting into the NCAA tournament. USF has to get through Gonzaga, Saint Mary's, BYU and Pepperdine in what's usually a one- or two-bid league. Yes, EWU has to win the Big Sky tournament title to get in, but even that seems easier than what the Dons have to accomplish. Hayford will continue to be wooed, and not just by USF. He's done a good job building Eastern into a program that wins every year – and doing the same with Whitworth before that. He's going to get offers – he received at least one after last season – and sooner or later he may be presented with one he can't refuse.
•••
• WSU: We wrote about the state of Washington State's basketball program yesterday, a sort of will-this-work piece. It's all just an exercise, really, because Ernie Kent is the coach – as we said, a good coach who has tasted success before – and will be the coach as long as Bill Moos is the athletic director. Fine. Continuity can be a good thing. But where do the Cougars go next season – and beyond? Jacob Thorpe examines that in this piece appearing in today's paper. It's worth reading. ... The Pac-12 tournament continued yesterday with California defeating Oregon State, Utah holding off USC, Arizona almost blowing a big lead against Colorado and Oregon getting past Washington, who will miss the NCAA tournament again. ... The Pac-12 may be looking for a new arena in Las Vegas. And Stanford, will it be looking for a new coach? ... The Cougar baseball team isn't doing well at all.
• EWU: Jim Allen was busy yesterday, not only covering the men's game but also putting together a preview of tonight's women's game between Eastern and Idaho as well as a look back at their Wednesday wins. ... Montana's men, as well as Weber State and North Dakota, won.
• Idaho: Sean put together a notebook about the Vandals' win and the matchup with Montana.
• Chiefs: Both Everett and Tri-City have players who have exceeded expectations this season.
• Preps: Longtime Ferris boys basketball coach Don Van Lierop resigned last week. Greg Lee has more in this story. ... A Western Washington basketball coach with Central Valley ties, Chuck Randall, died recently. Tom Clouse has his obituary.
• Seahawks: Remember when Jermaine Kearse seemed destined to leave the Hawks? Well, the local product decided to stay, agreeing to a three-year deal with the team. ... The Jeremy Lane deal could be just that, a deal. ... Lane was part of the 2012 draft class, which just got rich. ... Pete Carroll has a plan and it's still working. ... Is Russell Okung headed out the door? ... Nate Robinson wants to play in the NFL now.
• Mariners: The M's rallied and won, but that's not the big news. Danny Hultzen is struggling with his arm again. ... Wade Miley is rounding into shape. ... This is a heartwarming tale.
•••
• I would hate to see Hayford leave the area. He's good for basketball in Spokane, a guy who is willing to be part of the community. We need more of those folks, not fewer. Until later ...
---
---