Sat., March 12, 2016
Someday every college basketball fan west of the Rockies should march to Las Vegas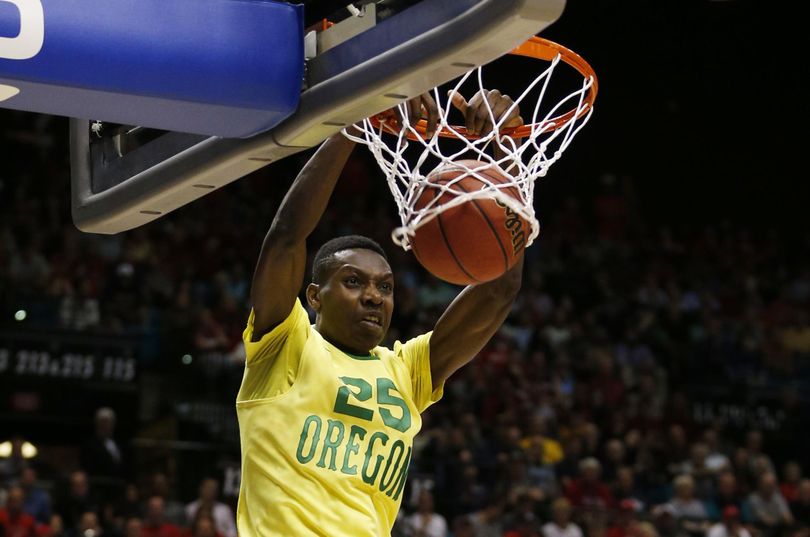 A GRIP ON SPORTS • Got an email this morning. That's not unusual. Like everyone, emails arrive in my inbox by the hundreds. This one was a bit different, though. It offered me a chance to win a trip to Las Vegas. Why didn't it come a couple weeks ago? Read on.
••••••••••
• If you love college basketball, the first full week of March is probably the best time of the year to make a trip to Sin City. Think about what you would have seen. The WCC men's and women's tournaments. The Mountain West men. The WAC's. The Pac-12's. Almost every basketball conference in the West heads there for a week of basketball overload. (The Big Sky moved to the all-in-one-place format this year and chose Reno, or Las Vegas north, for its tournament, which is fine. It has that city all to itself. The Big West plays in Anaheim, home of Disneyland and my most recent disappointment, UC Irvine losing last night to Long Beach State.) If you want to watch more games than your mind can process – or your behind can survive – than Vegas is the place to be. I've never done it myself, but it's on my bucket list. But there has to be someone out there who has spent the entire week in the desert, soaking up basketball and whacking a little white ball around in the off hours. Eating, drinking (diet Coke for me, please) and, well, you know what people do in Vegas. The basketball part? It sound just about perfect to me. Everything else would just be added value, including playing that one golf course that has all the great holes from each of the famed British Isles layouts. Just think, the best of Scotland without the rain or wind or fog or some guy with a weird accent telling you how badly you play. That last part? That usually happens to me at the blackjack table.
•••
• WSU: As the Pac-12 tournament semifinals were going on in Las Vegas, the Cougars announced two basketball players were leaving the program. Jacob Thorpe has the particulars in this story. ... Speaking of those semifinals, it was all about the extra time. Both Oregon, which got past preseason favorite Arizona, and Utah, which dispatched California and its one-and-done freshmen, had to got to overtime to get it done. ... The Pac-12 tournament will stay in Las Vegas, just not at the MGM Grand Arena. ... Larry Scott is proud of his conference, and the job he's done. ... The Cougar baseball team rallied for a win. ... ESPN.com's Pac-12 blog puts together a basketball team made up of the conference's football players. Luke Falk is the point guard.
• Gonzaga: The men are eager to find out their NCAA destination so they can make plans.
• EWU: The women led at halftime, but Idaho stormed back and took the Big Sky semifinal victory. Jim Allen has the story and video. ... Jim also looked back at the men's loss to Idaho in the quarters as well as looking forward to the Eagles' postseason chances.
• Idaho: Montana had little trouble finding open looks and, more importantly, knocking them down, as the Griz moved back into the Big Sky finals with a win over Idaho. Jim Allen was in Reno and has this story. He also has video from after the game. ... Weber State also earned a finals spot with an overtime win against North Dakota. ... The conference is embracing its time in Reno, something that is being returned. Jim has more in this blog post from yesterday.
• Chiefs: Spokane needed a home win against Tri-City to put some distance between itself and the Americans in the standings. The Chiefs won and won handily, 6-1. Tom Clouse has the story and Colin Mulvany has a photo report from the Arena. ... Everett lost to Seattle, 1-0.
• Empire: After a slow start to the season, Spokane is ready to get back to playing. Jim Meehan has an advance of tonight's game in Billings. ... Tri-Cities fell to Cedar Rapids last night at home.
• Seahawks: The big news from Seattle yesterday was Russell Wilson's engagement and the ring he bought his bride-to-be. ... Actually, the big news is offensive lineman Alvin Bailey decided to leave town. ... Or was it punter Jon Ryan decided not to? ... The Hawks will have nine draft picks this year.
• Mariners: Hisashi Iwakuma has thrown really well this spring and that's good news for the M's. So is the fact they held on for a 5-4 win yesterday. ... The thawing of relations between the U.S. and Cuba is good news for ballplayers who left that island nation.
• Sounders: Both Seattle and Real Salt Lake will be looking for their first MLS win of the season when they meet today in Utah. ... Who is the best team in the MLS right now?
•••
• Now if the Big West would move its tournament to Las Vegas, I would be all in. After all, when UCI blows its NCAA chances, as its done annually every year except 2015, I could be there to shed my tears in person. Until later ...
---
---