Wed., March 16, 2016
Before the basketball games we want to watch, we have to endure the waiting game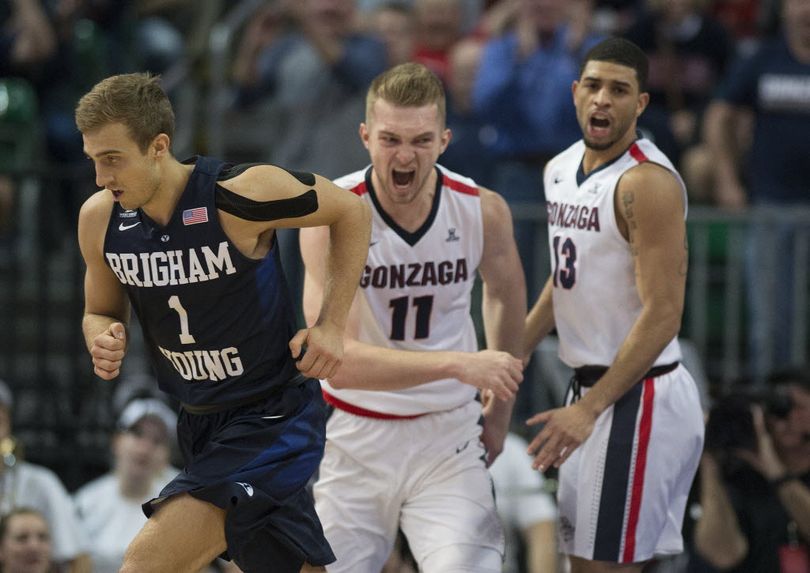 A GRIP ON SPORTS • You know what's hard about this week? The waiting. Waiting for the games you are really interested to begin. But rejoice. It's almost over. Read on.
••••••••••
• The interminable delay for the NCAA tournament – and all the other ones – to begin forced me to do something awful yesterday. I watched some of the play-in games. Yep, Florida Gulf Coast and Wichita State had my attention for a while. It's almost like a sickness, a need for basketball so deep I'll grab anything and devour it. Even the empty calories of the First Four, or whatever the NCAA is calling it this season. It actually interrupted my dinner, if you can believe that. But no worries. Today, games I actually care about appear on the schedule. No, I'm not referring to the last two First Four games. I'm talking about Eastern hosting Pepperdine and Idaho facing Seattle U. Though the games are part of the CBI, the backup, backup tournament this time of year, I'm still interested. The Eagles will have their hands full with the Waves, who play a physical brand of basketball. And play it well. Well enough to probably be the reason Saint Mary's is in the NIT instead of the NCAAs. Pepperdine beat the Gaels in Malibu. Then defeated them again in Moraga. If Saint Mary's margin of error was razor thin – and we know it was – then those two losses probably cut them out. Stacy Davis, though undersized, is a load inside, a 6-foot-6 post player (he seems shorter than that in person, but his physique more than makes up for it) who can also float out to the 3-point line and make shots. And it's that distance that will probably decide this game. If the Eagles are making perimeter shots, they are pretty much unguardable. If not, they become somewhat pedestrian. The latter rarely happens at home so we'll guess they'll bomb away from outside and move on. As for the Vandals, their matchups over the years with Seattle always seemed to be interesting. These two schools were joined at the hip while Idaho was in the WAC, so it's no surprise they are playing again in the CBI. The Vandals are first and foremost a physical defensive team. Seattle plays defense as well – everybody not coached by Paul Westhead usually does – but the philosophy is different. The Redhawks use their athleticism to turn you over and, if they can, run away from you. So it's up to UI's guards to value the basketball and control the pace. Do that and winning will come. It's a harder task on the road, however, which gives Seattle a bit of an edge here. No matter what, the games are bound to be interesting.
• The game with the most interest, however, is still two days away. I'm starting to get nervous. Though Gonzaga is an 11 seed, it is more akin to the teams occupying the 9 spot in this year's seeding. Which is perfect because Seton Hall's body of work suggests the Pirates should have been an 8 seed. And well all know the 8-9 games are tossups. So is this one. Each team has a strength. For Seton Hall, it's its guard play. For Gonzaga, it is inside. So, more than likely, the Pirates' bigs or the GU guards who will decide this matchup. Either that, or the guys with the whistles. The latter is a variable that's hard to account for by anyone, including the coaches, though they try. Will the officials call the handchecks and limit the pressure out front by Seton Hall? Or will they focus on inside play and take away Domantas Sabonis' aggressiveness? Call it tight and get everyone in foul trouble or let them go and watch the game become really physical? We won't know until a few minutes after the tip. But it's important. Maybe too important.
•••
• Gonzaga: The NCAA tournament is tough on seniors. One slip-up and their college basketball career is over. But it's also their moment. Having been through the wars, it's their time to shine. Such is the case with Kyle Dranginis. He's the subject of Jim Meehan's feature as he makes his fifth trip to the NCAAs. ... John Blanchette imagines one person's NCAA bracket. ... There is another head coaching opening in the WCC. Eric Reveno's firing yesterday by Portland means there are four open spots in the conference. It looks, however, as if Pacific has its guy identified. ... Saint Mary's held on at home in an NIT game last night, but it took a late foul call to make it happen. Sound familiar Zag fans? ... BYU and its NIT opponent tonight, UAB, both have something to prove. ... If GU wins and moves on, it may face Utah, a team with a lot to prove.
• WSU: When the Pac-12 expanded and reworked its media-rights deals, it seemed as if financial worries in Pullman were a thing of the past. Not so. For the second consecutive year the Cougars ran a $13 million deficit. Jacob Thorpe has all the particulars – and the news Ernie Kent's contract was rolled over – in this story and blog post and delves into some of the background concerning the Pac-12 Networks in this piece. ... Jacob also has a blog post with links. ... Kent's contract and the deficit are subjects of stories on the West Side as well.
• EWU: Jim Allen has a preview of tonight's CBI game with Pepperdine, which will be the 500th game of head coach Jim Hayford's career. ... The Big Sky's NCAA representative wants to shock the world.
• Idaho: The Vandals have yet to return to Moscow following the Big Sky Conference tournament. Sean Kramer has that and more in this advance of tonight's CBI contest.
• NIC: The Cardinals were eliminated in the national tournament.
• Chiefs: A 4-1 loss in Seattle not only hurts Spokane's playoff hopes but it clinched the U.S. Division for the Thunderbirds. ... Everett was hoping for that spot but came up short.
• Preps: We have a couple of stories about football coaches from Greg Lee, one coming in at Central Valley and another leaving at Sandpoint.
• Seahawks: The Hawks seem to be trying to fix their offensive line with inexpensive alternatives. ... Was Bruce Irvin not going to reach his potential in Seattle? And do the Hawks have a potential replacement in mind?
• Mariners: The M's and Angels tied at 4 with no extra-innings agreed upon earlier. It's spring training but that doesn't mean the game didn't have some interesting points. For example, Stefen Romero was involved in a bizarre play. ... Speaking of Romero, he's doing everything he can to stick in the bigs, but the rules might determine he be sent down.
•••
• Another day on the radio. I'm with Dennis Patchin and Rick Lukens on 700 ESPN starting at 3 p.m. and ending at 5:30. You can listen here if you want. Until then ...
---
---