Fri., March 18, 2016
They may not be Cinderella anymore, but the Zags could have another run in them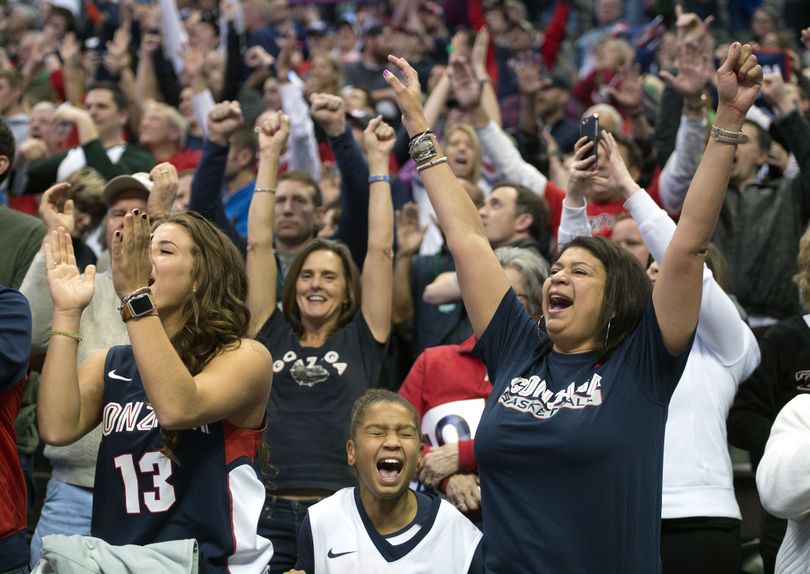 A GRIP ON SPORTS • Wouldn't it be odd if Gonzaga returned to its underdog roots this season and made a nation-captivating run through the NCAA tournament? It could just happen. Read on.
••••••••••
• Over the years Mark Few has made it clear the NCAA tournament isn't just about how you are playing, but who you play as well. That lesson was driven home to me back in 2008, when I sat in Charlotte, North Carolina, and watched the home-state university run Washington State's best-ever team out of the Sweet Sixteen. The Cougars of Kyle Weaver, Derrick Low and Robbie Cowgill were as good a defensive team as there was in the NCAA that season, but they weren't good enough – read that as "fast enough" – to play with Ty Lawson, Tyler Hansbrough and the rest of the Tar Heels. Yet, also in that regional was a talented Louisville team, but still one that WSU coach Tony Bennett wished he could have played. The Cougars just matched up better. If the Tar Heels had been upset by Arkansas the week before, Washington State might have made a Final Four. It wasn't to be. Last season Gonzaga came within just a few minutes of its first Final Four, but of all the teams left in the Elite Eight, Duke might have been the only one that matched up with what Few likes to refer to as a special team. The Bulldogs had size, senior guards and momentum. Duke had Jahlil Okafor and Justise Winslow. The matchup wasn't the best. Michigan State or Wisconsin would have been better for the Zags, but they got who they got. Duke won and went on to win the national title. The Zags? Their guards graduated, they lost their rock in the middle to an injury early this season and still won their first-round game last night against an over-seeded Seton Hall group. Which brings us to Utah, tomorrow night's opponent. The Utes have one of the best big men in the nation in Jakob Poeltl. They have Jordan Loveridge and Brandon Taylor, talented seniors on their final NCAA run. They have won 26 games. And the Zags may just match up with them as well as anyone, if only because Poeltl and Domantas Sabonis are pitted against each other. If Poeltl goes off, so do the Utes. The chances of him doing that against the Zags is diminished by Sabonis' – and to a lesser degree Kyle Wiltjer's – presence. The Zags' size, and the talent of that size, is unusual. It makes for a better-than-expected 11 vs. 3 matchup. If the Bulldogs can find a way to win Saturday, then more than likely they would have to get past trendy favorite Michigan State to reach the Elite Eight for a second consecutive season. But what if there is an upset, a Dayton or a Syracuse handles the Spartans? It is occurrences such as these that make up a long NCAA tournament run. I can tell you I know of one school that hopes that either the Zags or someone else knocks out Michigan State. Virginia. For the past two seasons, the Cavaliers' NCAA hopes have been dashed at the rock that is the Spartans' front line. See, Michigan State is a matchup problem for Virginia. And NCAA title hopes hinge, for all but a few teams, on matchups.
•••
• Gonzaga: If you haven't noticed, Gonzaga has improved on defense over the years. Gone is the need to race past people to win a game. Grinders are a staple, even if America hasn't caught on just yet. Jim Meehan has, and his game story from Denver reflects that. So do John Blanchette's column and Dan Pelle's photographs. ... The Gonzaga women won against UC Riverside last night, but the 88-54 victory was dampened a bit by an injury to Shaniqua Nilles, which necessitated here leaving the game on a stretcher. Jim Allen has the game story and Colin Mulvany the photographs. There are other stories as well. By the way, I checked last night and was told Nilles is OK. ... Back to Denver, we pass along stories from the Seattle Times and others on the first-round, including Utah's 80-69 win over Fresno State. We also have stories from New Jersey.
• WSU: If you are looking for the links to the NCAA tournament in Spokane, check out the section below. The Vandals are the host school, so we give them the honor. ... It wasn't the best day for the Pac-12, with USC blowing – yes, that's the right term – its game vs. Providence and Arizona getting smoked by Wichita State.
• Idaho: The UI women have quite a task ahead if they want to win their first-round NCAA game today. Sean Kramer has an advance. ... In the Arena today, California faces Hawaii (Jacob Thorpe has the preview story), Maryland goes against South Dakota State (Jim Allen with the story), Saint Joseph's and Cincinnati face off (Greg Lee has the advance) and top-seeded Oregon has Holy Cross (Tom Clouse covers that game).
• Chiefs: The playoffs will be decided this weekend. If the Chiefs can win or force overtime tonight in Portland, they will move on no matter what happens with Tri-City. A regulation loss makes Saturday's game in Kennewick the decider, of the Americans win tonight. ... Everett is in the playoffs.
• Seahawks: Russell Okung signed what looked to be a big contract with Denver yesterday, though under the magnifying glass it is just a one-year deal for not a huge amount of money. He seemed to want out of Seattle. So where do the Hawks go now? ... Christine Michael decided to stay. ... The Hawks are still in the market for defensive help.
• Mariners: James Paxton pitched poorly yesterday and that didn't make his manager happy. The M's rallied – that did make Scott Servais smile – but only tied. ... Whoever loses the rotation battle between Paxton and Nathan Karns will probably be in the bullpen.
• Sounders: The Cascadia Cup matches get underway this weekend with the new-look Sounders needing a win against Vancouver in the worst way. ... Portland would like to get healthy.
•••
• You headed to the Arena? Have fun. And, remember, it's all about the matchups. Until later ...
---
---