Fri., March 25, 2016
Gonzaga must zone in offensively and defensively to defeat Syracuse tonight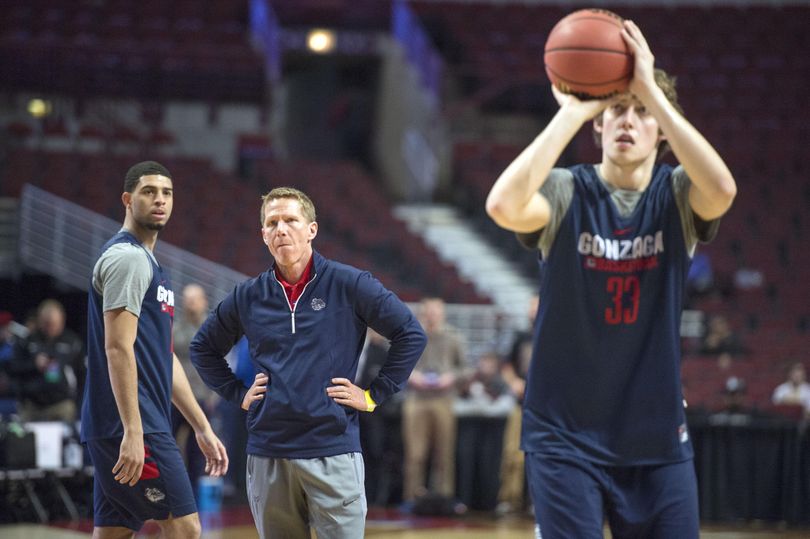 A GRIP ON SPORTS • I received a text yesterday from a friend. He wanted to know whether I thought Gonzaga could deal with Syracuse's 2-3 zone. It got me to thinking. And made me realize I really don't know the answer. Read on.
••••••••••
• When I was in college I used to spend a lot of time in the library. Nothing unusual about that, right? Everyone had a study room in their college's library that was out of the way and a convenient place to catch an afternoon nap. But every once in a while I would search the stacks for a book that caught my eye. And one day I found one. It was an old book, really old. Like 1930s old. It was written by one Clair Bee, an acclaimed author of the Chip Hilton series, young adult novels before young adult novels became multi-billion dollar movie franchises. "Dugout Jinx," that's the one I remember. But what I didn't know then was Clair Bee was also an NIT-winning basketball coach back when the NIT was the national championship tournament. He coached at Long Island University and was considered something of an iconoclast at the time. Why? Because he had some strange ideas. He invented the 1-3-1 zone. He fought for, and saw instituted, the 3-second rule. And he wrote books about coaching basketball. It was one of these books I found in the UC Irvine library that fateful day. It was perfect. Just the right height to rest my head for my nap. But I opened it up. And read the first few paragraphs. Now remember, this book was written in the 1930s, when there was still a jump ball after each made basket. But Bee, who was considered one of the greatest zone coaches who ever lived, had written a book on how to attack the zone defense. His advice? Give up. No, not really. But he was clear in the first few paragraphs. To consistently defeat a zone, Bee wrote, one had to out-run it. To get the ball down the court quickly before the zone had the opportunity to get set. It struck me as odd that this philosophy, from a time before fast-break basketball was the norm. Or I thought it was. But the underlying principle was valid then – Bee knew, as a guy who lived and died by zone defense – and is valid now. One of the best ways to beat a zone is attack it before it has a chance to settle in. And that's what makes Syracuse's zone so tough. Sure the Orange are long and strong. Sure they are athletic. But what makes them tough is their speed. Always has been that way. Jim Boeheim's teams are tough to outrun. They get set quickly. And when they are set, they are tough to attack. But that doesn't mean a team should give up running, especially not against this Boeheim team. Boeheim rarely plays a lot of guys and this year the bench is even shorter than usual. So push it when you can. That has to be an emphasis. As does the inside game. Domantas Sabonis is an integral part of Gonzaga's offense. Just because Syracuse will have guys around him doesn't mean the Zags should not get him the ball. They should. As often as possible. The more touches Sabonis gets, the more often Syracuse's defense has to contract. The more it contracts, the better the outside looks become. Sabonis is an excellent post passer, a guy who will find the open man when need be. (And a guy who can split a double and score if that is called for as well.) Which brings us to Kyle Wiltjer. He is the Zags' best outside threat. I know that. You know that. Syracuse knows that. The Orangemen will know where he is at all times. Strike that. Boeheim will expect them to know where he is at all times. Quick reversals of the ball can get him lost on the backside. So can post touches. Heads turn, Wiltjer moves and he has a somewhat open look. If he's on fire tonight, Syracuse will be in trouble. If he isn't, the other Zags, from Eric McClellan to Silas Melson, will need to be. The opportunities from beyond the arc will be there, though Syracuse's length makes them tougher than usual. The tendency is to rush shots when big guys are running at you. We saw that the last time the Zags played Syracuse in the NCAA tournament, when they shot poorly from the outside and were run out of Buffalo's arena. Yet, Gonzaga has been executing so well on both ends of the court – we haven't even touched on the problems Syracuse may have with a Zag defense that's been nails lately – it should come as no surprise if they run their offense with precision again tonight. In fact, given the time they have had to prepare (the last time GU played Syracuse, there was a less-than-48-hour turnaround), it will come as a shock if they don't. So I guess I do have an answer. Yes, the Bulldogs can handle Syracuse's zone. Will they? I'm not so sure.
•••
• Gonzaga: The report from Chicago is not only complete, it's really interesting. John Blanchette has a column on the Zags' current hot streak – one that comes on a the heels of what looked to be a disappointing season – while Jim Meehan has a feature on McClellan's renaissance. Jim also has an advance on the game, which focuses on GU's aggressive mindset, he and John combine on a notebook, and Dan Pelle has photographs from yesterday's open practice. ... There are other stories, of course, from the Northwest, including a piece on Kyle Wiltjer and another on Gonzaga's challenges tonight, as well as stories from the Northeast and elsewhere around the country, including Chicago.
• WSU: The Cougars opened spring football practice yesterday and Jacob Thorpe was there. (The sleet or snow of the first day is traditional, one I really don't miss.) He has a blog post with just about everything you could ask for and then goes beyond that with videos of interviews with Mike Leach, Luke Falk, Alex Grinch and Gabe Marks. ... Jacob also has a blog post on a basketball commitment and another on a strong showing in the Pac-12's academic awards. ... Oregon is carrying the Pac-12's basketball banner and they used it to bludgeon defending champion Duke last night in Anaheim. Afterward, there was a bit of a discussion about a post-game conversation. ... The Cougar baseball team won the first game of a series at Stanford. ... Wayne Tinkle received an extension from Oregon State. Not bad for a guy from Ferris High. ... A former Cougar assistant is beginning his first spring as a collegiate head coach.
• Chiefs: The WHL playoffs begin tonight and, for the Chiefs to survive and advance, they'll have to play their best hockey. That's the bottom line from Tom Clouse's advance. ... Everett and Portland meet in the playoffs once again, though the Silvertips might be missing a key player.
• Seahawks: The Hawks are dealing with salary cap issues – remember the old days when Russell Wilson was making less than a million dollars? – that are making this offseason a bit stifled. Oh, there is some more long-snapper news.
• Mariners: The M's continued to rattle their bats and they won 10-8 yesterday despite another poor start, this one by Taijuan Walker. ... Scott Servais would love someone to take control in the rotation battle between James Paxton and Nathan Karns. ... Franklin Gutierrez has found more power as he's gotten older.
• Sounders: While the franchise waits to find the right designated player, it did sign a veteran yesterday to add depth.
•••
• Hey, before you go, I found this story really interesting. Until later ...
---
---