Mon., March 28, 2016
Some March losses induce nothing but madness for weeks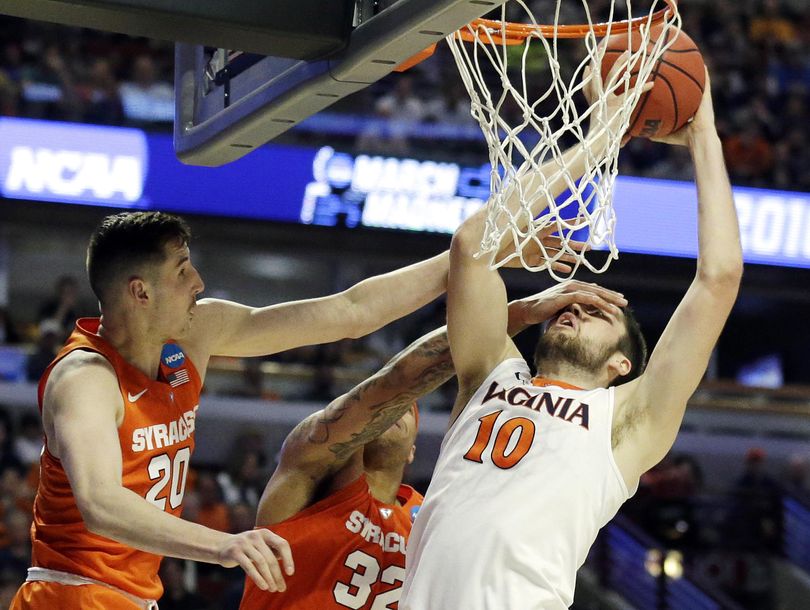 A GRIP ON SPORTS • I wasn't ready for what I saw this morning outside my window. Yep, there was snow out there. It looked awful cold for the end of March. And I wasn't ready for what I saw yesterday afternoon either. Read on.
••••••••••
• Ever try to DVR a sporting event these days for a later viewing? Tough, isn't it? Not the technical part. That's gotten easier and easier. The hard part comes avoiding the score. Friends want to text you with updates. Twitter has the highlights. You can't even walk into a room where there might be a television set on, because, if it is a big enough event – and March Madness is – then it will be on. But I tried yesterday. I was busy in the early afternoon so the Virginia/Syracuse game tipped off without me. And got to halftime before I even took notice. But waiting on my phone was a text I had to answer, with a question unrelated to the game. At least the first part was. Deep into the text was "great first half. A 14-point Virginia lead." Or something like that. As I watched the first half unfold on the TV, I tried to stay off social media. Tried. Failed. OK, I may be addicted. I couldn't help myself. I had "reasons," of course. I was catching up quickly. No big deal. If Virginia won, I could find out early, fast-forward to the Tony Bennett going-to-the-Final-Four interview and start dinner. All was well until the meltdown. As the Cavaliers threw away Bennett's first Final Four trip, I was still in the part when they were trading baskets and seemed to have Syracuse held at bay. As the game ended – if you didn't know, the Orange rallied for a six-point win – I was right at the 9-minute mark. You know, when Virginia still had a 14-point lead or something. I hit the right arrows and let the final minutes roll through faster. Watching the game at a higher speed seemed appropriate, as Syracuse had done the same thing to the Virginia offense. By pressing, the Orangemen didn't force turnovers as much as they got UVA out of its – and Bennett's – preferred tempo. Instead of taking their time, the Cavaliers rushed – and rushed right into an epic meltdown. I turned it off. I didn't want to see the confetti rain down on the Orange and Jim Boeheim. It just didn't seem right. I know Bennett will get a team to the Final Four at some point. He's too good a coach not to. And Sunday's loss will make it all the sweeter. But I'm sure that's no consolation. It wasn't last night and it won't be today or tomorrow. That's the flip side of this tournament. The cruel side. Every loss is your last. Some are easy to take, the other team is better, you battle and you fall short. Others, like Virginia's yesterday and Gonzaga's on Friday, are harder. The game was there for the taking. You had achieved control. And then it all slipped away. Snowed under by your own mistakes. It's cruel. And cold.
•••
• WSU: There aren't a lot of stories to pass along today, but the best one comes from Jacob Thorpe and it has the most unlikely of subjects: Japanese football. Make sure you read it. ... The Pac-12 men may be done, but the women play on with the quite possibly the most unlikely of conference teams making the Final Four, the Washington Huskies. They got past Stanford yesterday and will make their first trip to the semifinals. ... Oregon State faces Baylor today with a chance to make half the Final Four Pac-12 teams.
• Gonzaga: Former GU assistant Leon Rice may be leaving Boise.
• Mariners: Roster moves occurred yesterday, with the M's making some decisions on first base and in the bullpen. ... The starting rotation is still undecided after James Paxton imploded against the Cubs. Thanks to Robinson Cano's three home runs, however, the M's earned a win.
•••
• Don't worry. The weatherperson is predicting highs in the 60s by the middle of the week. Like Syracuse's comebacks, I'll believe it when I see it. Until later ...
---
---