Wed., May 4, 2016
It has been so long, it is hard not to get jacked about the M's start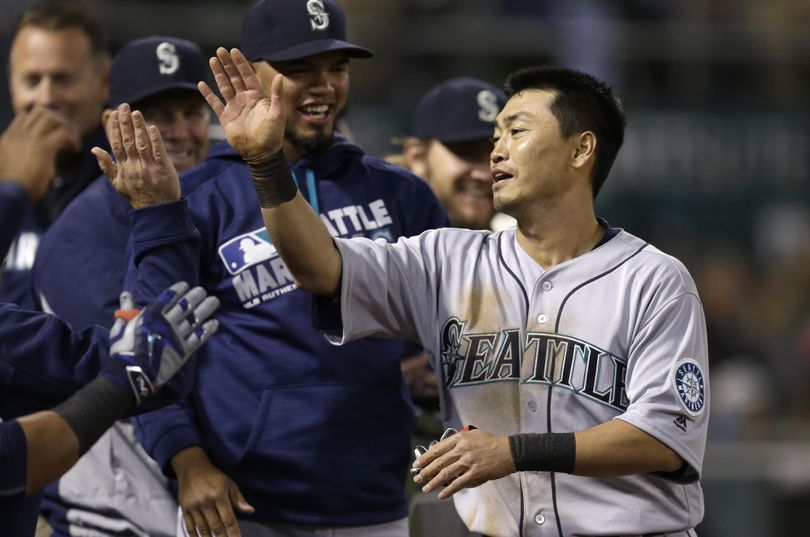 A GRIP ON SPORTS • Are you getting excited at all yet? Or is it still "too early" to think the Mariners have something going on? Read on.
••••••••••
• Seattle has played 26 games. It has won 15 of them, as many as anyone in the American League West. It is four games over .500. Fourteen of the Mariners' games have been away from Safeco, and they are 10-4 in those. Only the red-hot White Sox have more road wins in the American League. The M's have also won six consecutive series – they clinched the latest one last night with the 8-2 win over the Oakland A's. So what do all those numbers mean? Lots of things. Or nothing at all. Take your pick. It depends on whether you see the glass as half-full or half-empty through those rose-colored glasses you have on. But let's get what those numbers don't mean out of the way first. They don't mean the M's have played themselves out of contention in the season's first month. That's a good thing. They have done that before and not all that long ago. But they also don't mean they have put any distance between themselves and their competitors. Texas is just a half-game back and only the Astros, who haven't played well since about midway through last season, are the only AL West team with more than a 3.5-game deficit. Though great would be great, good is good and good enough right now. I'm of the mind of enjoying the present with this team. They are playing well. They are fun to watch. That's enough. For now.
• Some things have a way of explaining themselves in a roundabout way. Less than a month ago, a guy you may never have heard of, Bill Carr, resigned as Point Loma's men's basketball coach to take the women's coaching position at Santa Clara. About a week ago, former Washington State head coach Ken Bone resigned at Montana, stepping down from his assistant coaching position to explore other options. How are those things related? They might not be. However, yesterday Point Loma, a Division II school in San Diego, announced the hiring of its new coach. Turns out it is Seattle Pacific's Ryan Looney, the Central Valley High grad who has been SPU's head coach ever since Jeff Hironaka left Seattle to become Bone's top assistant at WSU. Lo and behold, the SPU position is open. And the second-winningest coach in Seattle Pacific basketball's history? That would be Ken Bone, who was 253-97 in 12 years there, before resigning in 2002 to become an assistant at the University of Washington. Cause and effect in play here? Who knows. We could be adding two plus two and coming up with 1,492. Still, it's fun to speculate. Whether Bone would consider returning to the Division II ranks is the question, but he always spoke fondly of his days in Seattle. Grant Leep, the former UW player who was an assistant at Eastern Washington at one time, is the interim coach for now and will probably be considered for the permanent job. Hironaka, who is an assistant at Portland State, should also be considered. But Bone may be hard to turn down – if he wants to return.
•••
• WSU: In other Washington State alumni news, Klay Thompson had another productive night in leading the Golden State Warriors to a comeback win over the Portland Trail Blazers (typo fixed). But that's nothing new. ... Jacob Thorpe has some football news and it concerns another recruit – or two. ... Jacob also has a story in the paper this morning about basketball transfer-to-be Valentine Izundu and the change of heart by WSU. ... The Times also covers the football commitments. ... The Pac-12's spring meetings are this week in Phoenix.
• Gonzaga: The Bulldogs have a weekend off after a tough baseball weekend in Provo. Jacob has more in his weekly notebook.
• EWU: Jim Allen spent some time looking toward the future of a few former Eastern football players, including this story on a couple seniors from last year's team and this piece on Vernon Adams. ... Staying in the future-is-now vein, Jim also has an in-depth story concerning the Big Sky's new commissioner and the challenges she faces.
• Chiefs: Speaking of the future, the WHL's bantam draft is coming up and Spokane has some high picks. Tom Clouse has more in this story.
• Empire: The IFL may be the last stand for some players. Jim Meehan's notebook this week looks at one such player.
• Preps: Coeur d'Alene won another league title in softball and the Viks' undefeated season is part of Greg Lee's weekly notebook. ... The Bellevue school board doesn't seem too happy with the Bellevue High football coach.
• Mariners: The M's bats came alive late last night, blowing open a close game in the eighth inning. (Coincidentally, that's the only inning I watched on TV after listening to the radio broadcast.) The M's won 8-2 over Oakland. ... Beside the hits, Hisashi Iwakuma turned in a good outing, which is key for the M's in the future. ... The old-guy bullpen now has three key members on the disabled list.
• Seahawks: The Hawks' 10 draft picks are all unique in their own way. ... Seattle wants to take the Marshawn Lynch retirement cap hit this season. ... Russell Wilson wants an NBA team in his adopted city.
• NBA: Some folks believe not having an NBA franchise in Seattle is no big deal.
•••
• And there we are. Another Wednesday column on the web. Now what will we do for Thursday's? I guess we will find out tomorrow. Until then ...
---
---