Thu., May 5, 2016
Gonzaga hits it big with newest basketball commit
A GRIP ON SPORTS • There's a chance Nelson Cruz's home run from yesterday may still be flying around the Oakland Coliseum, but that's not what we want to write about today. Instead, we're going to cover a metaphorical home run hit by Gonzaga. Read on.
••••••••••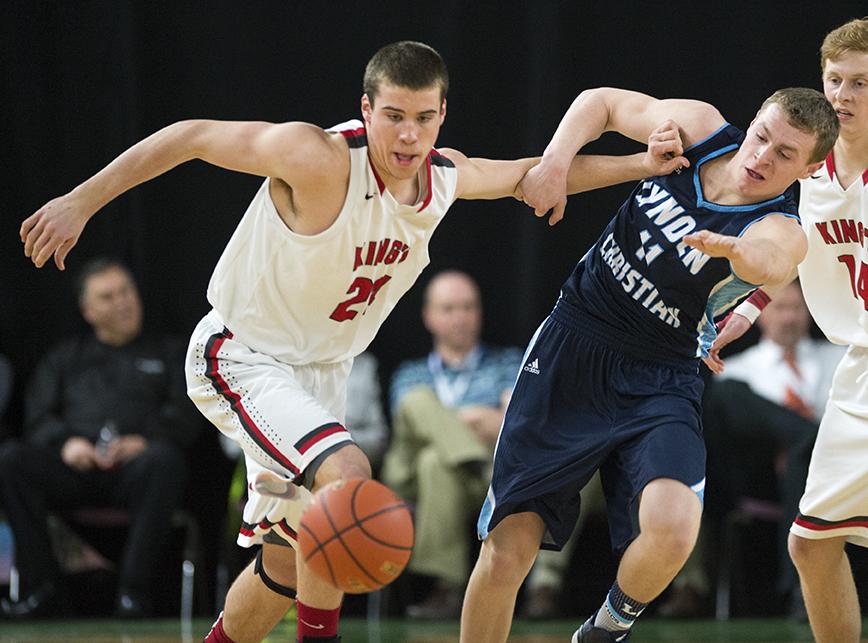 • Both blasts were titanic enough to make you say something unprintable, but Gonzaga's has more far-reaching import. Yesterday, 6-foot-6 wing Corey Kispert committed to the Zags, picking GU over offers from two high-profile ACC schools, Virginia and Notre Dame. Now the Zags had an advantage in that Kispert, from Seattle, is a home-state kid who led King's High School to the 1A title the past two years, with the Knights defeating Freeman in the finals this spring. But the ACC schools liked what they saw as well, especially Virginia. The Cavaliers' Ron Sanchez, the former Washington State assistant, was in Bellevue last month watching Kispert play for his Friends of Hoop team during an NCAA viewing period. And Kispert likens his game to that of Klay Thompson, who blossomed at WSU under Sanchez's boss there and at Virginia, Tony Bennett. But Gonzaga was able to keep the state's best wing from leaving. How? "There's an unbelievable community surrounding Gonzaga, the guys are incredibly tight knit and there was a family atmosphere I hadn't really seen anywhere else," Kispert told our Jim Meehan yesterday. "Also, the coaching staff is absolutely fantastic and made it clear from the beginning I was their guy." Kispert, who will be a senior at King's in the fall, visited the Gonzaga campus last week and made his decision. So what does he bring to the table? First off, an incredible work ethic. Coaches rave about Kispert, saying he is one of those players with an insatiable desire to improve and will work overtime to get it done. We're not parroting the usual coach-speak here. He's just driven to be his best. That's a quality former Gonzaga coach Dan Fitzgerald valued above all else – and swore was not teachable. A player either had it or they didn't, Fitz used to say and whether Fitz was right or wrong about that, Kispert undeniably has it. But he also has physical skills as well, and one of them is the ability to score. Hence his admiration of Thompson. But he also understands Thompson made himself more attractive to NBA general managers by becoming a defender of note, by using his length and quickness to become an excellent defender. Kispert has publicly stated that's one of his goals as well. And now he's publicly stated he's going to be learning those skills at Gonzaga. For the Zags, it's a home run.
•••
• WSU: How good will Washington State's linebackers be this fall? We'll see. And how will the Cougars stack up in the North overall?
• Gonzaga: Besides the Kispert news, which Jim covers in this story and blog post, there is also some off-the-court movement as well. It looks as if the Big 12 may finally expand. And guess who wants to be the first school chosen? Yep, BYU.
• EWU: The new Big Sky Conference commissioner is making the media rounds.
• Shadow: Spokane will begins its chase of a third consecutive Evergreen Premier League title this week. Jim Allen has a preview of the Shadow's season.
• Preps: It's Thursday, which means it is a big day for prep news. We'll start with Greg Lee's column on the Bellevue High situation, in which Greg calls for heads to roll. (We had some thoughts here a while back on the state of affairs as well.) ... There were a couple basketball hires with Ferris dipping into its past and choosing Sean Mallon (pictured) as its boys coach while Coeur d'Alene picked Scott Stockwell as its girls coach. Greg Lee has both stories. ... Greg also has the track leaders as well as this feature on Ferris thrower Kirk Unland and a track notebook.
• Mariners: Felix Hernandez didn't have it yesterday. The M's couldn't make a play in one inning. And still they found a way to win, 9-8, and complete a road sweep of the Oakland Athletics. How? Not only did Cruz hit a home run that caused me to utter a phrase that would get my jailed in some countries, Dae-Ho Lee yanked two other balls out of the yard. The offensive explosion helped Seattle increase its American League West lead to 1.5 games. ... Robinson Cano is using the entire field more this season.
• Seahawks: After the draft and some free agent signings, other players must be cut loose to make room. The Hawks did that yesterday and included in the cuts was the guy who began last season as the starting center. ... Other veterans will be affected by the presence of the news guys.
• Sounders: Despite Jordan Morris' better play of yet, you can never have enough goal scorers. So will the Sounders add one before the transfer window closes?
•••
• Over the spring and summer I get a chance to see a lot of high school basketball players. A lot. And Kispert was one of the few that really stood out. Mainly because he plays the game so hard. A skilled player with that type of ethic is tough to find. Until later ...
---
---