Fri., May 6, 2016
What's next for Marshawn Lynch?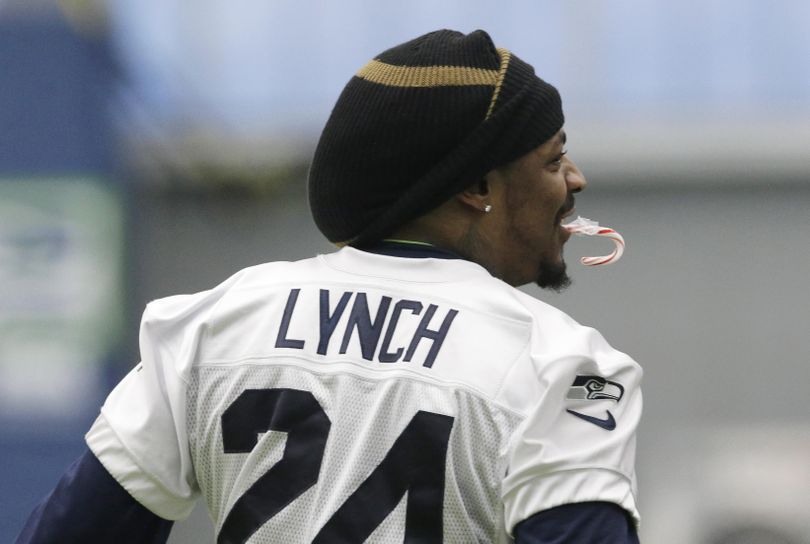 A GRIP ON SPORTS • It became official yesterday. Marshawn Lynch is no longer a professional football running back. He's 30 and retired. Owns a few stores, sure, and a really cool car. But the rest of his life is up for grabs. We have some suggestions. Read on.
••••••••••
• There aren't many running backs who have given us the memories that Lynch has provided. His runs were so spectacular, they had to have names. Exotic names, like "Beast Quake" and Beast Quake II." But we won't be seeing him run the football anymore. That's his past. What's his future? I'm glad you asked.
• Actor: It's a tradition great running backs turn into actors. Good actors? Uh, no. Jim Brown (pictured with Muhammad Ali) was OK in "The Dirty Dozen" and a handful of other not-as-good movies. O.J. Simpson was stiff in "The Naked Gun" movies, though the Juice was better in the Hertz commercials. (We won't go into his other acts.) Former Kansas City – and a lot of other places – running back Thomas Jones, who had more than 10,000 rushing yards in his career, is enjoying his second career in TV. And then there was my favorite running-back-turned-actor, Ed Marinaro, an OK runner but a great police officer in "Hill Street Blues." But I know what you are thinking. You've watched Lynch's commercials. You've seen his Super Bowl media act. Lynch isn't actor material. However, if you've seen him make the late-night rounds, you know there is more to Marshawn than meets the eye. A lot more.
• Marketing consultant: C'mon, when has there ever been a better retirement announcement than Lynch's during the Super Bowl? Cleats hung up over a telephone wire? That's gold, Jerry, gold. And what athlete received more face time than Lynch during the run-up to the Hawks' two Super Bowls? Just imagine what Marshawn could do for someone who is articulate and open.
• Philanthropist: Rumor has it Lynch has saved ever dollar he made while in the NFL, living off his ancillary income. If that's true, his Cal education – he was a Social Welfare major – was better than I thought. And now he has a nice nest egg to build upon. Yes, he's hoping to become a retail savant, what with his Beast Mode store and clothing line. But he has a softer side as well, as shown already this off-season in his volunteer work outside the country. Maybe Marshawn can settle down and just spend his time helping the less-fortunate. That would be a legacy.
• Race car driver: Have you seen the car Lynch drives? It's a ticket waiting to happen. The only places it can really run to its potential are the deserts of the Southwest and parts of Montana and Wyoming. So why not enter a profession in which driving fast is not only legal but necessary? And if it proves to be too fast for him, he can always shift gears and become a demolition derby driver. He knows a little something about running through folks.
•••
• WSU: The Pac-12 meetings in Phoenix were awful quiet, but it seems as if Larry Scott has put a lid on the underlying tension between himself and the conference's athletic directors. ... There are some rule changes coming in the fall, one of which cracks me up. Can you guess which one?
• Gonzaga: The Zags' golf season is winding down but there are still a few rounds to be played.
• Chiefs: The WHL held its Bantam Draft yesterday and the Chiefs' first-round pick was the younger brother of one of their better players. And Spokane also made a trade for a goaltender.
• Preps: Central Valley's soccer team continued its hot streak with a 3-1 win over Lewis and Clark in district play. Jim Allen has more in this roundup of all the action. ... Greg Lee was in North Idaho for a champions' track meet and has this story.
• Mariners: This is getting fun. The first-place M's were in a tense back-and-forth game with Houston yesterday until the top of the ninth. That's when Robinson Cano, who is having a season we all used to dream about when we were 9, doubled home three runs, leading to a 6-3 win. That's 15 wins in their last 20 games. ... The bullpen has played a big role in the victories, including one guy who was picked up late in the spring. ... Scott Servais doesn't always go by the book.
• Seahawks: Besides the Lynch news, the Hawks made some other announcements yesterday, including the signing of a guy who they are really intrigued to see in rookie mini-camp. ... The three quarterbacks there will also be garnering some attention. ... The Hawks asked potential offensive lineman before the draft to juggle. Yes, juggle.
• Sounders: San Jose has always played better than its record against the Sounders. ... A trophy that will be up for grabs this summer made a trip to Seattle yesterday.
•••
• The weekend looms again. I, for one, am looking forward to it. After I get the lawn mowed this afternoon. ... By the way, it's the rule about the eye black. That seems so 1950s. Until later ...
---
---