Fri., May 13, 2016
Ricardo Lockette says goodbye to the game he loved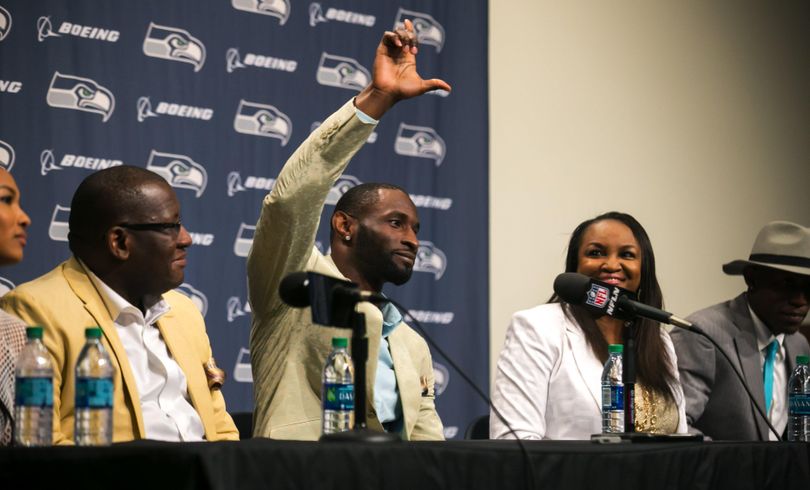 A GRIP ON SPORTS • Football is a violent sport. That lesson is taught just about every game. But it was driven home yesterday with the Ricardo Lockette news. Read on.
••••••••••
• Lockette was not one of the Seahawks' stars. A workman-like receiver who specialized in special team work, he didn't get his name in the paper often, nor did he make the type of plays that took your breath away. Except his last play. It came in Dallas. In the regular season. On a regular play. A Cowboy punt return. A Cowboy, who shall remain nameless, pealed back and blindsided Lockette, who was hustling to do his job. As always. The hit knocked Lockette out. Out of the NFL actually. And almost out of our existence. He didn't get up. He looked, for all of the world to see, as if he may never get up. He didn't that day. He had to be carted off, his body immobilized. At 29 years old, his career was over, though no one knew that for sure at the time. I'm guessing the doctors did, when they discovered Lockette had a detached vertebrae in his neck. The line between life and death isn't that fat sometimes, and it wasn't last Nov. 1. But Lockette stayed on this side of it. And, thanks to two plates in his neck, he also stayed on the upright side of life. He'll be able to walk. He'll be able to play with whatever children come his way. He'll be able to do whatever he wants to do with his life – except play the game he loved. That's over. One hit, one play, one day ended it. Yesterday, the small-school product – Fort Valley State in Georgia – retired from the NFL. We all knew it was coming. Knew it, probably, from that day in Dallas. Lockette probably knew it too. He walked away yesterday because "I love my family and I'd rather walk." Not many occupations make you choose such things. Even football doesn't make everyone choose. But enough to make one pause. So the next time you watch a game, whatever level it is, take a moment to think of people such as Lockette, Mike Utley, Darryl Stingley, Devon Walker and the like. Players who sacrificed for the game. Sacrificed more than they should have so that we can be entertained.
•••
• WSU: The Cougars are in good shape at the running back position. Actually, I believe they are in great shape.
• Gonzaga: The WCC and the Orleans Arena reached agreement to keep the conference's basketball tournament at the facility for another three years.
• EWU: The Big Sky seems to have at least one player every year who catches the NBA's eye. This year is no different.
• Preps: A busy day in the prep ranks yesterday, with playoffs everywhere, including Central Valley where Lewis and Clark's Adam Thompson scored late to give the Tigers a 1-0 regional soccer win over the host Bears. Jim Allen has the story. ... Tom Clouse has a good segment on the Edward "brothers" that key CV's baseball lineup as part of his postseason advance. ... Shadle Park got past Mt. Spokane in 3A district softball. Mike Vlahovich has the game story. ... Greg Lee has an advance of the regional track this weekend. ... We also have a roundup of other postseason action. ... Jill Barville had this nice column on parenting and youth sports in our Features section this morning and I thought I would pass it along.
• Mariners: The M's were off yesterday but when you are winning, the media machine doesn't take the day. The first question that comes to everyone's mind is how are they doing this? And the second question: Can they keep doing it? ... Who the heck are these guys who are playing so well?
• Seahawks: Besides the Lockette news – the press conference was obviously important to Lockette and to his teammates who attended – there is some thoughts on which Hawks rank among the NFL's best players.
• Sounders: A trio of Sounders is showing off their bodies at newsstands everywhere. Wait a minute. Are there newsstands anymore? ... The Seattle midfielder is doing his part right now. ... Former Sounder Steve Zakuani has forged a career after soccer.
•••
• There are few worse experiences than seeing someone you love immobilized and carted off a football field. Been there. It leads to some of the worst hours of your life. It also leads to a deeper appreciation of the risk the game presents – and for those who embrace that risk. It's led me to say a little prayer before every game I attend or watch. Until later ...
---
---