Sat., May 14, 2016
Why are we ever surprised when bad things happen?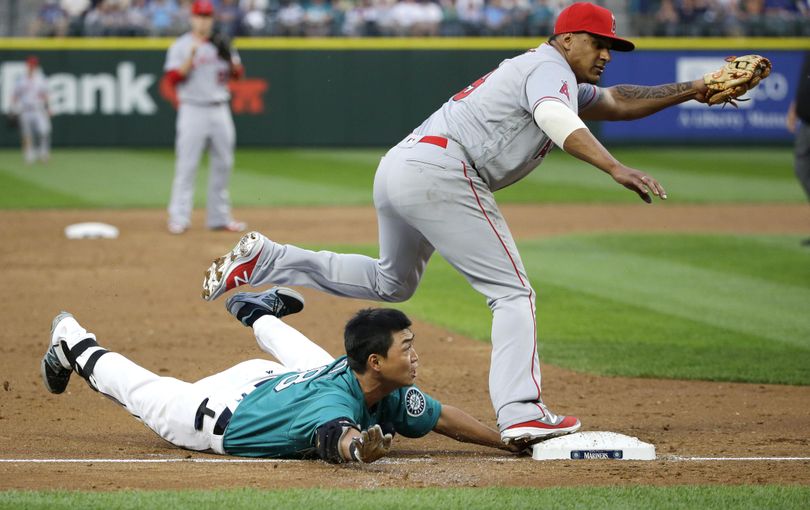 A GRIP ON SPORTS • The M's blew a lead. Lost a game. They weren't alone. Read on.
••••••••••
• Really, we should have all known better. The M's aren't going to be perfect this year holding late leads. Steve Cishek isn't the greatest closer of all time. Serviceable, yes, but not lights out. So they will lose a game or two with him on the mound. If you want to blame somebody for the 7-6 loss last night, blame Nori Aoki, who missed second base in the ninth inning. Yes, you read that right. A major league baseball player, a major league leadoff hitter, missed a base. Ran right over it without touching it. Had to go back, hit second and then had to stop at third on Robinson Cano's double. Ultimately, did not score. Run the bases correctly, Aoki scores easily, the M's have a 7-5 lead heading into the bottom of the ninth and who knows how the game turns out.
• I'm a fan of high school baseball round here. Both of my sons played, so of course I am. But there is one thing I know. Beating Tri-City teams in the regionals is not an easy task. Whenever a Greater Spokane League team gets past their counterparts from the central part of the state to make it to the final four, it's worth celebrating. I can remember one year Ferris High had four Division I-level pitchers on its roster – one signed, so didn't need to honor his letter of intent to a Pac-12 school – and didn't make it out of the regionals. That's hard to do. Anyway, GSL champion Central Valley was hosting Richland yesterday and I followed along on Tom Clouse's Twitter feed. Forgive me if I kept expecting the sky to fall in. It did, in the top of the seventh. To paraphrase Michael Wilbon, I was not surprised.
• Does winning on your rivals' home field, and knocking them out of first place, salvage a tough season? Washington State did that yesterday, defeating UW 9-3 in Seattle and dropping the Huskies a game behind Utah in the Pac-12 baseball standings. If it were the Apple Cup, then everyone in Pullman would be hungover this morning. But college baseball isn't as important. And conference play consists of three-game series. There are two more games to be played. And two more chances to knock your rival down a peg or two.
•••
• WSU: Besides the baseball win, there is football news. (Isn't there always football news?) The Cougars are in great shape at wide receiver. Yes they are. And we can pass along the weekly mailbag from Ted Miller and ESPN.com's Pac-12 blog. ... Some folks are unhappy with Mike Leach's introduction of Donald Trump.
• Gonzaga: It was a great day for the GU baseball team. ... There have been a lot of off-season changes in the WCC basketball ranks.
• EWU: It was also a good day for Eastern's track and field team.
• Idaho: The Vandal women's tennis season ended in the NCAA tournament.
• Whitworth: The Pirates' NCAA softball appearance didn't start off like they would have wanted. Tom Clouse has the story.
• Chiefs: Spokane signed its first-round draft choice in the recent bantam draft. ... Brandon won the WHL title and will be in the Memorial Cup.
• Empire: The two best teams in the IFL meet tonight in South Dakota. Jim Meehan has an advance of the Empire's showdown with the Sioux Falls Storm.
• Golf: Downriver is 100 years old. Big deal. One year for every stroke I take there. On the front side. Jim Meehan's golf column covers the birthday of the course down by the river. Don't miss it.
• Preps: Though the Bears lost in baseball – Tom Clouse has the roundup – their softball team won. Mike Vlahovich has that story. ... Greg Lee was at track and has this roundup. ... Jim Meehan has a golf notebook and we can pass along a roundup of other prep action.
• Mariners: There is enough blame to go around for last night's loss to the Angels, including the lack of pitching after the M's had taken a 5-1 lead. ... If the Mariners want to stay in first place (and keep their fans on the bandwagon), they need Adam Lind to start hitting.
• Seahawks: So which undrafted free agents will make the Hawks' roster?
• Sounders: This is not a bad time of year for Hercules Gomez and Seattle to be playing in Dallas. ... Real Salt Lake takes on last-place Houston today.
•••
• It's windy again today. I'll let you in on a little secret. Wind is my least-favorite weather feature. (Fog is my favorite, which makes sense as it is the polar opposite of wind.) I have made life choices based on whether or not a place has a lot of wind. There is no way I could ever live in Ellensburg (as if that community would ever have me). If this wind keeps up, I may be moving. Until later ...
---
---