Mon., May 16, 2016
Usually baseball fights include a lot of standing around. But not always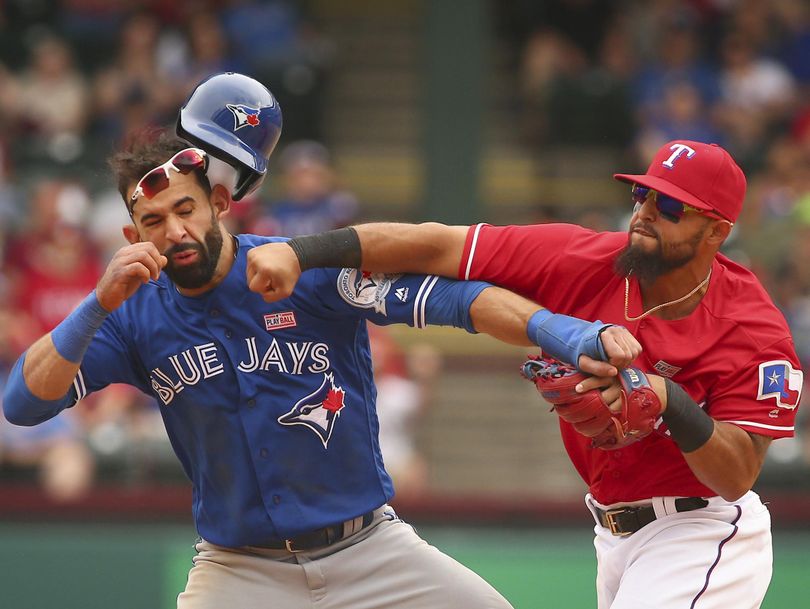 A GRIP ON SPORTS • There was a baseball fight yesterday. A real one, with punches thrown and everything. But no baseball fight ever compares with one from back in the day. Read on.
••••••••••
• It was 1979. A simpler time. Donna Summer was singing about "Bad Girls." Oldsmobile's Cutlass was America's hottest selling car. There was a family in Pittsburgh that won the World Series. And Kim and I were about to get married. But, before the nuptials, there was the little matter of winning the Pasadena Parks and Recreation's overhand adult softball title. (It was just what it sounded like. Baseball played on a Pony League-sized field with a softball. I don't think it was played anywhere else in America.) I was the catcher for the Bethany Church squad. Our pitcher was a Biola student named Todd Worrell, who would go on to have a pretty good major league baseball career. My best friend on the team (and my ride-sharing partner from Orange County), Rod Rothwell, played third base. We were the league's defending champion. Our archrivals were from the Baptist church in the area. A holy war of sorts. The Baptists didn't like losing to a bible-based church in the finals the year before, so they recruited a stud catcher with a big bat and a big mouth. Our coach, a guy who had seen the light and had been saved a few years before, spent the entire semifinal game telling us to turn the other cheek. And win. We were doing both going into the last inning. Todd, who was pretty darn dominating from 54 feet, tired a bit and the Baptist team had runners on first and second with one out. I remember what happened next as if it were yesterday. I always will. The hitter pulled a slow-hit ground ball between second and third. The runner on second thought for sure he was going to score the tying run. He came flying around third. There was only one problem. Our shortstop, soon to be a youth minister, had great range. And he had cut off the ground ball in short left field. The throw reached me long before the runner from second. He was dead to rights. And he knew it. So he just lowered his shoulder and ran me over. Knocked the crud out of me, really. And knocked me silly. As I was fumbling on the ground, trying to find my senses, the runner on first, who had stopped at second, decided to go to third. It was the big catcher. He was large, sure, but he was surprising nimble. And he was about to be out by 20 feet. I had found my equilibrium and threw a strike to my friend Rod at third. The game was about to be over. So the catcher didn't slide. He jumped, cleats first, into Rod, cutting him from the chest to the legs. After that it got ugly. I hit the guy before he could rise up off the ground. I don't believe I ever ran as fast on a baseball field before or since. It was a form tackle. And I started swinging. The guy was twice my size and three times as mean, so the tide turned quickly. Until Todd got involved. From there I remember snippets. Todd pummeling the big mouth. Rod bleeding. Our manager on his knees in front of the dugout praying feverishly as multiple fights played out in front of him. Kim and Rod's wife gathering up Rod and heading to the parking lot, relaying the word to us to meet them at the hospital. The big catcher, his face bleeding from Todd's fists, disengaging and heading to the parking lot himself a while later. Todd and I gathering up our gear as the fighting stopped, only to hear someone yelling. The catcher, mumbling about making us bleed, had reportedly gone to his car to get his gun. There were calls of getting the cops, of people telling us to run. He wanted blood. We wanted to get out of there alive. We headed the other way, up the steep, underbrush-covered hills that ringed the Arroyo Seco, home to the Brookside softball fields and, just to the north, the Rose Bowl. Todd and I pulled off our jerseys – they were bright yellow; did I mention it was 1979? – as we made our way through the bushes to Rosemont Avenue and safety. A nice family, driving by, stopped and picked us up. Gave us a lift to Huntington Hospital, despite – or because of – our bloodied faces. Showed true Christian values. The upshot? No more softball games that year for Bethany Church. None from then on as far as I know. And, from what I understood, a teammate talking the big catcher into leaving before anyone got hurt. Heck, I don't even know for sure if he had a gun. Never saw it. Kim still married me a few weeks later. Rod was healed up and in the wedding party. And I never got into another on-field fight. Oh wait. There was that time ...
•••
• Gonzaga: The Bulldogs will be in the WCC baseball championship tournament. And can still win the conference regular-season crown.
• Mariners: Where were all the sweep memes yesterday? Oh ya, on the Angels' Twitter feed. The M's supported Felix Hernandez as they usually do and lost 3-0 to the Angels. If you need reminding, it is a long season and there will be ups and downs. ... The M's made a roster move yesterday.
• Seahawks: Did Russell Wilson take a dig at North Carolina State during his commencement speech at Wisconsin?
• Sounders: Landon Donovan compared Seattle's soccer culture to that of soccer-crazed places in the rest of the world. ... Real Salt Lake was shut out in Houston and Portland lost its third consecutive match.
•••
• In case you missed it, there was a YouTube video going around yesterday of Rougned Odor and his fight-development skills from the minor leagues. Yep, it was here in Spokane. Have we mentioned the Inland Northwest vortex lately? Until later ...
---
---