Fri., May 20, 2016
It is supposed to be the other way around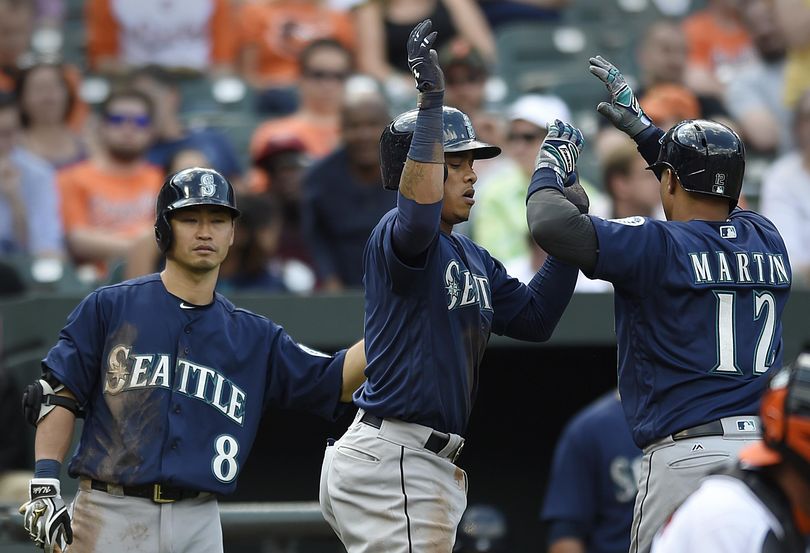 A GRIP ON SPORTS • OK, I understand I'm the one who is supposed to have all the answers. But there is something I don't understand and am hoping you can explain to me. Why are the M's so much better on the road? Read on.
••••••••••
• The split is there for everyone to see. Seattle is in first place in the American League West, not because it is 8-10 at home. Nope, it is because the Mariners are 15-7 on the road. Best road record in the league. Second best in baseball. But they are also the only divisional leader in the game with a losing record in their home park. What in the name of Babe Ruth is going on here? It's not like Seattle is akin to Philadelphia and the M's can't take the booing at home. M's fans rarely, if ever, boo – unless your last name is Rodriguez, your first is Alex and you left town for a container ship filled with dollars. So that can't be it. It can't be because the team isn't built for Safeco, what with its spacious outfield and its ability to crush the psyche of power hitters. This team is more athletic than in the past, especially in the outfield. And power hitters? Nelson Cruz has proved the Safeco jinx doesn't work on him – my guess is he bought a bucket of Kentucky Fried Chicken his first series in town and offered it to Jobu – and the rest of the lineup really is filled with more doubles-power guys than bombers. So what's the deal? There isn't a home and away bullpen, though the way closer Steve Cishek threw on the last road trip, maybe there should be. And there aren't a lot of distractions in the Emerald City. I'm pretty sure just about everyone not nicknamed The King or named Cano can walk down the street in Bellevue and not be recognized. So what's the deal? Is it mental these days? Does the team believe they are road warriors? Do they get together in the hotel and watch "The Road Warrior" to get going? Or is it something else? Is it just us sports fans in the Northwest aren't allowed nice things? The Sonics draft Kevin Durant and blow town. The Seahawks win a Super Bowl then promptly break our heart on the last play of the next one. The Mariners win as many regular season games as any team in baseball history and can't get to the World Series. Then don't reach the playoffs in every year since. This year's team wins and wins – when its fans can't be there to watch in person. Instead we have to deal with Dave Sims if we want to follow along. So what's the deal? You tell me.
•••
• WSU: Math is hard. Which is why journalism seemed like such a nice occupation. No math. Except there is. Money math. Thankfully, Jon Wilner and others broke down the Pac-12 financials for us. The bottom line: The conference's is trailing others badly in the money standings once again. ... Washington State alum Klay Thompson is having some kind of postseason for the Warriors. How do I know? I read this story from WSU alum – and former S-R staffer – Janie McCauley. Hey, there is some symmetry there.
• Gonzaga: Something special is going on with the GU baseball team. The Zags won again yesterday at San Diego to build a one-game lead in the WCC standings with two games left.
• Whitworth: The Pirates couldn't hold off a Texas-Tyler eighth-inning rally and lost 6-4 in the NCAA Division III regional at Avista Stadium. Tom Clouse has the story. As a result of the defeat, Whitworth will play conference rival Pacific Lutheran today in a loser-out game.
• Empire: Spokane and Tri-Cities have a good idea of each other's strengths and weaknesses, after having played three times this season. They will meet for a fourth time tonight at the Arena. Jim Meehan has an advance of the IFL game.
• Preps: We can offer this roundup of Thursday's prep playoff action.
• Mariners: The M's finished off the series in Baltimore with a 7-2 win over the Orioles, keyed mainly by Adam Lind's opposite-field three-run home run. It was high fly ball, basically, that may not have reached the warning track at home (hint, hint). ... The hottest Mariner in May? Nope, it's no longer Cano. It is Kyle Seager. ... The M's bullpen is better, especially now that Joaquin Benoit is back.
• Seahawks: A couple of guys ready to reap the rewards of great play, Doug Baldwin and Michael Bennett, grace our links this morning.
• Sounders: Clint Dempsey makes a whole bunch of money. ... The Sounders are ready to compete in the U.S. Open Cup, a tourney in which they have had a lot success.
•••
• Another Friday. And a chance for more rain. Yep, June must be near. Until later ...
---
---