Big news on a big man, a big win, a big loss and a little change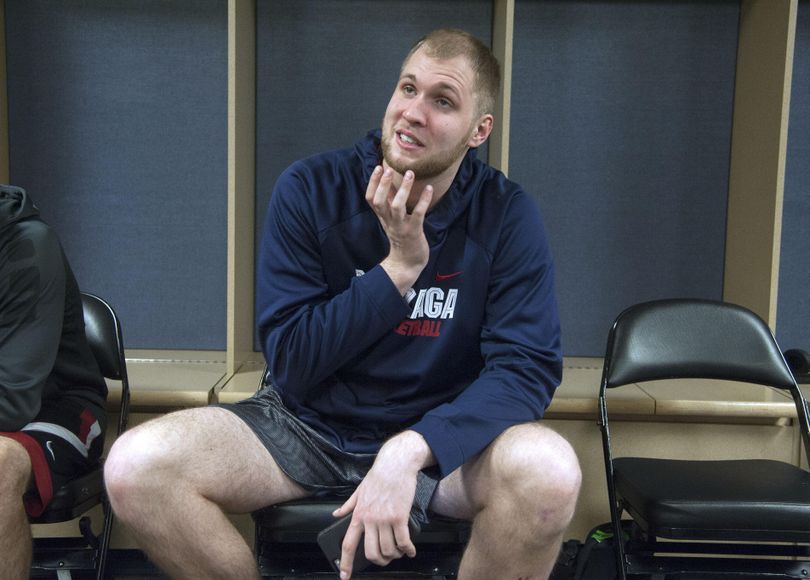 A GRIP ON SPORTS • One news cycle. That's all it took to change our perspective on the week. Yes, yesterday was that big. Read on.
••••••••••
• Przemek Karnowski, his back getting better, announces he is coming back to Gonzaga next season. The M's rally late and, thanks to Leonys Martin's two-out, two-run home run, walk off the Oakland A's, 6-5. Defending champion, and all-time regular-season win leaders, Golden State loses – despite Klay Thompson's third-quarter run – and goes down 3-1 in its series with the former Sonics. The Pac-12 decides to cut down the number of late football starts in the fall, giving its fans a chance – a chance – to be home by midnight once in a while. Yes, Tuesday was a decent news day.
• The Karnowski news is huge for the Zags, though it comes with a caveat. The 7-foot-1, somewhere around 275-pound center is an anchor in the middle for GU – on both ends of the court. He's a rim protector and a post who you can run an offense through, a rare commodity in college basketball these days. But he's also been a physical presence, a guy who has used his body to dissuade opponents from attacking the rim. That body let him down last season, leading to back surgery. Now he's working his way back into basketball shape. It will take a while. And then we will have to see if he can still do all the things he used to be able to. If he can, then the Zags, who have a trio of redshirt players entering the program along with a highly touted recruiting class, may not feel the loss of Domantas Sabonis and Kyle Wiltjer as much as one would have thought.
• Martin was pretty happy he drove Ryan Madson's pitch into the right-field stands last night. So happy, in fact, we may see some sort of retribution tonight. But that's for another day. The importance of Martin's game-winner is for now. And it was important. Crucial in fact. If the M's had frittered away another home game against the lowly A's, who knows how intense the pressure would have been today. My guess? It would have been at Spinal Tap-level 11. Instead, Seattle is riding a high – it was the M's third walk-off win of the season – and has a chance to win the series.
• Are the Warriors this year's 2001 Mariners? Maybe. They set an NBA record for regular season wins but are in danger of not making the finals. Oklahoma City is dominating the series and needs to win just one of the final three games to move on. But that one win may be tough to find. Golden State returns home, hoping Steph Curry regains his magic. If he does, and the Warriors can find a way to win, then the pressure switches to the Thunder. They will have to win at home in game six or face a daunting task: eliminate the defending champs on their home court.
• The change is miniscule. The Pac-12 is going to sacrifice something with its television partners so the Pac-12 Networks can intrude on some exclusive time windows this fall. That will allow the Networks to start four games at either 2 or 6, instead of 7. OK, it's not a huge change, but it is a change. Enough fans have gotten into the ears of the presidents and chancellors they felt a gesture had to be made. They made it. Now can we do something about the regional broadcasts please?
•••
• WSU: Besides the news coming from the Pac-12 meetings – which Jacob Thorpe covers in this blog post – there were some other conference news items occurring Tuesday. ... Washington decided the interim athletic director was doing such a good job, it took the interim title off Jennifer Cohen. ... Washington State also named it athletic hall of fame class for 2016 and it includes three folks who you may have thought had already earned the honor: Mike Price, Jason Gesser and Mark Hendrickson (pictured). ... The three Cougar basketball players who declared for the NBA draft withdrew yesterday. It was not a surprise. ... There is a lot going on around the conference before the first football games.
• Gonzaga: It's been a good offseason for GU basketball. Not only is Karnowski coming back, but the women's team also will be getting another year from Elle Tinkle. Jim Meehan has everything you need to know in this story on Karnowski's decision. ... The Zags tied for the top spot in the WCC baseball standings and have four players on the all-conference first team.
• CCS: The women won the NWAC track title and the men finished second behind Lane. Interestingly, the Lane women finished second and then one athlete said something a little odd.
• Preps: The state golf tournaments began yesterday – they finish today – and we have a story from Jim Meehan on the 1A, another by Tom Clouse on the 3A tournament – there was a moose sighting during the round yesterday – and a roundup of other levels. ... We can also pass along an advance from Josh Horton on the state softball tournaments, of which DeSales will be a part. ... Central Valley got to the state 4A finals last season. This year the Bears hope to win one more match. Jim Allen has an advance. ... Greg Lee has a feature on a Mead hurdler whose mom, at first, didn't want him doing the events.
• Mariners: The 6-5 win over the A's also included a two-run home run by Robinson Cano in the eighth that got the M's back in the game. ... It looks as if Luis Sardinas will be rejoining the M's. ... No one is doing better with defensive shifts right now. ... How about if the M's bat first at home?
• Seahawks: The OTAs have begun.
• Sounders: Jordan Morris is disappointed by not being picked for the U.S. Men's National Team this summer, but he's not going to throw a fit about it.
•••
• A quick note. We won't be here on Saturday. We have an early engagement – no, it's not a golf date – and will be unable to get our blog post done beforehand. ... If you grew up in Southern California when I did, you knew who Nobe Kawano was. Vin Scully made sure of that. If you covered the Dodgers at all, as I did, you may have been lucky enough to meet him the clubhouse manager. This story caught my interest. Until later ...
---
---