Yogi was right about one thing, 3-pointers are worth more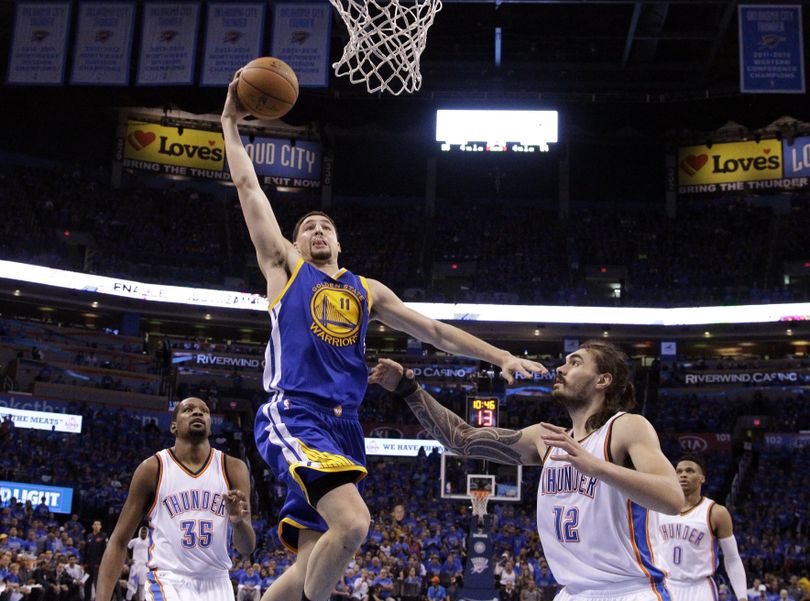 A GRIP ON SPORTS • Where were we? Oh ya, talking about the how Klay Thompson and the Warriors were still alive in the Western Conference finals even though they were down 3-1. Read on.
••••••••••
• So it was Thompson who was the hero, huh? Heck ya. The former Washington State standout hit an NBA playoff-record 11 3-pointers last night, scored 19 of his 41 points in the fourth quarter and the Warriors stunned Oklahoma City 108-101 to tie the series. Game seven will be in Oakland sometime next month. No, actually, it will be in May. That's as shocking as the Warriors' comeback. Though not quite as shocking as some of the shots Thompson made. He hit five of six 3-point attempts in the final quarter, a couple of them of the "wow, did you see that?" variety. Of course, these days you can always see them over and over again. The Thunder will, especially if they lose in game seven Monday. Most observers see it as a foregone conclusion. There is no way OKC rallies back after blowing its best shot last night at home. At least that's the national narrative right now. Not after having a lead all night, after holding Steph Curry at bay until the end, after the support the Oklahoma City faithful showed. But sports is, well, sports. And nothing is written. When the Warriors fell behind 3-1 in the series, most of the basketball intelligentsia wrote them off. But here we are, two games later and the series is tied. Yes, the Thunder will wake up today doubting themselves. But by tip tomorrow Russell Westbrook may be in beast mode or Kevin Durant may just be ready to pull a Klay Thompson and hit nine or 10 3-pointers. You never know.
• The high school sports season is over for the year on both sides of the state line. In the prep section below we have links to stories on the five spring sports that ended yesterday, from tennis to track and field. For hundreds of young athletes who finished their high school careers yesterday, I hope you had fun. It's those fun flashes you will remember over the years. The wins and losses will be around for a while, but it's the moments of camaraderie and fellowship that will remain in your memory the longest. You'll pull them out over and over again and smile, wondering what ever happened to so and so. So don't be too down today because your high school playing days are over. It really isn't. The lessons you learned, the times you had, they will be with you always. Laugh and smile today. The hours you invested over the past four years is time well spent. The dividends come later.
•••
• WSU: There is a radio guy in Seattle – he shall remain nameless – who is an unabashed Husky fan. He is also still incredibly bitter over the Sonics being spirited away to Oklahoma City. Last night, after Thompson's performance, this Husky lover tweeted a GoCougs. Really? Next week, Klay Thompson solves the problems of the Middle East. ... What is the Cougars' toughest stretch of the football season? That's easy.
• Gonzaga: The Zags came up short in the WCC baseball tournament and now must hope their 35-19 overall record is good enough for an at-large NCAA tournament berth. Their RPI is high (31 in one measure) but strength of schedule isn't. They are 2-4 against top 50 RPI teams and 8-8 against the next 50. We'll see tomorrow when the field is announced.
• Whitworth: Andrew Bloom won the NCAA Division III javelin title yesterday in Iowa.
• Shadow: The men and women defeated Yakima teams yesterday.
• Preps: Let's start with track and field. The 1A/2B/1B meets were in Cheney with Tom Clouse covering the boys meet and Jim Allen the girls meet. Greg Lee was in Tacoma and has a story on the 2A meet, the 3A meet and the 4A meet. ... Central Valley finished third in 4A soccer with a 4-1 win over Snohomish. ... Mt. Spokane was fourth in 3A softball. Josh Horton has the story. ... Colton won the state 1B softball and baseball crowns again. ... Finally, we can pass along a roundup of yesterday's tennis action.
• Mariners: What is more frustrating, the way the Mariners are just OK at home or the fact they tend to struggle against poor teams? When you combine both, it's really bad. That's what's happening this weekend as their 6-5 loss last night assured the M's of losing a home series against the lowly Twins. ... Ketel Marte is ready to play. But he has to wait until his stint on the disabled list is over. ... Having Leonys Martin on the DL doesn't help either. ... Jerry Dipoto was active in the offseason. How has that worked out? ... It's a good day to rate all the major league teams.
• Seahawks: Pete Carroll has the Hawks believing they've been rebuilt into a championship contender again. Even without Marshawn Lynch.
• Sounders: A phantom hand-ball call led to another Sounders' defeat, this one 2-1 at New England. Afterward, Sigi Schmid called for instant replay in such instances. If it were in place last night, Seattle might have earned a point with a draw. ... That's what Portland got in Chicago, as did San Jose at home against FC Dallas. ... Real Salt Lake and the Galaxy fell on the road.
•••
• Today is Sunday. But it's not the last day of the weekend. There's a holiday tomorrow. Thank goodness. I'm actually working some next week. Yep, a couple days on the radio. You've been warned. Until later ...
---
---