Gonzaga earns its first NCAA baseball at-large berth, which isn't an easy task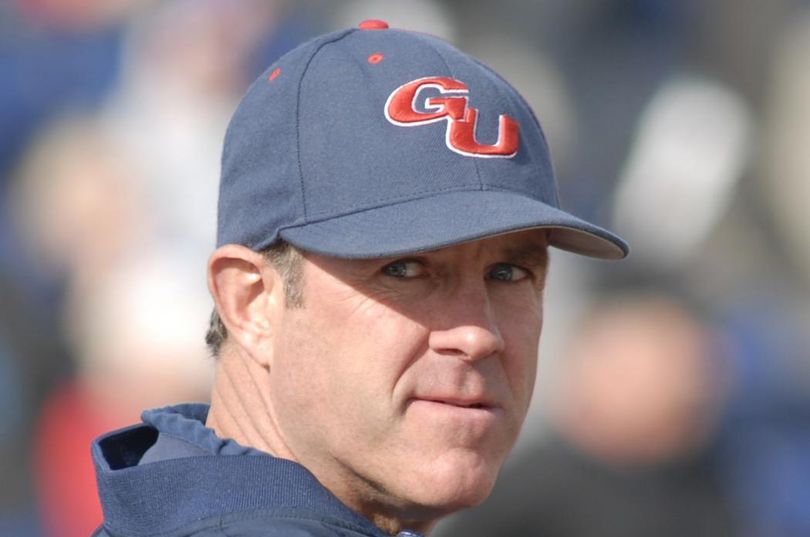 A GRIP ON SPORTS • College baseball has its challenges in this area. Weather is No. 1 on the list, of course, but lack of recognition is another. Which is why what happened for Gonzaga yesterday was such a big deal. Read on.
••••••••••
• The West Coast for years was the best coast when it came to Division I college baseball. But that's been changing recently. The change may have hit its nadir this season, when no school west of the Rockies was chosen to host an NCAA regional. Sixteen sites, none west of Texas. The Pac-12, home of more national championships than any conference, was down this season. So was the Big West, home to four-time national champion Cal State Fullerton and my alma mater, UC Irvine. The WCC was much improved but that doesn't resonant on the national radar like those other two conferences. Which makes Gonzaga's selection as an at-large participant yesterday – the first time that's happened in school history – such a big deal. Oregon State, a two-time national champion, had the same overall record as Gonzaga. The Beavers finished tied for third in the Pac-12 with the two Arizona schools, who were both selected for at-large berths. OSU finished their season on a roll, sweeping UCLA without giving up a run. And was not selected. Yet Gonzaga was. After a regular season which saw the Zags play just 10 true home games. Yes, you read that right. Ten games in their on-campus stadium. Maybe that's why. Look, playing college baseball in California (or Texas or Florida) is different than playing it here. When Gonzaga players are hitting and throwing inside because there is 3-inches of snow on the ground, a Long Beach State player is probably dealing with sunburn as he plays long-toss on a perfect 74-degree January day. Yes, the NCAA has tightened the schedule in an attempt to even the playing field – one year at UC Irvine we played almost a hundred games, if you count the "practice" ones with junior colleges in the fall and winter. But the southern teams still have an advantage in recruiting, practicing and preparation. And, in the case of the Power 5 conference, usually money as well. Gonzaga bucked all that this season. (As did, to a lesser degree, Washington, which has its Pac-12 affiliation – it finished second to surprising league champion Utah – to boost its at-large chances.) The Bulldogs have to travel to Texas to play Arizona State, a school with which GU has a long NCAA tournament history. Then highly rated TCU beckons. Moving on to a super regional – the next step on the road to Omaha, longtime home of the College World Series – won't be easy. But either was getting into the tournament this season.
• Texas fired Augie Garrido yesterday, moving the college baseball coach with the most wins into a ceremonial administrative position. Garrido, 77, has been around a long time. How long? I actually played against one of his Cal State Fullerton teams. And covered one of his Titans' College World Series squads. I remember the trip to Omaha in 1982, mainly because I came up with this crazy idea of doing a story about batting practice. I asked, and Garrido, always one to look at the world from a different angle, said yes to, if I could catch BP during the Titans' practice day. I was still in decent shape and not to far removed from my regular duties of catching BP at UCI. It was like riding a bicycle ... in that my legs were incredibly sore the entire tournament. But not as sore as Fullerton's bats. The Titans were eliminated quickly, being shut out twice (the second time by Maine's Billy Swift, a future Mariner), the first time that had happened to a team in Omaha. Garrido blamed me.
•••
• WSU: Everyone knows Henry Rono was an transcendent talent at Washington State, winning four Pac-12 titles and setting four world records in one 81-day span in 1978. Now we also know he was the Pac-12's best track and field performer in the conference's first century. He is joined on the that 100-year team by Spokane's Gerry Lindgren, Bernard Lagat, Jeshua Anderson, Julius Korir, Joseph Taiwo and John van Reenen. ... Only four Pac-12 teams made the NCAA baseball tournament. One of them was Washington. One wasn't Oregon State and that makes coach Pat Casey mad.
• Gonzaga: The Zags' hard-earned at-large berth is the subject of John Blanchette's column today. ... The unprecedented turnover in the WCC's basketball coaches will mean more work this fall for the others in the conference.
• Mariners: Thank goodness a decent team came to Safeco yesterday. It gave the Mariners a chance. They took advantage, winning 9-3. ... The win did two things: It showed the M's can bounce back from adversity (we knew that already though) and it kept Fernando Rodney from earning a save in Safeco (that's even more important). ... Some of the injured should be back soon.
• Seahawks: Russell Wilson is smart enough to constantly pick Pete Carroll's mind concerning defense. ... The Hawks have to decide who their fullbacks will be.
•••
• What a sports television night. The first game in the Stanley Cup finals – Pittsburgh won – and game seven in the NBA Western Conference finals – the Warriors won. Both were tough to watch. After all, it was a beautiful evening here and the backyard beckoned. But we got some of each, including the all-important final 5 minutes of the NBA game. Until later ...
---
---