Sun., Oct. 2, 2016
A role reversal in Pullman, where Washington State runs past Oregon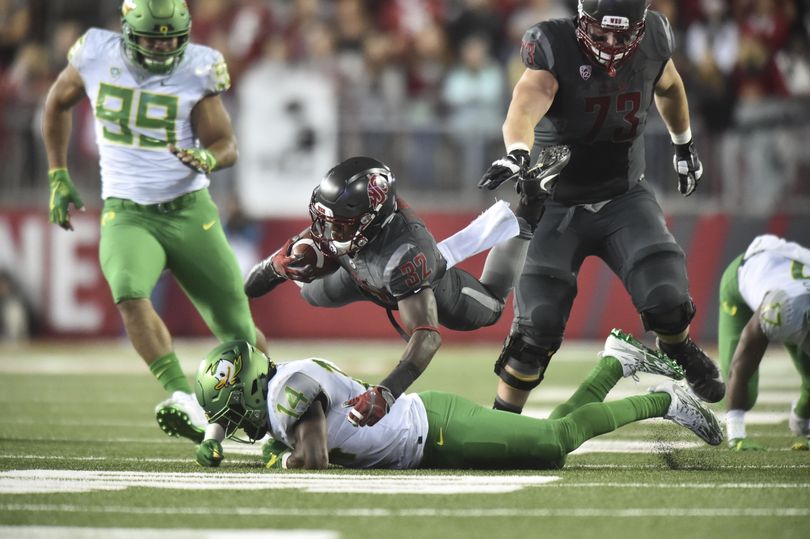 A GRIP ON SPORTS • Most sea changes are gradual, hence the name. But some are pretty stark, like the crashing of a wave on rocky shore. Such was the case Saturday night in Pullman, when the good ship Oregon took on water early and floundered late, sinking under the weight of, get this, Washington State's rushing attack. Read on.
••••••••••
• From the Cougars first offensive play – a 22-yard Gerard Wicks run off right tackle – you could tell this Oregon trip to the Palouse was going to be different. And different in two ways. It wasn't just the final score, a surprisingly lopsided 51-33 in WSU's favor. It was more than that. It was how it came about.
Washington State dominated the line of scrimmage. Pushed Oregon's defensive front around. Handled, for the most part, the four (redshirt) freshman of the Ducks' offensive line. If it weren't for a Simpsons-handful of UO big plays, and a red-zone faux pas or two by WSU, this one could have featured a 35-point margin. Or more. That's how thoroughly Washington State was in control.
That's the what. But the how is more interesting. Is this a case of Washington State having improved that much since last year's double overtime win in Eugene, or is the difference more of an Oregon problem?
As usual, it's both, but probably 75 percent of the change can be attributed to the Ducks' downward slide. Losing on the road at Nebraska, thanks in large part to star running back Royce Freeman's injury and an inexcusable fascination with two-point conversions, was the first clue UO was sick. Last week's home loss to formerly woeful Colorado, with Freeman sitting, was a more direct indicator of the illness.
Last night the Cougars' lines wrote out the death certificate. (And to take it one step further, if Washington invades Eugene next Saturday, snaps a series losing streak that dates back to the stone age, then the coffin will be nailed shut.) Folks, this isn't Chip Kelly's Ducks. Well, Chip Kelly's Ducks when they played Stanford, maybe, but not how they used to look against WSU.
Those Ducks manhandled Washington State up front, not vice-versa. They ran through gaping holes, put up a container ship of points and stymied the Cougar offense with speed at every defensive position. Which is what WSU did to Oregon last night.
The Cougars rushed for 280 yards. Let me repeat that. They rushed for 280 yards. Their three running backs, Wicks, Jamal Morrow and James Williams, divided 273 yards on 35 rushes, an average of 7.8 yards per attempt. Air Raid my backside. This was Ground Chuck or The Electric Company or whatever old-time, ground-and-pound nickname you want to give it.
The nickname doesn't matter. What does is the result. Domination. The five guys up front (from left to right, Andre Dillard, Cody O'Connell, Riley Sorenson, Edwardo Middleton and Cole Madison), pushed the Oregon front back at will. Finesse football it wasn't. But it was winning football.
And the other side of the ball was nearly as good. The Cougars attacked the line of scrimmage as if Oregon was starting a bunch of new Delta House plebes, which the Ducks essential were. The Four Freshmen might have been an OK singing group once upon a time but it's no one's idea of fairy tale offensive line.
Freeman, who is as good a college running back as there is outside of Louisiana, did break loose for a resume-building 75-yard third quarter touchdown run. The other 18 times he carried the ball? Sixty-three yards, or, in average terms, 3.5 per carry.
The defense also gave up a garbage time 63-yard pass completion that padded Oregon's numbers. Drop those two plays out, and the Ducks had 278 yards on 62 plays. That's not good.
A few years ago, Oregon was one of the top three teams in the nation. Right now, they are the third best team in the Pacific Northwest – and I hope writing that doesn't offend the fine folks at Oregon State.
Heck, if Oregon wore cardinal and gold, head coach Mark Helfrich might have been fired on the Pullman airport's tarmac. As it is, it may be a miracle if he survives what looks to be a long season. If Washington puts up another 50-plus points next week and blows out the Ducks at Autzen, Helfrich might join Les Miles exploring the help wanted ads.
Which shouldn't be taken as a devaluing of what WSU did Saturday. It was a bit out of character, yes, but the Ducks couldn't stop the WSU running game. So to Mike Leach's credit, he kept using it. The final quarter, which WSU entered leading just 30-20, featured just five Luke Falk passes and 16 Cougar runs. The result? Three touchdowns, all on the ground. They were part of the half-dozen WSU's running backs scored.
A sea change indeed.
•••
• WSU: We'll start with Jacob Thorpe's report, which is headlined by his game story. There is also the players of the game and two stories on ancillary events, including a look at the new helmets WSU wore Saturday night and Pac-12 commissioner Larry Scott's meeting with the media. ... There is also the scoring – it's long – and post-game video of Leach, Falk, Hercules Mata'afa, Robert Taylor, River Cracraft and the trio of running backs. ... John Blanchette had his view of the 51-33 decision in this column. ... Tyler Tjomsland takes care of the visual side of things with this picture gallery. ... WSU also won the postgame social media battle again. ... Stefanie Loh has a game story in the Times. ... From south of the Columbia River, the Oregonian's Ken Goe has his take on Oregon's downward slide while the Register-Guard's Austin Meek thinks a change is in order. No, not that change. A quarterback change. ... There are also more stories than you may ever need from the Duck side of things, but we pass them on just to be thorough. (And we are paid to do it.)
Elsewhere in the Pac-12 Saturday, the tales of USC's demise may have been a bit premature, as Arizona State found out in the Coliseum. The Trojans won 41-20. ... Up the road, Arizona lost another couple quarterbacks and then burned the redshirt year of a 17-year-old freshman in its 45-24 loss to UCLA. ... The biggest upset of the day came at California. No, not Utah's 28-23 loss to the Bears. The upset was California's defense made the game-clinching stop. ... Colorado is for real. Maybe. It's still hard to tell after a 47-6 rout of woeful Oregon State. ... Washington can't savor its win over Stanford too long. Oregon is up next.
• Gonzaga: There was a lot going on yesterday at the local colleges that wasn't football, including a GU volleyball win over WCC foe San Francisco.
• EWU: It seemed like a competitive game at halftime. It wasn't. The Eagles scored and scored and scored some more in the second half, finally routing UC Davis, 63-30 at Roos Field. Jim Allen has the game story and a notebook, which covers another big day from Cooper Kupp. ... Elsewhere in the Big Sky, host Montana put a crimp in Southern Utah's hopes of repeating as champions. ... Sacramento State picked up its first win and it came at Montana State's expense. ... Portland State didn't compete a pass, but it still dominated Idaho State 45-20. ... Northern Arizona lost again, this one 21018 at Northern Colorado. ... North Dakota stayed undefeated in conference play with a 31-24 home win over Cal Poly.
• Idaho: Troy showed it may just be the favorite in the Sun Belt Conference race, traveling from Alabama to Moscow and handling Idaho, 34-13. Josh Wright has the game story.
• Chiefs: Spokane won its home opener, 5-2 over Tri-City. Steve Christilaw has the story.
• Mariners: If this wasn't a football Sunday morning, we would be all over the M's being eliminated from the postseason chase due to a 9-8, 10-inning loss to Oakland. But it is, so we'll gather our thoughts about Felix Hernandez and the M's and post them here in the coming days. Spoiler alert: I'm not happy and you shouldn't be either.
• Seahawks: A 10 a.m. game on the East Coast. Is anyone worried about that? Of course the Hawks aren't. At least they say they aren't. But, then again, they are playing the Jets. ... Doug Baldwin is showing once again he could have been whatever he wanted to be. He just chose football. ... The Meadowlands holds some great memories.
• Sounders: The results in the MLS yesterday were good for Seattle, with Portland losing 1-0 on the road at Colorado and Real Salt Lake losing to San Jose.
•••
• We're a bit tired. With the postgame show running to midnight, followed by the slower than usual ride up U.S. 195, it was a late night getting home. Then I wrote down my thoughts on the Cougar game before taking a four-hour nap. So now it's time to get back to bed for a while. Then the Hawks' game. Until tomorrow ...
---
---