Mon., Oct. 3, 2016
Russell Wilson may be hobbled but he may also be playing his best football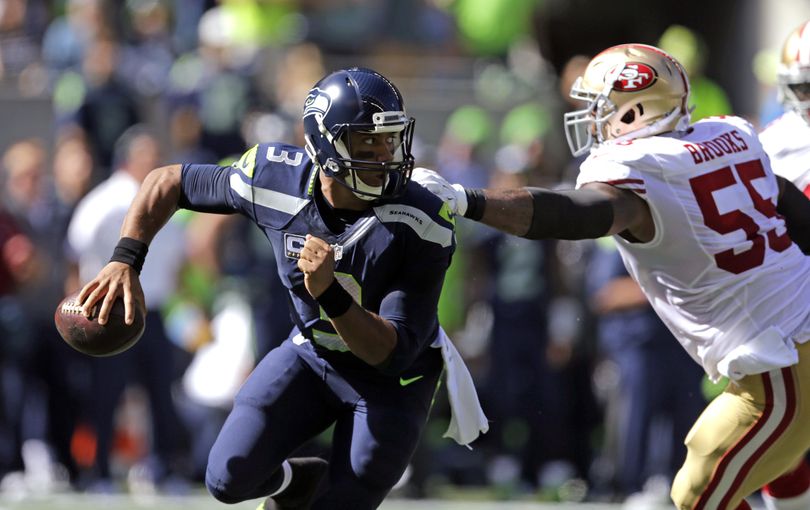 A GRIP ON SPORTS • Remember all that angst about the Seattle Seahawks' offense way back when? That's so September. Here in October, there is nothing but positive vibes about Russell Wilson, Jimmy Graham and the Hawks. Read on.
••••••••••
• First thought on this Monday morning: Maybe the Rams' loss wasn't as bad as first thought. After all, Los Angeles – every time I write that, I think it's a typo, then remember the past is present – is 3-1 after pounding Arizona yesterday.
But first thoughts sometimes distract us from the important thought: Wilson is pretty darn good. Even with two injured legs.
And then there is this follow-up thought: The New England Patriots have been extra-special ever since they found a gem in Tom Brady deep in the 2000 NFL draft. Maybe the Seahawks did the same thing in the 2012 draft.
For those of you who are muttering "blasphemy" under your breath, don't compare this Tom Brady, the guy who is coming back from a four-game NFL suspension as, quite possibly, the best quarterback of all time, to this Russell Wilson. No, think back to Tom Brady of 2005, when his best statistical years were still to come.
That Tom Brady and this Russell Wilson. Different, yes. But similar in that they figure out ways to win. And that's what the position is all about.
Watching Wilson shred the Jets' defense yesterday, I was struck with the throws he made. Touch throws. Darts. Sidearm slings. Pocket passes. Arrows on the move. Every throw you could ever want a quarterback to make, delivered on time and to the right place.
Forget the still-porous protection of the offensive line. Wilson has transformed his game to account for it. Same thing with his ankle and knee sprains. They seemed to be almost non-factors yesterday. (OK, that's too much. Wilson was obviously hobbled and didn't make some plays just because he couldn't make a defensive lineman miss, his signature moves derailed by braces and tape.)
Russell Wilson is a complete quarterback. As complete as anyone in the league playing yesterday. He used his wide receivers, throwing Doug Baldwin open time and time again, even after Baldwin had his bell rung. He used his backs, teaming up with C.J. Spiller for a touchdown despite Spiller having been introduced on the plane back to Jersey. And he found Graham whenever needed, with the big tight end having his first back-to-back 100-yard receiving games since leaving New Orleans.
The Hawks are 3-1. Wilson is a huge factor in that. A bye is coming up. Wilson needs it. All is right in the Seahawk world.
• And, oh yeah, the defense was – understatement alert – pretty good again too. Why in the world would an offensive lineman want to cheap shot anyone on the Hawks' front, but most especially Michael Bennett? As if a guy with a motor stuck at 7,000 rpms needs any more motivation.
•••
• WSU: Jacob Thorpe greets you on this fine fall Monday with a story on the Cougars' offensive line, which turned in an impressive performance Saturday night, powering a rushing attack that earned an award. ... The Times' Stefanie Loh looks forward to this weekend's Stanford game and back at Oregon. ... The WSU volleyball team just keeps rolling, sweeping California to stay atop the Pac-12 standings. ... Elsewhere in the Pac-12, the Cougars returned to these bowl projections and moved up in these power rankings. ... The polls? The conference has four teams in the Associated Press poll. One of them is Colorado, which hasn't been ranked since it was part of the Big 12. ... Looking back at the Oregon game, the Ducks realize they were outplayed in just about every facet. They don't have much time to pout about their three-game losing streak, though, as Washington comes to Eugene this week as a favorite, the first time that's been true for 20 years. ... Arizona's special teams are filled with woe right now. ... As is Arizona State's secondary. ... USC may have found its quarterback. ... UCLA found a go-to receiver. ... California is basking in a big win that came about due, in large part, to Utah's failures to capitalize on opportunities. ... Oregon State will get its shot at Cal this weekend.
• Gonzaga: Courtney Vandersloot helped Chicago stay alive in the WNBA playoffs.
• EWU: Quarterback Gage Gubrud earned an award for his play against UC Davis. ... The soccer team stayed unbeaten in Big Sky play with a road win at Sacramento State.
• Idaho: The Vandal men's golf team had a tough weekend in Iowa.
• Whitworth: The men's soccer team picked up a big Northwest Conference victory.
• Chiefs: Host Tri-City handed Everett its first loss of the season, 3-2 in overtime.
• Golf: The U.S. won the Ryder Cup in pretty dominating fashion yesterday, ending Europe's three-match winning streak. And Tiger Woods was there.
• Mariners: We will get to the M's season this week, we promise. But the Hawks took precedent today. The Mariners ended 2016 with a 3-2 loss to Oakland and finished 86-76, 10 games over .500. It was a better year than last but still there is a ways to go to become a championship contender. ... Some pitchers might go under the knife this offseason.
• Seahawks: The 27-17 win over the Jets was a lot easier than the final score indicates, thanks in large part to Wilson's play. Dave Boling thinks he's elevating himself to mythical status, like a unicorn. ... The names of those who stood out is pretty darn long, including one Tanner McEvoy, who caught a touchdown pass.
• Sounders: Two-for-one. That's what the Sounders received for their 2-1 road victory over Vancouver yesterday. They picked up three points and now are in a great spot to make the playoffs. And they ensured regional rival Whitecaps will not make the postseason.
•••
• We finish today with one last tribute to the best baseball announcer who ever lived. I found a couple of columns this morning that captured Vin Scully's last broadcast like I never could. So read them and enjoy. And, if you are like me, reflect on your youth and what baseball meant to it. And then remember the future is still out there to be enjoyed. Until tomorrow ...
---
---