Wed., Oct. 5, 2016
There is no relaxing this time of year, unless you consider nail-biting games relaxing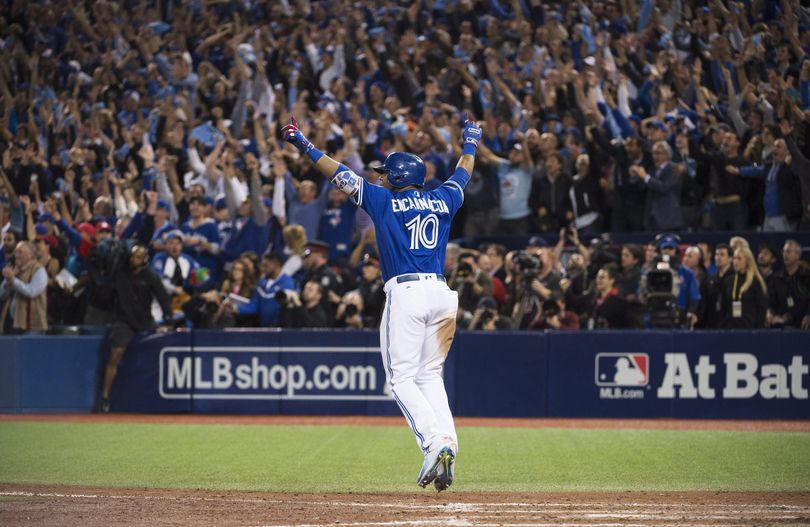 A GRIP ON SPORTS • I was offered a Groupon today for "60 minutes of flotation therapy." Sounds like fun. And maybe exactly what a sports fan needs this time of year. Read on.
••••••••••
• I mean, honestly, is there enough time to concentrate on what's important? That's up to you. To determine what's important, I mean. Is it the Cougars as the head into Stanford? The baseball playoffs? The Huskies and Ducks in their interstate grudge match? The Eagles' chances to win the Big Sky and the FCS title? College basketball beginning practice? Wait, I forgot the Seahawks. At least they are on a bye. We can sort of forget about them for a few days. And concentrate on this ...
• What does desperation smell like? Because if I knew, I'm pretty sure I could catch a whiff of it coming from Eugene this week. The Ducks are reeling. The loss in Pullman dropped them to 2-3, put Mark Helfrich squarely in the crosshairs and, now, may be the impetus for a change at quarterback.
Reports out of Oregon have the Ducks turning to freshman Justin Herbert in an attempt to keep their long winning streak against Washington alive. Herbert, if you recall, came off the bench Saturday night in and led Oregon to a late touchdown. Of course, a 63-yard short pass and catch, which included a couple missed tackles, keyed the drive. That's immaterial. The Ducks need excitement. Another new uniform is not going to get it done. The coach is being canned this week. So there is the other alternative: change quarterbacks.
• One thing you can usually count on with Washington State: If an opposing players is injured, he usually gets well in time to play the Cougars. Exhibit A was Royce Freeman bouncing back against WSU last week. But it seems to happen with considerable frequency.
Which is what makes yesterday's news from Stanford all that more shocking. And unbelievable. The Cardinal played last week at Washington without their two starting cornerbacks and their best receiver. David Shaw said yesterday they all will probably miss the Cougar game as well.
Don't you believe it. Corners Alijah Holder and Quenton Meeks will make miracle comebacks to blanket Gabe Marks and friends. Francis Owusu will shake off the concussion he suffered against UCLA and get deep against the Cougar secondary. Isn't that the way it always happens to the Cougs?
• Great minds think alike. Who said that? Probably not that great a mind. But it came to this average mind early this morning when I pulled up Art Thiel's column on the Mariners' season.
•••
• WSU: Jacob Thorpe covered all the Pac-12 news stories yesterday, from the quarterback reports out of Eugene to the injury situation at Stanford. (And what Jacob didn't get to, we link here; that's how it works.) Jacob also has his Pac-12 power rankings as well as a nugget from Oregon on the Cougars. ... On the post-practice video side, Jacob has interviews with Mike Leach and line coach Clay McGuire. ... The Cougar volleyball team is off to its best start since, I don't know, head coach Jen Greeny was a player in Pullman maybe. At least since she was an assistant coach. Jim Meehan has this story on the success. ... Stefanie Loh outlines the key task for the Cougar defense against Stanford. The Cardinal are beat up physically, sure, but the mental bruises from last week's blowout loss in Seattle may also be slow to heal.
Around the Pac-12, California's success has raised quarterback Davis Webb's stature. He'll try to pad his resume against Oregon State this week. ... The new-look USC offense under Sam Darnold will challenge Colorado this week for supremacy in the South. ... Arizona State may have a new quarterback taking snaps when it hosts UCLA – and coach Jim Mora, who was just reprimanded by the conference – in another key South showdown. ... Arizona's offense still has one sparkplug healthy. The Wildcats will need that and more against an angry Utah group. ... And yes, there is a showdown in Eugene. A rout is expected. The end of a long Washington losing streak. It will happen, right? Maybe. But we do know it's an important game with all the columns written about it.
• EWU: The Eagles recruited a trio of running backs this season and two of them are making a big splash this year. Jim Allen has the story of the infusion of excitement they have brought to Cheney. ... We mentioned basketball season is getting underway. Jim also has a story from the Eagles' media day. ... Around the Big Sky in football, did you know Montana has twins playing on its offense? ... Cal Poly has a bye before it plays Portland State. ...Southern Utah has a bunch of injuries. ... North Dakota has needed all its depth at running back. ... On the basketball side, there is a new coaching staff at Southern Utah.
• Chiefs: Portland kicked off a road trip last night with a loss to Swift Current. ... A Silvertip is just glad to be skating again. ... Tri-City's goalies look young. And are young.
• Preps: John Blanchette has a column on a Gonzaga Prep alum who has become something of a coaching vagabond. Yet Dan Cozzetto still remembers his Spokane roots. ... We can also pass along a roundup of high school action from Tuesday night.
• Mariners: We mentioned Thiel's column above but there are other analysts examining the M's just-short-of-the-playoffs season as well. And they have a little more insight than I do. ... Edwin Diaz admits he was tired at the end of the season.
• Seahawks: The bye week, early as it is, is a good time to look back at what the Hawks have done so far. One bright spot is the play of Justin Britt at center. ... Mike Morgan is on injured reserve, but the linebacker is a candidate to return this season. ... The Jets' game was rife with little moments.
• Sounders: Who is the best team in the MLS?
•••
• The baseball playoffs are upon us. The game's gods had a good chuckle last night, giving us an 11-inning contest rife with post-game managerial second-guessing. And the Jays' win set up a Texas/Toronto MMA-inspired playoff series. What fun. Until later ...
---
---