Fri., Oct. 14, 2016
Someday Mariner fans will see the entire picture unfold in front of them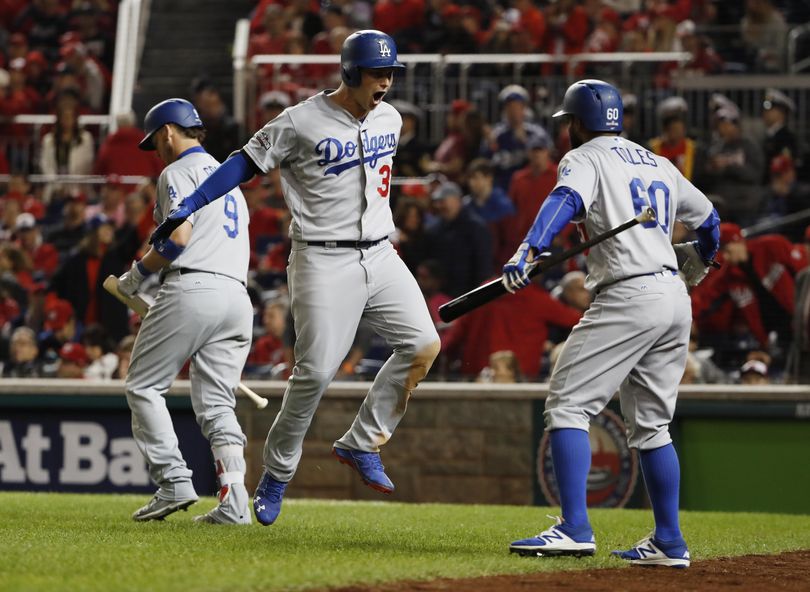 A GRIP ON SPORTS • We have an odd tradition in our house concerning gifts. We give each other pictures of the items we say we will purchase for the recipients. Glossy, color, action-filled photos of a new bike or computer or such. And then we never buy them. Read on.
••••••••••
• Hence, the picture of playoff baseball accompanying this column. It's of the Dodgers during their National League divisional series win over the Nationals. And someday, folks, you Mariner fans will be watching your team do this. We promise.
Of course, I'm also going to put a picture of a kayak in my wife's Christmas card this year, emblematic of the kayak I will "purchase" for her once the weather gets warmer and the rivers start to settle down. It doesn't matter that it's been years since she's wrestled her legs into one. It's something she wants and I'm going to get her a picture of one.
It's a hell of a lot cheaper than, you know, actually buying a kayak.
You think I could come out of retirement and be the M's president or chairman or something? After all, I've got their signature move down pat.
As I sat mesmerized by almost every late-inning pitch last night, I couldn't help but think how exciting it will be when, someday, the M's return to the playoffs. The Washington fans, anticipating a showdown with the Cubbies in the National League Championship series, were on their feet much of the seventh, eighth and ninth innings. That's a long time folks, seeing that the seventh inning took more than an hour and the game itself almost five. But it probably seemed easy, what with their team rallying from a 4-1 deficit and the Dodgers running out of pitching.
And yet L.A. held on, though closer Kenely Jansen had to pitch two-plus innings and Orel Hershier, er, Clayton Kershaw, who started and won games one and four, got the last two outs in relief.
Just think if that was Edwin Diaz and James Paxton for the M's at Safeco?
And, yes, I used Paxton on purpose and not Felix Hernandez. If the Mariners want to reach the American League Championship series some day, Paxton may have to develop into a Kershaw-like pitcher. Or Taijuan Walker will. Because it is star pitchers that get it done in the big leagues and the M's need a couple more.
Well, that and a bullpen full of guys who throw 99 miles an hour. Picture that. A team with a deep pitching staff, a strong lineup and rabid fans filling a stadium. It would be a gift, wouldn't it?
• It's Friday and there is a wonderful story in today's S-R sports section.
Josh Wright examines Idaho's upcoming move to FCS football's Big Sky Conference and all that means. Don't miss it.
And I want to remind you of one salient fact: Every University of Idaho sport except football is already playing in the Big Sky. Volleyball. Basketball. Golf. They all compete in the conference. Football will join them soon. And, as I've written for years, it should.
•••
• WSU: So who wins Saturday? If Jacob Thorpe is correct, the Cougars do, in a relatively low-scoring affair. He has his prediction in today's paper. ... The Cougars have decided on who will fill in for the suspended Logan Tago, who will only be practicing while his legal issues are being resolved. ... Jacob also takes a look at the numbers behind WSU's recent success. ... The roles have reversed in this series with UCLA, as the Cougars have become the better team at running the football. And winning games.
Elsewhere in the Pac-12, it's time to make picks and most prognosticators have Washington State picking up its third conference victory. ... California, Washington and Oregon all have byes this week. ... USC is at Arizona and hopes to do something the Huskies couldn't, run over the Wildcats. ... Arizona State is at Colorado as the South continues to be the unsettled division. ... Stanford steps out of conference at Notre Dame. ... Oregon State hosts a Utah team that wants to stay in the South race.
• Gonzaga: Basketball season isn't that far away and the GU women's team will have a new look this year. Jim Allen examines their roster in advance of Saturday's fan experience at the Kennel. ... The TV games for the men's team have been finalized. And Josh Wright's Idaho piece also includes a sidebar on how a sport can raise the national reputation of a university, as basketball did for Gonzaga. ... BYU will go into the season with an imposing front line.
• EWU: The Eagles' volleyball team fell in a road Big Sky match.
• Idaho: Besides Josh's piece on football's upcoming change, there is this short on Austin Rehkow winning another award.
• Chiefs: Spokane has started the season slowly. Maybe a four-game homestand can get them going. Tom Clouse has an advance of the next week or so. The homestand begins tonight with Everett in town.
• Empire: The Arena Football League is splintering. And it looks as if one of the bigger pieces, the Arizona Rattlers, will fall to the Indoor Football League. Jim Meehan has a story on another AFL franchise following in the Empire's footsteps.
• Preps: There was a doubleheader at Albi last night and Greg Lee was there. He has this story on Gonzaga Prep's showdown win over Mead and this piece on Ferris' win against University. There is also a photo gallery from Colin Mulvany. ... We also have a roundup of other action in the area.
• Seahawks: There is some good news on the injury front and it involves quarterback Russell Wilson as well as tight end Nick Vannett. And then there is some bad news involving pass rusher Frank Clark, who is dealing with a hamstring issue. ... Speaking of Wilson, he's still on an emotional plateau from visiting with the kids at Children's Hospital this week. ... Richard Sherman doesn't think much of the "locker-room talk" idea.
• Sounders: Jordan Morris is a world-class soccer player who just happens to suffer from diabetes. ... The MLS' top team right now is in Colorado.
•••
• So what do you want for Christmas? I'll just put a picture up here and call it good. Until later ...
---
---