Sun., Oct. 16, 2016
If you are into bottom lines, Cougars 3-0 record in Pac-12 play looks perfect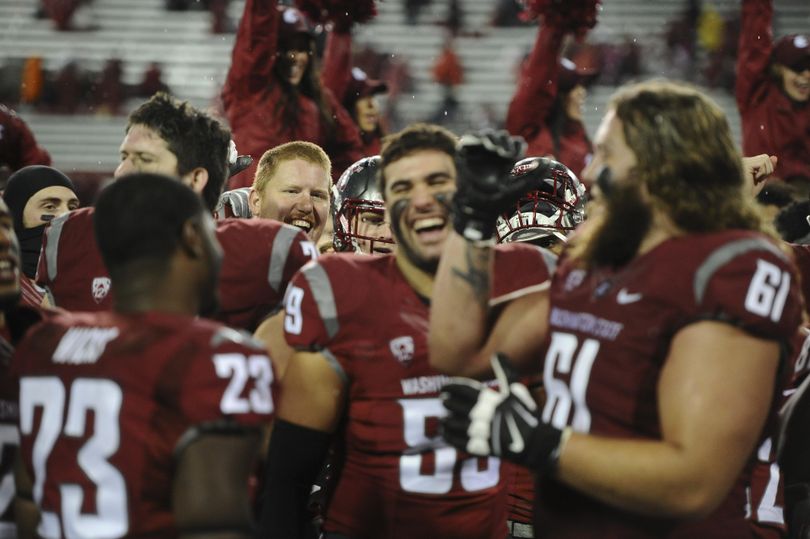 A GRIP ON SPORTS • So what more could a Washington State football fan ask for this morning? The Cougars defeated UCLA last night in Pullman. They have won four consecutive games. And they are 3-0 in Pac-12 play, tied atop the North with Washington. Read on.
••••••••••
• Perfection is always the goal, right? But it is never attainable in all things. So what if the 27-21 win over the Bruins wasn't perfect, the result was. And the Cougars' conference record remains perfect as well.
Bottom line world, bottom line result.
Sure, there are negatives to pick out. There almost always are. Luke Falk didn't look sharp with the possible exception of one 7-minute third-quarter scoring drive. The secondary leaked a bit against a fifth-year senior quarterback who had thrown all of seven college passes going into last week's game. And the old standby, clock management, almost became another problem.
But you can also look at the flip side, and Falk's troublesome day against a stout Bruin defense still resulted in 27 points, the most UCLA has given up in a non-overtime game this season. The defensive secondary may have allowed more yards than Alex Grinch would have liked, but they also picked off two passes – part of WSU's four forced turnovers. And two of those turnovers came in the final few minutes, assuring the extra plays afforded UCLA didn't change the outcome.
So take a minute to accept it was an ugly game, something the Bruins usually revel in, that ended up, like the other two Pac-12 games against Oregon and Stanford, on the left side of the ledger. That's enough.
It may not have been perfect – the weather certainly wasn't, nor was the finish time – but it was successful.
•••
• WSU: Not so fast my friend. That's the first phrase that came into my head while reading John Blanchette's column last night. All this talk of the Apple Cup being for the Pac-12 North marbles is fine, but there are five long weeks before that is true. ... Jacob Thorpe worked furiously through the rain storms last night, pounding away at his computer throughout the night – except when he was interrupted by some old guy to his left. The result? Jacob has his game story, a notebook which includes a look at Mike Utley's Hall of Fame designation, the key players, the key moments, the scoring and a left ear that is probably still bleeding from stories about "the good old days." ... Another guy with knowledge of those days, Larry Stone, was at Martin Stadium last night and has this column in the Times. Stefanie Loh also has the game story and a notebook. ... One positive I neglected to mention was kicker Erik Powell, who was so solid last season, hit his first and second field goals of 2016. They turned out to be the margin of victory. ... Tyler Tjomsland was actually out in the precipitation and has this photo report. And I almost forgot to link Jacob's postgame report here, which included videos of Falk, River Cracraft, Peyton Pelluer, Gerard Wicks and Mike Leach as well as some notes from Washington State. ... UCLA played without star quarterback Josh Rosen, who tried to warm up but his right arm wasn't working.
Elsewhere in the Pac-12, the surprise leader of the South is Colorado, who routed Arizona State 40-16 in Boulder. ... USC may be the best team in the division right now, though, as the Trojans also won in a rout, 48-14 at Arizona. ... Stanford regrouped without Christian McCaffrey, spotted Notre Dame 10 points and roared back for a 17-10 win in South Bend. ... Utah didn't look good. Either did Oregon State. Maybe it was the weather. The Utes won, 19-14, in Corvallis. ... I didn't see the mailbag yesterday from ESPN.com's Pac-12 blog, so I pass it along today.
• Gonzaga: The women's basketball team entertained their fans yesterday at McCarthey Athletic Center, showing off the 2016-17 edition for the first time. Jim Allen was there and has this story. Dan Pelle was also there and has a whole bunch of photographs on the same link. ... The volleyball team was swept by 11th-ranked BYU.
• EWU: The Eagles had a bye but there was action throughout the Big Sky, highlighted by North Dakota remaining undefeated with a 45-23 home win over Southern Utah. ... Montana ripped Sacramento State 68-7 in Missoula. ... Weber State handled visiting Montana State 45-27. ... Northern Arizona had no trouble with Idaho State, winning 52-7. ... UC Davis picked up its first conference win, 34-21 over visiting Northern Colorado.
• Idaho: The Vandals remained on track for a bowl game with a surprisingly easy 55-23 win over New Mexico State in the Kibbie Dome. Josh Wright has the story and Tyler adds a series of photos.
• Whitworth: Things looked bleak for the Pirates late at Pacific Lutheran, but they rallied, scoring with 41 seconds left and edging PLU 45-41.
• Chiefs: Spokane, playing without suspended forward Hudson Elynuik, lost in a shootout to visiting Portland. Tom Clouse also has the game story.
• Preps: We can pass along a roundup of Saturday's action.
• Seahawks: With the Hawks hosting pass-happy Atlanta today, not only will the defense be tested, so will the officials. Richard Sherman spoke out against the rules that favor the offense, though the Hawks seem to do just fine despite them. ... Jimmy Graham is beginning to show Seattle fans what he can do. ... A promising defensive lineman who couldn't stay healthy was let go yesterday.
• Sounders: Seattle has another chance to clinch a playoff berth today, this time in Texas. ... Real Salt Lake is also trying to clinch a playoff berth.
•••
• I don't know about you, but last night's WSU game seemed to trigger some interesting reactions. A couple of the callers to the postgame show were so, I don't know, excited – ya, let's go with "excited" – they could hardly talk. Or maybe the correct term was inebriated. I've never been good with words. Until later ...
---
---