What time does the game start on Saturday?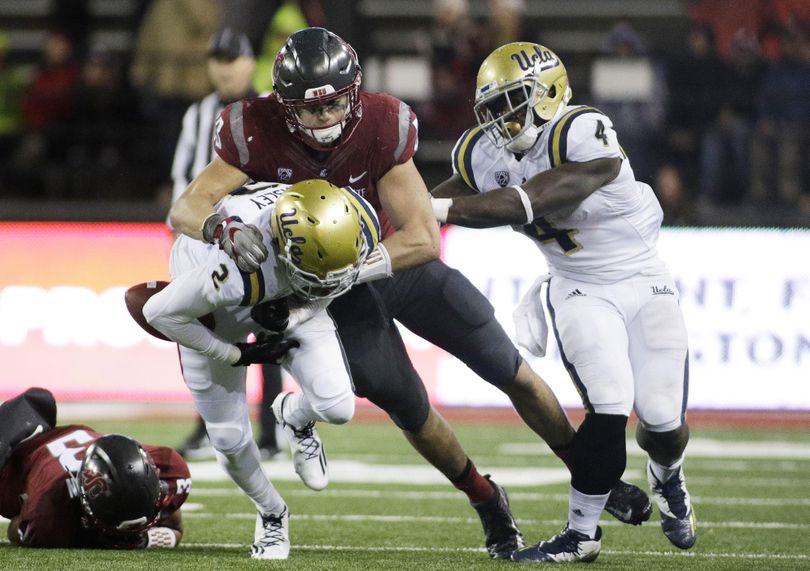 A GRIP ON SPORTS • That's it. I've had enough. It's time to make a stand against college football games that begin after my bedtime. Read on.
••••••••••
• No, that doesn't mean I have to be ticked off if a game begins after 5 p.m. With dinner at 4:30, there is no way I'm ready for bed that early. And, actually, an occasional late-night college football game is fun in a this-is-unusual type of way.
But that hasn't been the case for Washington State this season. For some unknown reason – lack of cachet within the Pac-12 Conference, no East Coast fans, a way to get back at the Cougars for losing to an FCS school that past two years – WSU has been shuffled off to a late-night spot for nearly every week this season.
Other than the 11 a.m. start for Idaho, the Cougars have played every game on their schedule after dinnertime. OK, so the opener with Eastern started at 5, but that's the dinner hour. Otherwise, WSU's kickoffs have been at 7:15, 6:30, 7:30 and in the coming two weeks, 7 and 7:45. That's p.m., of course.
Late-night starts are a pain for fans everywhere. I get that. But for those outside of urban areas, it's even worse. And Pullman may just be the worst spot of all, due to the two-lane highway that runs back to the closest major city.
Corvallis has a similar problem, but once a Portland-based Beaver fan gets to Interstate 5, life is a bit easier. Otherwise, everyone else in the Pac-12 can leave the stadium, get on a freeway and head home. That may take a while in Los Angeles or the Bay Area, but dealing with a broken-down Dodge Caravan is nothing like you trying to dodge a moose going through Belmont.
Yes, I know, only a few of you take the back way to Pullman, but even U.S. Highway 195 has its foibles. It's not like it's I-95 or anything.
Even when the Cougars are on the road, the late night costs them some fans I'm sure. Eyeballs are clearer at 4 p.m. than they are at 10:30. And the siren-like cries of your down pillow are harder to hear.
And if you think it's only the fans who are not, well, a fan of late-night starts, listen to what Gabe Marks has to say here. He has a point. Coaches want players focused on games before they start. When it is over, they can relax a bit. But when the game begins at 7, then a) there is a long time before you take the field; and b) very little Saturday left afterward.
The times for all of the Washington State games through the end of October are set. November's games, other than the 12:30 start – hey, an afternoon game; on a Friday – for the Apple Cup are to-be-determined.
My guess is the other three – vs. Arizona and California (in Pullman) and at Colorado – will be during the day. If they are, you can thank me. After all, no one wants to tick off a semi-retired, overweight Italian guy with a computer.
•••
• WSU: As you might have guessed, the Cougars' start time with Oregon State on the 29th was announced yesterday. It will be on ESPN2, starting at 7:45 p.m. If you live in, say, Boston, you will be up until breakfast time Sunday. Jacob Thorpe has the story. ... Jacob also has his first look at Arizona State as well as video of interviews with Mike Leach, Dylan Hanser and Cody O'Connell and the game notes from WSU. ... Leach has mentioned this before, but he feels Todd Graham's team steals offensive signs. Jacob has that story and another on the improved pass rush, which didn't really show last Saturday until the final UCLA possession. ... The volleyball team is headed to Arizona. ... Stefanie Loh has a story on the game times in the Times. ... There are also a couple of pieces on Leach's feelings about play-call stealing.
Elsewhere in the Pac-12, it's basically the halfway point of the 2016 season and that leads to some retrospective pieces as well as grades and rankings of the first half. ... This week's games kick off Friday night with a reeling Oregon team traveling to California to play the Bears. ... South-leading Colorado is also in the Bay Area to play Stanford. ... Utah and UCLA play what is probably an elimination game. ... And the final Saturday day game pits Washington against an Oregon State team that will be on its third-string quarterback. ... USC and Arizona have byes.
• Gonzaga: Nigel Williams-Goss, the transfer point guard from Washington, is on the Cousy Award watch list. ... The Big 12 decided not to expand, which means BYU will probably stay in the WCC for a while.
• EWU: Around the Big Sky early this week, the change to a nine-game conference football schedule in 2020 is a topic of discussion. ... North Dakota is steadily moving up the rankings. ... Montana State hoped to be able to use a transfer this basketball season but the NCAA denied a waiver.
• Idaho: Matt Linehan's 476 yards passing last Saturday earned him recognition from the Sun Belt Conference.
• Chiefs: Spokane made a trade yesterday to bolster the front line.
• Empire: It's official. The Arizona Rattlers are leaving the Arena League and joining the IFL. Jim Meehan has a story on how the change affects Spokane.
• Preps: North Central remains No. 1 in the latest cross country poll.
• Seahawks: The fallout from the Atlanta win continued Monday. Pete Carroll made his usual rounds and addressed the sideline escapades as well as the final play, which the Falcons still haven't gotten over. ... Michael Bennett should be fine, but the injury scare probably hit him hard. He wants to be paid commiserate with his playing performance. ... Others may not have been so lucky with their injuries. ... The Cardinals are playing better.
• Mariners: Three pitchers have already undergone offseason surgery though only one may not be available when spring training starts.
•••
• You like the late starts? Some do. It allows them to get a lot done on Saturday and then sit down to watch their Cougars play. My guess is, however, very few of those who enjoy the late start times head to Martin Stadium to watch. Or are over the age of 50. Until later ...
---
---