Sat., Oct. 22, 2016
Oregon's defense is about as loved – and as effective – as a telemarketer's call on a Saturday morning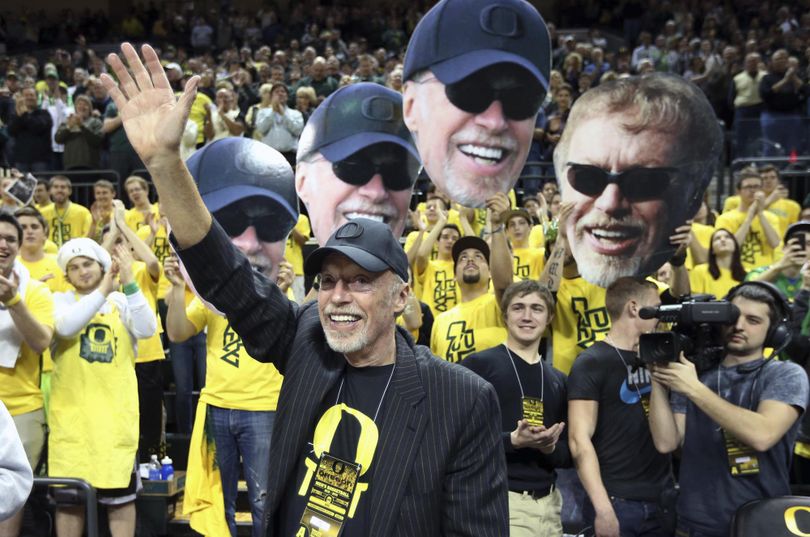 A GRIP ON SPORTS • The home phone rang this morning at 6 a.m. It was a telemarketer. Are you kidding? With what went on last night in Berkeley and what is scheduled for Tempe tonight, there was no way I wanted to see 6 a.m. this morning. I wasn't too nice. Read on.
••••••••••
• This is my way of apologizing for yelling. No cuss words, but what I did say I said loudly. And no, I don't need a new computer. But I do believe I need to get someone out here to get rid of my landline. It's time to cut the cord. It seems like a waste.
Sort of like Oregon's football team this fall. Really, what is going on with that?
I got home last night a little late and missed the beginning of the game. It was 21-0, California, by the time I turned it on. Big deal. I missed less than a quarter of the points that would end up being scored.
Yes, the Ducks rallied. Yes, they forced overtime. Two in fact. And, yes, they lost again – even if anyone east of Bozeman had to stay up until the doughnut shops opened to see it. The Ducks are in decline. And it's not going to stop until a change is made.
Midway through the third quarter former Eugene Register-Guard columnist George Schroeder tweeted out something about it looking as if Cal's offense was playing against air – though air would offer more resistance. His successor in Eugene, Austin Meeks, wrote a column that gave the Ducks' defense an attaboy – for playing harder. Imagine that, a participation trophy.
The Oregonian's John Canzano has a different view. He basically called on Phil Knight, the Ducks' unofficial "owner," to step in and ask nicely for a change. Or demand one. It's the same thing.
When Chip Kelly bolted Eugene just four short years ago, Oregon was atop the college football landscape. Not all the way, mind you, but within spitting distance. Now, under Kelly's successor, Mark Helfrich, the recruiting has faltered, the imagination has fled and everyone is just spitting on the Ducks.
Listen, it seemed likely the Oregon defense would be better this year. To me at least. Brady Hoke may not have been a success as Michigan's head coach, but he had built solid defenses everywhere he had coached. Until he got to Eugene.
Now his reputation is shot. So is Oregon's. Most importantly, from afar – with one game watched in person – it looks as if the Ducks have checked out. That's the main reason they have to make a change. But only if they want to stay relevant.
Think Knight wants that? Here's a guy who watches away games from the coaches' box. Ya, he wants the football team to be relevant.
So Helfrich will not see next year. That's sad in a way, because he's a nice guy who seems to care deeply about his players. He also has deep roots in Oregon. But that's not enough, not with what is at stake in the top levels of college football.
That's where the Ducks have been. That's where they want to be. It's not where they are now.
•••
• WSU: There is some bad blood between Arizona State and Washington State. And a bit of history. None of that should make much of a difference tonight in Tempe. Jacob Thorpe has an advance of the game. He also has his pick – spoiler alert: it's WSU – the keys to the game. ... Yesterday was the Pac-12's annual basketball media day (football gets "days," basketball has a "day") and Jacob was in attendance in San Francisco. He has a story from the media gathering as well as a transcript of what Ernie Kent and Josh Hawkinson had to say. Jacob also has a blog post and story on the media poll as well as a look at the conference's evolving media landscape. It looks as if just about everyone expects defending champion Oregon to repeat. ... A former WSU (and Lewis and Clark High) standout, Gail Codgill, died Thursday. ... The volleyball team won again. ... Back to football, Dylan Hanser has stepped up and played well for the Cougars. He'll have to do the same tonight. ... Arizona State is tough to beat at Sun Devil Stadium, where it will play every game this season at night.
Elsewhere in the Pac-12, it's Saturday, so we pass along ESPN.com's mailbag, courtesy of Ted Miller. And we have a summary of what to watch. ... We linked last night's game, a 52-49 double-overtime win for Cal, above. ... Colorado and Stanford share a philosophy, one Mike MacIntyre used successfully at nearby San Jose State. ... Utah and UCLA play what may be an elimination game for both. ... The biggest mismatch today? Oregon State at No. 5 Washington. ... USC and Arizona have byes this week. Speaking of Arizona, there is something odd going on within the basketball program.
• EWU: If Montana State had an experienced quarterback leading the way, the Bobcats might just be OK. Wait, he's in Eugene. Sitting on the bench. So Eastern, and its high-powered offense, should roll today in Bozeman. Jim Allen has an advance. ... Jim also has an advance of the new-look Eagles' basketball season. ... Around the Big Sky, the rivalry game between Weber State and Southern Utah has a different feel this season. ... Montana's offense has been on a roll recently. But the defense has been OK as well. Northern Arizona will have its hands full. ... Idaho State hosts North Dakota. ... Northern Colorado is breaking even thus far. ... Cal Poly hosts UC Davis tonight.
• Idaho: The Vandals unveiled plans for a new basketball facility yesterday, a building that's been discussed for 50 years. And carries a $30 million price tag.
• Whitworth: The Pirates have their biggest game of the season today, hosting Linfield in a battle of NWC undefeated teams. Tom Clouse has a preview.
• Chiefs: Three goals in the second period lifted Regina past the visiting Chiefs, 4-2, last night. ...Seattle got past Portland 3-1. ... Everett travels to Vancouver tonight.
• Preps: It was a busy night in prep football as the playoffs loom. In North Idaho, Coeur d'Alene clinched a spot in the postseason with a 48-27 win over Post Falls. Jim Meehan has the story. ... Out at Albi, Gonzaga Prep put together a second-half show and raced past Lewis and Clark, 47-14. Tom Clouse has the story and Colin Mulvany adds a photo report. ... Tom also has the story of Mead's 49-35 win over Ferris. ... In the Valley, West Valley got past East Valley, 38-21. Greg Lee has that game story. ... Central Valley hammered University, 55-16. ... In girls' soccer, Lake City advanced to the 5A State title game with an overtime win over defending champion Centennial. Greg has that story.
• Seahawks: It doesn't look as if Kam Chancellor will play again, which puts the onus on Kelcie McCray Sunday night in Arizona. ... Long snappers don't want the spotlight.
• Mariners: Tyler O'Neill is having a breakout fall in the Arizona Instructional League.
• Sounders: The Sounders have painted themselves into a corner. The must win Sunday's home match vs. Real Salt Lake to advance to the playoffs. Does this have anything to do with an administrative change a couple years ago?
•••
• It's Saturday. The grass needs to be mowed. The leaves raked. Gutters cleared. But college football is on. What to do? (Remembers he is retired and doesn't have to go back to work Monday. Laughs manically.) Until later ...
---
---