Tue., Oct. 25, 2016
Washington State, Gonzaga and Eastern Washington are all covered in this final blog post. How's that for a headline?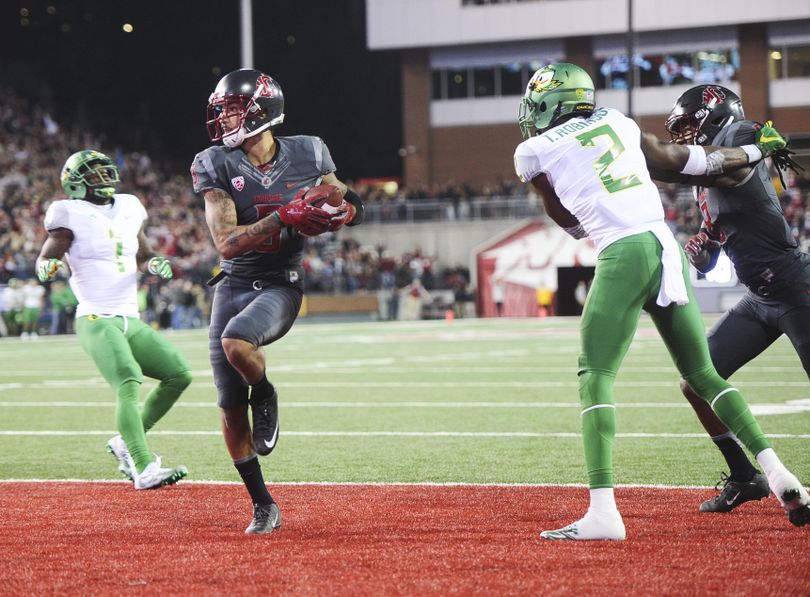 A GRIP ON SPORTS • Today is the final day for the long-running "A Grip on Sports" blog post. Before you run to the fridge to get that bottle of champagne you've been saving, however, you have to know this feature will go on. Just in another spot. Read on.
••••••••••
• Yes, we're moving. Tomorrow. We've already held the yard sale and had the rugs shampooed. Twenty-four hours from now we will present this column and the accompanying links on the sports home page of The Spokesman-Review. Right among all the stories we link.
I'll no longer be a highly respected "blogger." It's back to being just a run-of-the-mill "writer."
That is, if I can figure out all the logistics. Actually, don't worry. I will. The basics, at least.
See, the story side of this website includes a little more complicated formula. I checked it out yesterday, scouting out the new neighborhood so to speak. And was a bit taken aback.
It's sort of like the difference between Google Maps and Google Earth. They show you the same place, but finding where you want to go seems easier in one.
But honestly, it's no big deal. Not for me, not for you. Unless you have an app on your phone that takes you right to SportsLink, as I do. Then you will have to change it. Otherwise, everything else is consistent. I will be doing the same thing I do now. Only the spot you find it will be different. Don't worry, I will continue to tweet out a link to our column each morning, along with a pithy comment.
And I'll be getting a huge pay raise. Huge. Right, Joe?
Wait, what? OK. So the pay's the same too. As is the payoff for you.
We will continue to have links to every S-R story I can access. And stories from other sources about our local teams, as well as others in the Pac-12, Big Sky and, when basketball season is in full swing, the WCC.
We will link, and opine about, the region's pro sports teams as well, from baseball to soccer, from football to, well, football, because we only have the three pro sports (thank you once again Howard Schultz).
Get the picture? Same feature, different address. It's that simple. And, oh ya, go Cubs. I may not own a BMW or any designer jeans, but I am still rooting for the team that hasn't won a World Series in 107 years, as opposed to the one that only has a 67-year drought.
Like tomorrow's move, it seems as if it's time.
•••
• WSU: Washington State plays at Oregon State late Saturday night – Jacob Thorpe has his first look at the game – but that wasn't the most interesting subject brought up at yesterday's media availability. Gabe Marks spoke on college athletes and social issues, and Jacob has a story on his comments as well as the video of his appearance. Robert Taylor spoke about his 100-yard kickoff return against Arizona State, and Jacob has a story on that as well as the video of his appearance. Mike Leach spoke about the World Series and other, non-football items, including "The Price is Right." Jacob has video of his appearance as well as that of Jamal Morrow's. ... A former Washington State athletic department staffer, John David Wicker, was named athletic director at San Diego State yesterday. He faces a daunting task but Wicker is up to it. ... Oregon State is coming off a 41-17 thrashing at Washington but coach Gary Andersen believes there are lessons to be learned from the loss.
Elsewhere in the Pac-12, California hasn't had much luck against USC recently, so Thursday night's game is about redemption. ... Two struggling teams, Oregon and Arizona State, meet Saturday in Eugene. ... The best game of the weekend: Washington at Utah. The Huskies expect their toughest test of the season thus far. A former UW quarterback will lead the Utes. ... With about a million injuries to its runningbacks, Arizona has moved a wide receiver to the position for the game against Stanford. ... UCLA coach Jim Mora finally admitted Josh Rosen has an injured shoulder and won't be back for a while. The Bruins have a bye this week. Colorado also has a bye, giving the Buffs another week to revel in their resurgence.
• Gonzaga: Ronny Turiaf may have been the most popular Zag player of all time. His infectious joy playing basketball – as well as his ability – puts him somewhere near the top of everyone's list. But Ronny won't be playing basketball anymore. Jim Meehan has the story of his retirement. ... Another former GU player, Kyle Wiltjer, has made the Houston Rockets' roster, joining Domantas Sabonis as members of last year's team playing in the NBA. ... ESPN examines how Saint Mary's Australian pipeline began.
• EWU: Let's hope Gage Gubrud's parents have an extra room or two at their house. They will need them to store all of the hardware the quarterback has picked up this season. He won another national award yesterday. Jim Allen has the story. ... Around the Big Sky, North Dakota has never been ranked higher than its current 17th. ... Weber State continues to rally to victory. ... Idaho State has some positives to take from its latest loss. ... Montana drops in the Big Sky power rankings.
• Empire: The Indoor Football League's 2017 schedule was released yesterday and the Empire will play league newcomer Arizona three times. Jim Meehan covers that and the rest of the schedule in this piece. ... Billings is noticeably absent from the schedule.
• Chiefs: Seattle has a WHL team. Though its team actually plays in the suburbs. ... Portland is buoyed by its fast start.
• Preps: The state cross country rankings for the week are out, with North Central again atop the 3A boys and Central Valley No. 1 in 4A boys. ... We can also pass along a roundup of Monday's soccer action.
• Seahawks: After a grueling 6-6 overtime tie at Arizona on Sunday night, the Hawks' first priority this week is to get refreshed. To heal up and get physically able to play again on Sunday against New Orleans. ... Stephen Hauschka needs to refresh mentally after missing a short game-winner. ... They also need to dig deep and learn some lessons from the game. ... The offensive line, already struggling, lost its starting left tackle. What will Seattle do? ... Hopefully, Thomas Rawls will be back soon to help.
• Mariners: The role of the closer is changing in baseball, according to general manager Jerry Dipoto. It's going back to more like they used to be used.
• Sounders: The playoffs start this week. One interesting matchup is Real Salt Lake and the L.A. Galaxy, two franchises who aren't playing as well as they would like. L.A. now has Landon Donovan though.
•••
• By the way, I hope the change of venue will encourage a few more comments. And that they will continue to be as intelligent as always. Just more of them. I am going to try to get more diligent in checking back during the day to interact a bit more. Call it a New Site's Resolution. We'll see how long it will last. Until later ...
---
---