Fri., Sept. 2, 2016
It's about to begin pouring college football, which is just great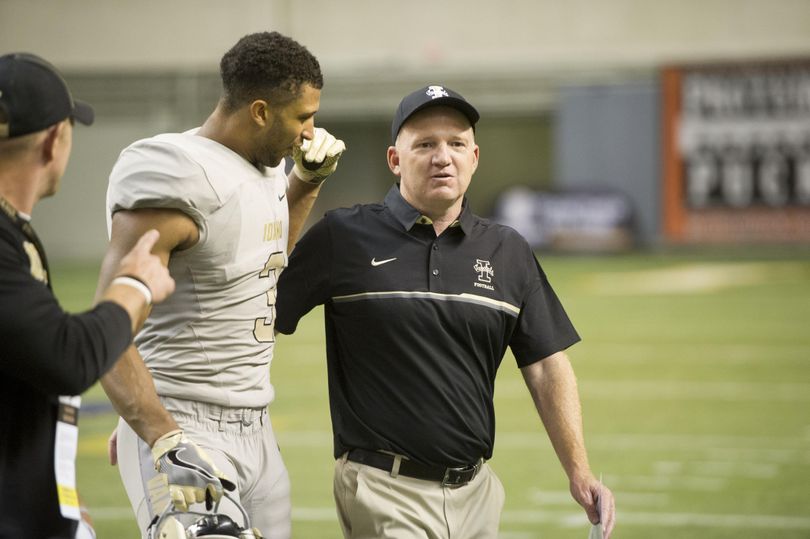 A GRIP ON SPORTS • Any of you have a meteorological background? Maybe you can explain to me why it always seems to rain around here on the first weekend of college football season, or as it's known to non-football fans, Labor Day weekend. Read on.
••••••••••
• OK, I know it rained this morning. And it rained last year on the Saturday of the holiday weekend. That doesn't qualify, in climatological terms, as "always." In any term, actually. But in the fuzzy memory I have of the past 33 years, it does seem as if rain is common on the last weekend of summer vacation. Maybe that's why school is starting earlier these days. To avoid the mental letdown. Who wants their last weekend of freedom marred by rain and cold? Or the first weekend of football. That's not what marred the Cougars opener last year. It contributed, sure, but Portland State did the marring. Gashing, marring, however you want to label it. Another Big Sky school, Montana State, featuring another first-year coach, tried to do the same to the other Palouse-based school last night, but the Idaho Vandals earned the win they desperately needed. The 20-17 score isn't that impressive but, as they are saying in Knoxville and Minneapolis this morning, a win is a win. Sharpness is rarely a thing in a college football season opener, and it wasn't last night in Moscow. For either team. Yet it was college football. And that's enough. Yes, I know it happens every late summer. But it's still cool. It's also mesmerizing, exciting and captivating. Strap in. We're about to take a four-and-a-half-month ride. It's college football season.
• You know what isn't mesmerizing? The final game of the NFL preseason. Every coach, player, fan and doctor connected to the league is hoping the final person in that list doesn't have to work. The last thing anyone wants is an injury to occur. The guys who have made the team played, for the most part, a series last night in the Hawks' 23-21 win over the Raiders. And no one was injured. The rest of the game was devoted to the guys on the bubble, whether that means the starting-lineup bubble or the roster bubble. Those players played with everything they had, hoping to do enough to avoid the dreaded "bring-your-playbook-pad" talk between now and Saturday. Some 20 of them can't avoid it, for sure, but they have to hope they did enough to impress another team or enough to be called back to the practice squad after clearing waivers. The rest have to stay in shape and wait for a call. That's no fun. Neither are the next 36 hours.
•••
• WSU: Saturday is the game. For those not expected to play, there is a Thursday night scrimmage. The Cougars held theirs last night and freshman receiver Renard Bell impressed the coaches. Jacob Thorpe watched and wrote a blog post and a story, which we pass along. ... Jacob also has a feature on sophomore receiver Kyle Sweet and his interesting journey to Pullman last year. ... He also posted interviews with assistant coaches Ken Wilson and JaMarcus Shephard. And there is a story on how to watch Saturday's matchup with Eastern Washington on television or your computer. ... Washington State has set a record with season-ticket sales. ... Elsewhere in the Pac-12 last night, there was a lackluster win and another disappointing loss. The latter came in Minnesota, where the Oregon State Beavers had every opportunity to begin 2016 different than they ended 2015. Instead, the result was the same, a loss. This one was 30-23. The Beavers gave up 13 unanswered fourth-quarter points. ... In Salt Lake City, Utah did what it needed to do, defeat an FCS opponent, but the 24-0 final over Southern Utah didn't impress anyone, least of all the Utes. ... Unanimity seems to be the watchword for these picks. ... Colorado is under pressure in tonight's rivalry game with Colorado State. ... Washington will have to deal with Rutgers' impressive kick returner. ... Arizona State's newest quarterback is a knucklehead. According to a former ASU quarterback. ... Speaking of knuckleheads, here are a couple. Just kidding. About one, anyway. ... Is Oregon's defense going to be better? ... Stanford has one weapon everyone knows they have to stop. ... Arizona's recruiting is better because of one guy. ... California has a receiver who wants to become "the" guy.
• Gonzaga: The Zag men and Idaho women won the Clash of the Inland Northwest cross country invitational yesterday.
• EWU: Jim Allen answered questions in a live chat yesterday and then posted the transcript here. ... Stefanie Loh has a story in the Seattle Times on Cooper Kupp and how – and why – WSU and UW didn't recruit him. ... Besides Montana State's loss at Idaho (see the next paragraph for our coverage) and Southern Utah's shutout at Utah, another Big Sky team played yesterday. Weber State was bounced by Utah State 45-6. Wait, North Dakota played as well and it lost too. To Stony Brook, 13-9. Yep, a bad night for the Sky.
• Idaho: Bottom line cliché: The Vandals are 1-0. They didn't play well offensively the entire game and only did defensively for the last 25 minutes or so. But it was enough. Josh Wright has the game story, John Blanchette has his column and Tyler Tjomsland the photo gallery from the 20-17 win over Montana State.
• Whitworth: The women's soccer team opened its season with a 5-1 road victory.
• Chiefs: The Everett Silvertips are hosting a preseason holiday tournament for the 13th time and it includes Spokane.
• Empire: Spokane has added to its roster again.
• Indians: Spokane is bouncing back, winning its third game in four days, this one 5-2 over Hillsboro. Josh Horton has the game story as well as a blog post on the Indians' prospects. ... Eugene has the Northwest League's best overall record and the first and second half South titles.
• Mariners: You know what? The M's opened September by not losing. OK, they didn't play. After a 1-6 road trip, it's going to take a miracle for them to make the postseason, but if they play well, maybe they can pull it off. Wait, who am I trying to kid?
• Seahawks: For most of the first half it looked as if no one would ever score. And then someone did. The Raiders. With an intentional-grounding safety. Yep, it was that type of game. It finished 23-21. ... The highlight might have been Thomas Rawls getting two carries in the first half. Or Kam Chancellor getting to play in the same defense with his brother. ... On my prep sheet before yesterday's radio show I had one question I wanted to talk about but we didn't get to: Would anyone on the Hawks sit out the national anthem? Turns out Jeremy Lane did. ... OK, there was one injury. Jordan Hill hurt his hamstring. ... Marshawn Lynch welcomed the Hawks to his Beast Mode store in Oakland and may open one in Seattle.
• Sounders: Brian Schmetzer will probably have to lead the Sounders to the postseason if he wants the interim tag to disappear from in front of his name. ... Brad Evans received as good a college education as is possible in this fine nation. That's why these comments are so intelligent and well thought out. By the way, he attended UC Irvine.
•••
• Back on the radio today from 3 to 6 p.m., joining Rick Lukens and Keith Osso for three more hours of sports talk. You can listen here if you want. I'm sure we will talk about the Seahawks. And the Eagles. And the Vandals. And the Cougars. And maybe more. Until then ...
---
---