Sat., Sept. 3, 2016
WSU, EWU help kick off the college football season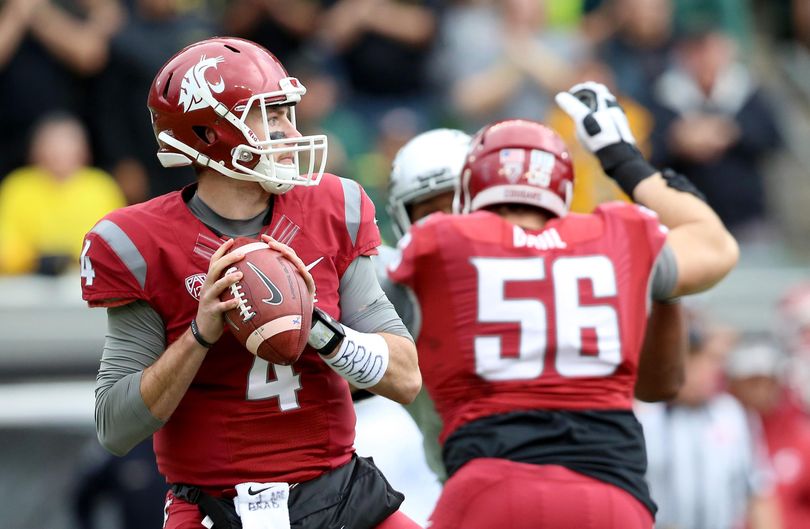 A GRIP ON SPORTS • Wake up. It's a college football Saturday. The first college football Saturday of the year. And, quite possibly, the best opening Saturday ever. Here and everywhere. Read on.
••••••••••
• In case you're wondering, the M's won last night. OK, that's out of the way, let's move to football. The Seahawks make their cuts today ... just kidding, though they do. I know what you want. You want college football news. Links. Stories. Videos. Anything related to college football. Specifically, your college football team. Luckily, this opening Saturday of the season pits two of our local teams against each other. That cuts down my work considerably. (And this is always about me, right?) Eastern Washington made the long, torturous trip down U.S. Highway 195 yesterday – who am I kidding; it's a nice short jaunt – and hunkered down, ready to face Pac-12 bully Washington State this evening in Pullman. And, yes, this is a year you can get away with calling the Cougars a Pac-12 bully. The Pac-12 North may be – is? – one of the best divisions in college football this season and Washington State has as good a chance to win it as anyone – except so do three other schools. And Eastern? It is the poor little FCS school in the middle of ... hey Gabe Marks, where is it? The WSU receiver recently informed a group of reporters, as chronicled by our Jacob Thorpe, "I don't even know where (Eastern Washington) is." So do you know where Portland State is Mr. Marks? It was that type of indifference to the Vikings that got Washington State in trouble in last year's opener, a 24-17 defeat to another Big Sky school coming off a middling season. So let's give Marks a pass and figure he's just being funny here. That's OK, he's earned the right as one of the best receivers in college football. Eastern has one of those as well, though Cooper Kupp is just beginning to be known outside of Cheney – by the way, that's where Eastern is located Gabe, a nice little town that happens to be in the same high school league with Pullman. But it's not the receivers who are going to decide this game. It rarely is. The key to most college football games is the guys up front. Both schools have some questions there. The Eagles are breaking in a new offensive line and, by new, I mean every starter is basically a first-timer. That's usually not a recipe for success. WSU is doing the same thing it did last year, trying to replace a couple guys who got NFL attention after leaving the Palouse. It won't be easy – it wasn't early on last season either – but the Cougars and defensive line coach Joe Salave'a have earned the benefit of the doubt. That's something Beau Baldwin has earned as well. Since replacing Paul Wulff, who headed down U.S. 195 for four tough years, Baldwin has won an FCS national title, has reached the playoffs just about every year and seems to reload instead of rebuilding. But the Eagles are rebuilding this season. They didn't make the postseason last year. They lost their final three games. The offense didn't stand out and the defense did – in a bad way. Yet opportunity awaits in the form of a September schedule that features four tough, attention-grabbing opponents. But you can only grab attention by winning, as the Vikings did in Pullman a year ago. They road that wave all the way to the FCS playoffs. And WSU? Did the loss destroy the season? Nope, it may have spurred it. The Cougars ended up with their best record since early in the century. So this may be the most exciting opening weekend ever but it is just that, the opener. There are a lot of games between now and January. And lots of opportunity. Who will grab what's being presented today?
• Want a pick? Eastern fans, here's your gift. I see the Eagles pulling an upset. If by pulling an upset you mean covering the reported 23-plus-point spread. But it would shock me if Washington State repeats last year's lackluster season-opening effort. If the Cougars play to their potential, they will win. Maybe not easily, but with authority. Call it 27-13, WSU.
•••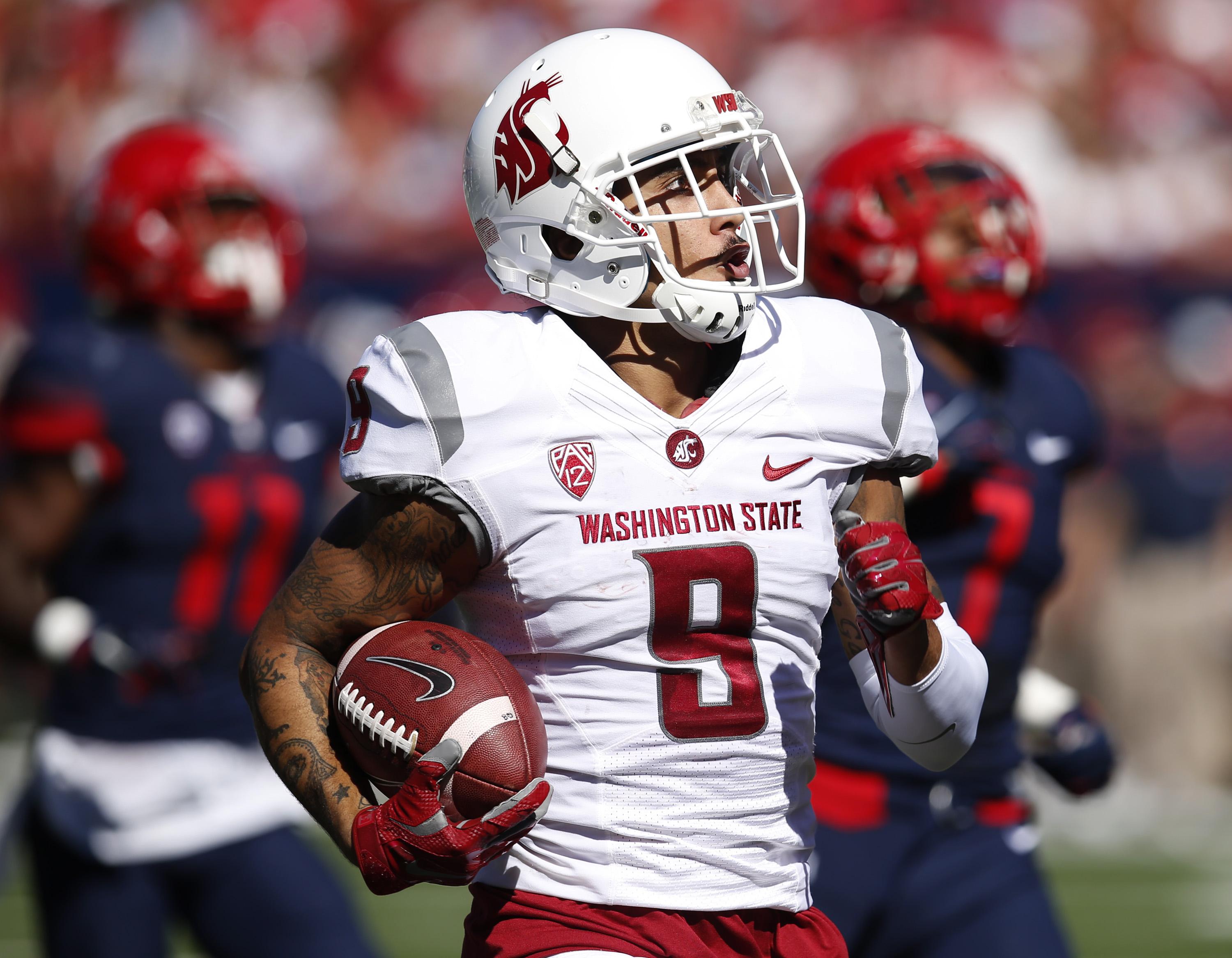 • WSU: OK, enough of the preamble. On to the important stuff. Jacob has an advance of the game and the two-minute drill, a quick look at what's on tap. ... Stefanie Loh has a couple of stories in the Seattle Times and, to round out the coverage, there is a lot of free stuff on CougCenter, including a conversation with our Jim Allen, TV and radio information and a link to Gabe Marks' interview with Darnay Tripp of Spokane's KREM2, a feature we should have linked earlier. ... Elsewhere in the Pac-12, the opening weekend began last night for two conference schools and it went well for both. Colorado took down in-state rival Colorado State easily, 44-7, though it could have lost its quarterback late in a blowout. And eighth-ranked Stanford handled Kansas State on national TV, winning 26-13 as Christian McCaffrey had another of his typically stellar games. ... Oregon opens against UC Davis today with the pressure on. ... Highly hyped Washington plays a new-look Rutgers team this morning. ... Arizona faces BYU and the unknown of the Cougars' new coaching staff. ... Arizona State battles another Big Sky school, Northern Arizona. ... The biggest games are in Texas, where UCLA faces Texas A&M and USC takes on national champion favorite Alabama. ... Utah won already but its top defender wants to do better. ... It's Saturday, so of course we pass along Ted Miller's mailbag on ESPN.com's Pac-12 blog. ... Don't worry, the Cougar game will be on in its entirety, though maybe not on the Pac-12 national feed.
• EWU: The Eagles will probably send a first-time starter out to play quarterback today, but as Jim writes, Gage Gubrud is ready for just about anything these days. ... Jim also has a story on the key area Eastern needs to excel in to have a chance for an upset win.
• Idaho: The Vandals' volleyball team battled with No. 5 Washington but ended up with a loss.
• Whitworth: The Pirates hosts their mirror-image team today in their season opener, if by "mirror-image" you mean complete opposite. Central (Iowa) is a run-first, grind-it-out group. Tom Clouse has an advance.
• Chiefs: Spokane opened the preseason in Everett with a 5-3 tournament win over Vancouver.
• Indians: Lightning took away any chance the Indians had of playing their regular-season finale last night. Josh Horton has the story of the canceled game. ... Eugene can still tie for the best-ever NWL record.
• Preps: The football season began in earnest last night and most of the big matchups ended up being not all that close. Greg Lee was in the Valley where Coeur d'Alene bounced back from a season-opening defeat and pounded Central Valley 48-11. ... Deer Park went up a couple levels and shut out Rogers 23-0. Tom Clouse has the story and Colin Mulvany the photo report of both Albi games. ... Tom also has a game story from Peninsula's 22-0 shutout of Mt. Spokane that followed at Albi. ... Despite some storm-caused interruptions, Mead handled Post Falls easily, 41-3. Jim Allen has the story. ... Gonzaga Prep fell at Eastside Catholic 21-7 in a matchup of defending 4A and 3A champions.
• Mariners: As we said, the M's exploded past the Angels 11-8 in a game they trailed 4-0 after the top of the first. Nine runs in the second inning really helped. ... Newest Mariner Ben Gamel started in the leadoff spot.
• Seahawks: The two biggest stories are simple: Who makes the 53-man roster when cuts are announced today and what was up with Jeremy Lane sitting out the national anthem.
• Sounders: According to this metric from Portland, Seattle is the real Soccer City, USA.
•••
• Once more into the breach. Let me tell you, last year's opening Washington State football game included the most interesting sports-related hour of my life. That would be the postgame call-in show after the Portland State loss. Some 13 of 15 callers wanted Mike Leach fired. My co-host, Derek Deis, was in his first game in that role. It was, well, interesting. Let's hope this year will be a little more subdued. Yes, I'll be on with Derek again an hour after the end of the Eastern/WSU game. We'll be taking calls and injecting some of our opinions. You can listen on the Cougar/IMG radio network on this side of the state – check your listings; in Spokane it is on 920 on the AM dial – or on your mobile device in other parts of the world through the TuneIn Radio app. And, as always, I'll be honest. Until then ...
---
---