Sun., Sept. 4, 2016
Eastern 's happiness is overflowing today while WSU has a patch job ahead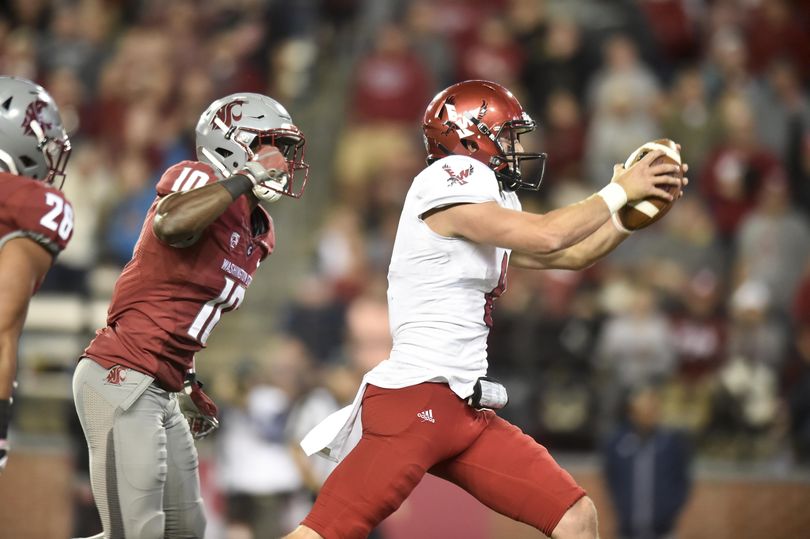 A GRIP ON SPORTS • Sometimes the glass is overflowing. And sometimes it is cracked and leaking badly. It's not how you look at it, it's reality. Just ask the players from Eastern Washington and Washington State today. Read on.
••••••••••
• We will start with the Eagles, whose bus ride home from Pullman last night must have been filled with satisfaction. Not the song, mind you, though that would have been appropriate for the WSU locker room. But the peace of mind that comes with knowing you had a game plan, a goal and a hope and they all came together at the right time for an attention-grabbing win. The Eagles had two glaring weaknesses last season: quarterback play and a defense that couldn't get off the field. But, as we will remind you often in the next paragraph, this isn't last year. Or last year's team. After one game it's obvious Eastern has found its quarterback. Gabe Gubrud is the guy. He's not Erik Meyer, he's not Vernon Adams. He's himself. Last night he was a combination of both, maybe, and exactly what Beau Baldwin and new passing game coordinator Troy Taylor need. He threw the ball with confidence last night, getting it out quickly on time and to the right target. It helped, of course, to have a bevy of receivers that are as good as any Pac-12 group, led by the best in the West, Cooper Kupp. The FCS' all-time leading receiver – by just about every metric – was an early decoy as Baldwin's offense probed, poked and figured out how to attack a WSU group that was missing its best back-line defender. And then the Eagles did just that: attacked. A new offensive line? No problem. Get rid of the ball in one or two seconds. That negates the rush. An inexperienced secondary? Run your quarterback on read options or counters, run the wide receivers on quick sweeps, heck, have your best receiver throw a pass. All of it worked. Much of what Eastern did Saturday was relatively new looks, built around the Eagles' talent. It's what Baldwin does and has done ever since taking over for Paul Wulff. When EWU has a quarterback who can execute, as it has had much of Baldwin's tenure, it wins. It will win this season. It has won. And the Eagles can rightfully say they are the best team on this side of the state. That's something that should give them some satisfaction.
• The operative line for Mick Jagger in that song was "I can't get no ..." Doesn't matter what follows, last night it applied to WSU's rebuilt defense. Five guys making their first collegiate start. The best secondary player, Shalom Luani, sitting out due to an incident at a pizza joint. His replacement, Robert Taylor, disqualified just as he was finally getting his feet under himself, thrown out due to a high hit. The front line's quickness negated by Eastern's game plan. The corners doing the best they could, but it wasn't enough. And the linebackers trying to fill the breaches but finding them too numerous. The offense wasn't perfect but 515 yards and 42 points should be enough. It wasn't Saturday night because the defense gave up 606 and 45. Eastern averaged – averaged – 9.2 yards per play. That's a hair short of a first down every time it snapped the ball. Last year, when WSU lost to Portland State, it didn't seem this bad. The Vikings scored enough but they didn't dominate a Cougar defense that would round into shape as the season wore on. The offense faltered in that one. When Gabe Marks said last night this isn't last year's team, he was right. The offense will be fine. It shot itself in the foot some yesterday but that can be easily fixed. The core is solid, more than solid actually, and should be able to light up scoreboards every week. It may have to for WSU to win. The defense seems to have some structural problems. Eastern exploited them. Others will too. What are they? Before we go there, let's look at what's OK. The linebackers and corners should be just fine. OK, now to the tough nuts to crack. The lack of depth up front is glaring right now. It led to tired legs in the second half. Washington State needs at least two guys at each position it can count on and right now the Cougars are still trying to determine who those guys are. Or if they are in the program. They probably are. However, attrition over the past two years – graduating guys like Xavier Cooper, Destiny Vaeao, Kalafitoni Pole, Darryl Paulo – has taken its toll. Rebuilding will take some time. But the biggest question hanging over WSU's defense right now is the backline and Luani's status. By the midpoint of last season he was the best player on that side of the ball. At the very least, the most disruptive. Defensive coordinator Alex Grinch was counting on him to lead the secondary as his running mate at safety, freshman Jalen Thompson, developed. Luani's absence left a hole that was not just physical – though it was in one of Kupp's touchdown catches – it was deeper than that. That has to be fixed. Somehow. The 45-42 defeat, in perfect weather before a sellout crowd that wanted to be a part of the action, wasn't just frustrating, it may have been instructive to Cougar followers. Marks is right. Unless the defense can shore itself up, nine wins is going to be tough to imitate.
•••
• WSU and EWU: Not surprisingly there is a lot of links to get to, starting with Jacob Thorpe's game story. There is also John Blanchette's column, Jim Allen's story from the Eastern locker room, a notebook on Mark's remarks, players of the game, game moments, an in-depth photo report from Tyler Tjomsland and the scoring, put together by sports editor Joe Palmquist. Yes, it was a large contingent in place last night. Jacob also had a story on Luani's absence and assistant coach Jim Mastro's comments on one of his former Nevada players, Colin Kaepernick. ... On the blog, there were statistics and notes supplied by WSU as well as videos from the postgame interviews of Peyton Pelluer, Jamal Morrow, Isaac Dotson, Marks and Leach. ... Stefanie Loh of the Times had a game story and another piece on the offensive line. ... Before we start looking around the Pac-12 and Big Sky, WSU had a rower earn a big win last week. ... OK, it wasn't a good day for the Pac-12 on the biggest stages. USC was blasted by No. 1 Alabama 52-6 and melted down in the process. Given the stakes for the school and its stature national, this one really hurt. ... UCLA had every opportunity to put Texas A&M away earlier, couldn't get the ball in the endzone and it cost them in a 31-24 overtime loss on the road. ... Arizona opened the season against a new-look BYU team but a same old problem, quarterback play, cost the Wildcats. ... The one positive for the Pac-12 Saturday? Washington dominated the Big Ten's Rutgers, running past the Scarlet Knights for a 48-13 win. ... Utah and Colorado played earlier in the weekend. ... In matchups between Big Sky and Pac-12 schools, Oregon felt it didn't play well in a win over UC Davis (but it could have been worse) and Arizona State struggled early against Northern Arizona but won 44-13. ... In the Big Sky, Portland State struggled but got past Central Washington 43-26. ... Montana came up big in the second half to stop St. Francis. ... Cal Poly battled Nevada on Friday night but came up short. ... Eastern heads to North Dakota State nest week and the Bison still remember the 2010 quarterfinal loss in Cheney.
• Gonzaga: The women's volleyball team is still undefeated.
• Whitworth: Central (Iowa) knew if it was tied with No. 19 Whitworth in overtime, it was going to go for two. It was, it did and it won, 50-49. Tom Clouse has the game story and the rationale from Central coach Jeff McMartin.
• Indians: Everett and Spokane will meet in the upcoming Northwest League playoffs. They are also playing now. The Aquasox picked up Saturday night's win by scoring twice in the bottom of the ninth. ... Hillsboro made sure Eugene wouldn't set a NWL record with a 1-0 win.
• Preps: Ferris opened its season at Albi and saw Mountain View dominate the second half in a win.
• Mariners: The low point of Taijuan Walker's career? Could be. The right-hander gave up six runs and couldn't get out of the first inning in a 10-3 loss to the Angels. ,,, The Tacoma stint seems to have helped Dae-Ho Lee.
• Seahawks: Seattle made its cuts yesterday and there were some surprises and a couple trade pickups. The Hawks don't have a fullback, they got rid of a dominating defensive lineman – when he plays – and may still be mining the waiver wire for other players.
•••
• Today is the last Sunday until 2017 when you won't have NFL games to watch. No, I don't want to hear about your fantasy draft. And, yes, I know the other guys in your league are idiots. Until later ...
---
---