Mon., Sept. 5, 2016
Labor Day is a holiday for most but not those in the "next-game" industry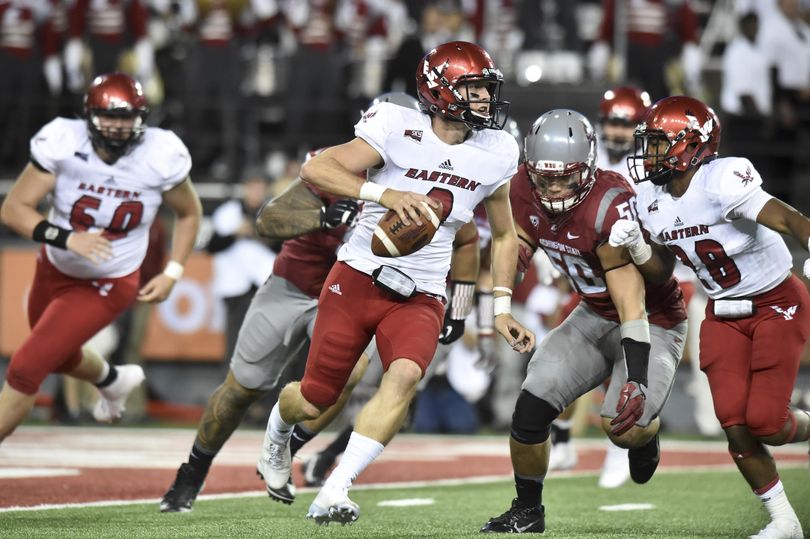 A GRIP ON SPORTS • The day after for most of us usually consists of a hangover and/or regret. For college football players it's about getting ready for the next game. Read on.
••••••••••
• The next one. That's all that matters. Just ask any cliché-riddled football coach. Win or lose they are looking forward, not back. So we will too. Here are your links for today. What are we looking forward to? A Monday that doubles as a holiday. See you tomorrow.
•••
• WSU and EWU: We are putting the two local schools' links together again because they are still intertwined over Saturday's game. Tomorrow we will break them apart. ... Jacob Thorpe has a piece today explaining what the loss to the Eagles means to Washington State's football future. And John Blanchette tells Cougar fans how to deal with losing to the school from up the highway. ... Jacob also has post-practice video of interviews with assistant coaches Clay McGuire, Alex Grinch, Ken Wilson and Eric Mele. ... Stefanie Loh has a story on what WSU has to do in the week leading up to Saturday night's game at Boise State. ... Around the Pac-12, the loss dropped WSU into the bottom spot on these power rankings but the Cougars stayed in the bowl predictions. It was just a bad week for the conference. ... Oregon's win wasn't particularly impressive. ... It's rivalry week in Salt Lake City – Utah and BYU meet – and there is a pretty nasty history here. ... The groin stomp will cost a USC player in playing time and postage. ... Davis Webb's debut was fine for California. ... Attrition is already hitting the Arizona State linebacking corps. ... The first game was a trial by fire for UCLA's new offensive coordinator. ... Washington won in a rout but not everything is rosy. ... Arizona sputtered on offense.
• Gonzaga: Gonzaga's men and women soccer teams each won last night.
• Whitworth: The Pirates won a volleyball tournament in California.
• Indians: Spokane won again as the Indians prep for the postseason. ... There is a move afoot to force baseball to play minor players more. If there is a lawsuit, the Indians' players want nothing to do with it. Josh Horton has the story. ... Hillsboro will face Eugene in the South Division playoffs and those two are playing now.
• Mariners: The game began with back-to-back home runs for the Angels. It included a Kyle Seager line drive that drove the Angel pitcher Matt Shoemaker to the hospital. And it included little in the way of relief for the M's or their fast-fading fanbase. Seattle lost again 4-2. ... There is some relief help coming as players get healthy.
• Seahawks: The cuts are made, the roster set. What's ahead for the Hawks? Besides the Dolphins, of course. ... The Hawks picked up a few guys cut by other teams and lost a player they probably hoped to get through waivers. ... We call Pete Carroll Mr. Positive. Have since his USC days. There is a reason why. ... Michael Bennett is always in search of balance.
• Sounders: Clint Dempsey's heart problems could have a whole bunch of explanations.
•••
• Enjoy Labor Day. I labored all day yesterday so I wouldn't have to today. Until later ...
---
---