Tue., Sept. 6, 2016
Our local college football teams hit the road this weekend and better be ready to be warriors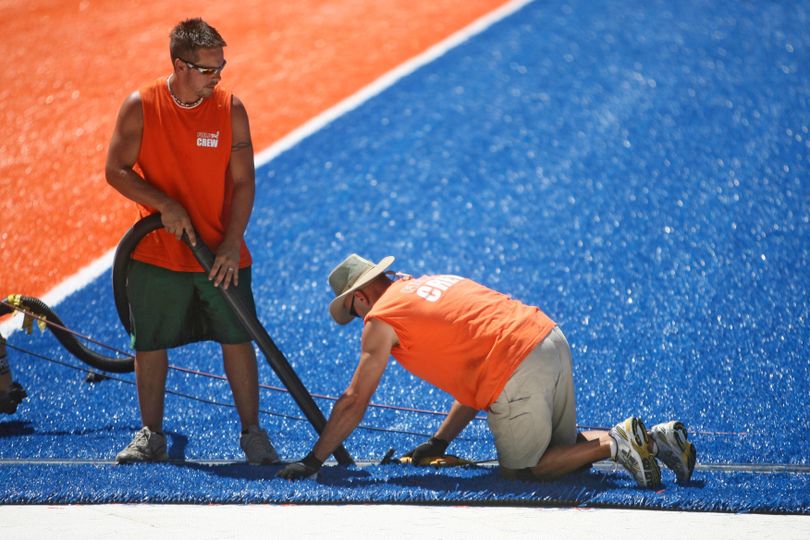 A GRIP ON SPORTS • It's a short work week for most. Monday holidays do that. They also offer another opportunity to watch college football. And put us a day closer to the next weekend's games. Guess what. All our local teams have key contests. Read on.
••••••••••
• Yes they do. From the guys in North Spokane to the fellows in Moscow, this week is crucial to the season ahead. And none of them are playing at home.
• The Cougars need to bounce back. Last season, after losing to Portland State at home, they traveled across the country and rallied to get past Rutgers on a late-game, Luke Falk-directed touchdown drive. It may have been the turning point of the season. Another pivot is needed Saturday night in Boise. The game is rife with story lines, what with Brett Rypien – a Spokane kid with a WSU-venerated last name – at quarterback for the Broncos, Mike Leach's distaste for blue turf and the expected return of Shalom Luani to the defensive backfield. But most importantly, the Cougars tote a 0-1 record south. Another loss and making a bowl game two consecutive years all of sudden looks darn-near impossible. That won't sit well with anyone.
• Eastern Washington showed it's once again a tough out for a Pac-12 schools. It's done that just about every year since winning the 2010 FCS national championship. But you know what it hasn't done? Played for another title. In the run to the 2010 title, the Eagles defeated North Dakota State in the playoffs. They are the last guys to do that. The Bison have since won five consecutive crowns and are the gold standard for the FCS in every metric. One of those metrics is home-field advantage. Eastern ventures into Fargo this Saturday trying to build on the WSU win, trying to set a tone for the 2016 season and, yes, just freaking trying to win a football game. If they do, the nation knows the Eagles are a force to be reckoned with come December and January. If they don't? It depends. A close loss leaves a different impression – and teaches different lessons – than a USC-versus-Alabama-type defeat. No matter what, last week was a nothing-to-lose game. This week is more of a measuring stick one.
• Idaho travels the next two weeks to Pac-12 venues – and never leaves Washington. This week it is the Huskies in Seattle. Next week the Cougars in Pullman. There is money to be made, hence the back-to-back tough foes, but also a chance for a splash. UW is ranked in the top 15 and won easily last week. Go into Husky Stadium, stay close and prove this season is different. That would seem to be UI's goal. Winning? Well, stranger things have happened. And have just eight miles west of Moscow.
• Whitworth lost its opener in overtime on a two-point conversion. Losses don't get closer than that. But it was a loss nonetheless. This week the Pirates venture to Southern California for the first of two consecutive games in the L.A. basin. Up Saturday are the Poets of Whittier, home of the least aggressive nickname in college football and former president Richard Nixon. It also needs to be the home of Whitworth's first win of the season or the year could seem awfully long.
•••
• WSU: Yesterday was media day in Pullman, with coach Mike Leach, Luke Falk, Isaac Dotson and Jamal Morrow speaking. Jacob Thorpe has video of all their interviews and much more. He has a story on Leach saying Luani will play, another on Boise State's blue turf and the first look at the Broncos. Jacob also posted WSU's game notes. ... In the Times, Stefanie Loh has the Luani story and one on the Cougar defense. Matt Calkins has a column on the Cougars. ... Around the Pac-12, Washington coach Chris Petersen met with the media too and he talked, though only a little of it was about the Vandals. ... USC has a few deficiencies to work on. ... Stanford has a bye week but that doesn't mean everyone will get healthy. ... Utah's offense has to be more physical this week. ... Oregon's offense didn't move fast enough in its opener. ... Arizona's offense just didn't play well. ... UCLA is trying to emulate Stanford from last year. ... Targeting is something Oregon State experienced first-hand. ... To the victors go the spoils.
• EWU: Three Eagles earned conference or national honors after Saturday's win at Washington State.
• Indians: The regular season ended for Spokane on Monday in Everett. It ended with a walk-off defeat. Now the postseason begins. That would be Wednesday in Everett as well. ... Eugene lost to Hillsboro. The two teams will meet again starting Wednesday.
• Mariners: For the second consecutive start, Felix Hernandez got rapped around by the Rangers. But it didn't matter much because the M's pounded Cole Hamels and Texas, 14-6. ... Nori Aoki will be back with the big club today some time.
• Seahawks: The preliminaries are over. Sunday the Hawks open the regular season by hosting Miami. The Dolphins will make the long trip and try to derail the Super Bowl contenders' season. ... Jeremy Lane says he will be sitting again. ... The 53-man roster is set as is the practice squad. Included in the 10-men who made the latter group are a Husky and a Cougar. ... The Hawk defense is already one of the best ever. But it wants to be known as the best ever.
•••
• Having a holiday on a Monday is cool and all, but it always throws me off. Today is Tuesday, right? And trash pickup has been pushed back a day, right? Just wanted to double check. Until later ...
---
---