Wed., Sept. 7, 2016
It's hard not to know exactly what's going on even when you don't want to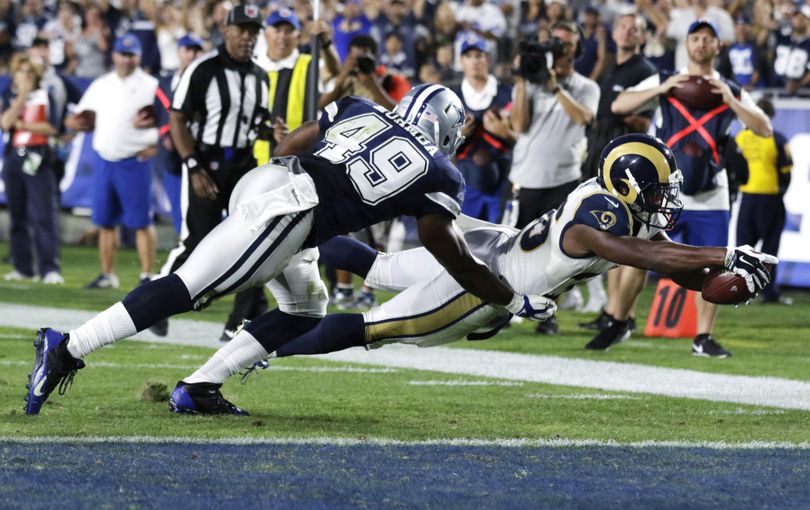 A GRIP ON SPORTS • Time for a personal question: What's the first thing you do in the morning? Too personal? Well, I was just wondering if it was similar to mine. I lean over and pick up my phone off the nightstand. Check the emails and notifications. Prep for my day by finding out what happened over night. And make sure I am up-to-date on all the happenings in sports. Read on.
••••••••••
• The smart phone – or as I friend of mine likes to call it, "the phone," because they are so ubiquitous these days – has revolutionized a lot of our lives. We are never out of touch, unless we make a conscious effort to be. No matter where I am, except in certain areas on the back way to Pullman, my phone is always there to remind me I am a social animal. Social in the "herd" definition, as in "part of one." And social in the "heard" definition as well. It's nearly impossible these days to avoid knowing. And by knowing, I mean anything and everything. Scores and news especially. This was the first year I really got into HBO's "Hard Knocks," the somewhat-real show about training camp. The Rams were featured. They were holding training camp at my alma mater. Final cuts were coming. There was one player who was on the bubble. He had a daughter. It was heart-warming and heartbreaking at the same time. Dad didn't have much chance to make the team. But he was battling hard. The perfect scenario for drama. I was hooked. So I didn't want to know if Austin Hill (pictured) survived the cuts or not – until I watched the show Tuesday night. But, sorry, it's impossible not to know these days. Unless you are in Tibet or Katmandu or someplace south of Oakesdale. I reconciled myself long ago to the reality no score was safe. A game was played, the outcome was going to enter my head before I could get to a DVR to watch it. Twitter made sure of that. Which meant the drama of a last-second win or loss had to stand on its own merits. That's fine. But I was hoping that few enough people were watching "Hard Knocks" I could get away with it. Like the hope the Cougars would begin a football season 1-0, my hope faded quickly. And on the same day in the same place. Someone read the Rams' cut list in earshot. I was surprised. Not that Hill was cut, mind you, but that I hadn't been ready for the spoiler. It was a sports venue after all. Though I had muted the folks in my Twitter timeline that might have given away the news, I forgot to mute the people around me. Where's the button for that? Hill was gone. I was crushed. Now Tuesday night would be ... oops, maybe you haven't gotten around to watching this week's show. Sorry, I should have begun that sentence with two words: spoiler alert. Then again, all of life these days is a spoiler alert. (Spoiler alert: no one lives forever. Just saying.) Trying to stay in the dark is a losing proposition. So surrender all hope those of you who have a phone. Pick it up, slide it on, embrace the knowledge. It's our window on the world. The sports world.
•••
• WSU: Boise State is next on the Cougars' schedule, which is somewhat ironic. The Broncos quarterback is a guy a couple years ago many, including his dad, expected to be Washington State's quarterback this season. Instead Brett Rypien (pictured) is in a BSU uniform. John Blanchette tells us how that happened and why in his column this morning. ... Jacob Thorpe gives us his Pac-12 power rankings for the week and videos from after practice from Mike Leach and Roy Manning. ... There is also a story on Shalom Luani and his status from a newside reporter, Chad Sokol. ... Jacob will hold a live chat here on the blog today. ... Mike Leach is no fan of Boise State's turf color of choice. ... This advice seems simple enough but hard to follow. ... Elsewhere around the Pac-12, Colorado is making sure its defenders are on target with their hits. ... California hasn't done well after recent bye weeks. ... A former Cougar has switched position at Oregon State, the same thing that happened to him in Pullman. ... USC is showing some fight. ... Stanford's quarterback is smiling. ... Arizona's quarterback expects the offense to get into gear. ... There is a running back for Utah who doesn't feel secure. ... Oregon's running back is really secure. ... Washington has a player who had the light come on because of the light of his life. And the Huskies are in the Associated Press top 10 for the first time in years. ... Arizona State has a real challenge defensively this week. ... UCLA has a freshman defensive end who is living up to his number. ... Finally, here is one man's AP top 25 ballot. ... Wait, one more. Arizona received a commitment from the nation's top prep basketball player yesterday but no one is sure he'll ever play for the Wildcats.
• EWU: The Eagles had a big win last Saturday, with the emphasis on "last." This Saturday there is another game with a different sort of foe. Eastern's players were made aware of that quickly this week, and Jim Allen tells us what that meant to them.
• Chiefs: A Spokane player was injured by a hit Saturday night, but he seems to be doing well. ... Preseason is in full swing throughout the WHL.
• Indians: The playoff series versus Everett looms for Spokane and Josh Horton has an advance. The Indians' second half wasn't what they wanted but manager Tim Hulett and his players figured out a way to change the attitude. Josh also has a notebook on the blog. ... The South Division playoffs feature the defending NWL champions – Hillsboro – and the team with the league's best record – Eugene.
• Preps: It's not just football season. Other fall sports are in full swing. And we have a roundup of Tuesday's action. ... This really doesn't affect us, but I thought I would pass along some transfer rules being contemplated in Utah. They could give a new definition to the term three-sport athlete.
• Mariners: Are the M's still playing? Why, yes, they are. Though it's probably just another season of playing out the string. They lost to the Rangers 10-7 last night and fell further behind in the wild-card race. ... Safeco Field has lost its reputation as a pitcher's park.
• Seahawks: The Times had their season preview section in the paper today so there are a lot of stories about the 2016 Hawks. One of the themes: How young Pete Carroll's team are. There are more rookies on the roster than anytime since the expansion year. Pretty amazing. ... The offensive line is finally set. Until next week, maybe. ... Earl Thomas and the rest of Hawks seem ready for Miami, but who will start at a couple positions is a real question mark.
• Sounders: Clint Dempsey is still not around and no one is talking. ... Real Salt Lake has figured out how to relax about the playoff race. The L.A. Galaxy are just trying to figure out how to stay healthy.
•••
• I'm sure the overwhelming nature of almost-real-time information doesn't affect everyone the same. Some people are oblivious to it. They are usually around my age. Others see it as just a part of everyday life. They are usually considerably younger than my circle of friends. And others? They have completely rebelled against the omnipresent flood of information. How I envy those folks. Until I need to know how the M's did and my phone is out of juice. Until later ...
---
---