Thu., Sept. 8, 2016
It's what we do … just about every day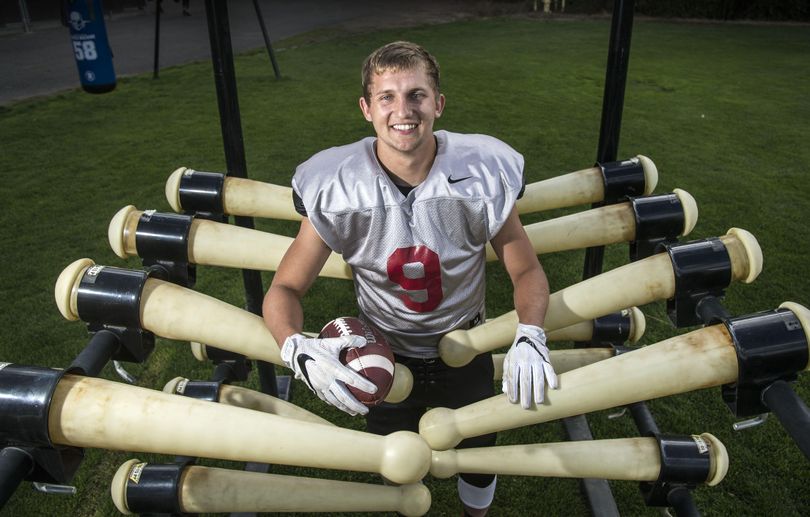 A GRIP ON SPORTS • You know, it is getting toward the middle of September. All schools are back in session. So it seems appropriate to hold a refresher course for what we do around here. Read on.
••••••••••
• With the rush of college and high school football starting up, professional football about to kick off and the Mariners doing their traditional el foldo, it seems right. Right for what? To go over, once again, our goals in this column. We start each day with an opinion or two on recent events, mostly local ones but an occasional foray into national or international news. That's sort of my way of ruining your morning. Then we make it better, quickly. We search the interweb far and wide, hoping to find stories of interest to Inland Northwest readers. Wait, that's not true. First we gather up every staff-written story available on The Spokesman-Review's sports website and pass those along. That's our No. 1 priority. We want you to be aware of what the S-R has to offer each day. And we want you to subscribe. If you think ink on paper is passé, that's your prerogative. (You're wrong, of course, as the rebound in book sales nationally shows, but it's your right as an American to have a wrong opinion.) So buy an on-line subscription to the paper. It's worth it – as all the stories I link each day show. After that, we begin looking for outside stories. The professional teams are easy, the M's, the Seahawks, the Pac-12. Stories about those subjects abound. After that, though, it gets a bit tougher. During basketball season it's easy to find Gonzaga stories. This time of year, not so much. And the WCC is usually a pretty barren wasteland even during basketball season. For every 10 UCLA or USC stories, there is maybe one Pepperdine or Loyola-Marymount piece. That's just the way it is – unless one of the WCC teams wins a whole bunch. Welcome to America. And the Big Sky? There are stories from Missoula just about every day, sure (and I should probably link them more for the thousands of transplanted Grizzlies within the reach of my fingers) but other than Weber State or Montana State, it's tough to even find an occasional decent read about the rest of the conference. One of my goals the rest of this year is to run down what I can about the Big Sky and pass it along. Hopefully, I'll find more than I have in the past. As for the preps, the best coverage in the state is right here. Greg Lee and everyone else on the S-R staff do more with less than anyone has a right to expect. Think about this. When I was in charge of the S-R's prep coverage – yes, it was this century – there were three full-time writers dedicated to high school coverage along with a year-long intern and a handful of correspondents. But that was before classified ads began to migrate to the interweb. Budgets are tighter these days, but Greg and the rest of the staff's dedication to covering high school stories hasn't wavered. Occasionally, I'll link high school-themed stories from elsewhere if it touches my fancy – I had one yesterday from Utah on a proposal to open up the state's transfer rules – but usually I stick close to home. So there you have it. Our day-to-day operation here. Except one thing. The last paragraph. The sign-off. It's a catch-all for either personal items, news that doesn't fit other places and/or a warning about an upcoming schedule. We do this column just about every day, 365 days a year. Except when we can't. My guess is we posted 358 days in the past calendar year. Not perfect, sure, but even a compulsive writing-addict like myself needs a day off now and then. Not today though. We have your links for you.
•••
• WSU: If the Cougars are to bounce back Saturday night against Boise State, they probably need a big game from running back Jamal Morrow. Jacob Thorpe has a story on WSU's designated coin-toss winner. ... Speaking of winners, Jacob tells you who will win the Pac-12 games this weekend. Others have their thoughts as well. ... Jacob held a live chat yesterday. ... Mike Leach and Alex Grinch talked after Wednesday's practice. ... Stefanie Loh of the Times has a feature on River Cracraft's journey to WSU and his tenure in Pullman. ... Elsewhere in the Pac-12, there is a lot to watch this weekend though the games, as a whole, aren't as interesting. ... Washington was one of the conference's best last weekend. So was Stanford. ... Utah and BYU match up pretty well. ... Arizona State's quarterback has a backstory worth checking out. ... The first name here tells you all you need to know about the size of California's receiver. ... Oregon's secondary was better. ... UCLA's receivers were not good last week, but one was. ... This senior linebacker moved from Cal to Arizona. ... A freshman started at guard for Colorado. ... Oregon State had some trouble protecting the quarterback. ... New quarterback Max Browne played better than his USC team.
• EWU: It's not a Pac-12 opponent. But the Eagles' second game might be tougher. North Dakota State is the gold standard of FCS football right now, having won five consecutive titles. Jim Allen's notebook tells you more about the Bison. ... Jim will also hold a live chat today at noon. ... Montana travels to Northern Iowa this week. The Panthers head to Cheney next Saturday. ... Montana State has had some time to contemplate its performance against Idaho. ... The newest Portland State player feels more at home than he did in Eugene.
• Whitworth: Tom Clouse has a must-read story today on a Pirate football player who is back on the field after winning a battle with cancer. Brett Moser has one less kidney but he's been cleared to play.
• Indians: Rain is always a possibility on the west side of the mountains and that's what happened last night. So the first game of the Indians' playoff series with Everett will be played in Spokane tonight and the second game Friday at Safeco Field. The Indians have given up their home-field edge and abandoned their fans for some reason. ... Hillsboro, which has won the last two NWL titles, handed regular-season power Eugene a 4-3 loss in the South Division series opener. ... The Hops will host the 2017 all-star game against the Pioneer League.
• Preps: Speaking of Greg, his Prep Page column today is a preview of how he sees the year ahead – and a look back at his S-R tenure. ... Volleyball takes the spotlight, with Greg's preview of the GSL season and a look at the area's leagues. ... On the football front, Greg has an advance of this weekend's top games and he picks them with KHQ's Sam Adams. We also can pass along the Associated Press poll.
• Mariners: Doesn't matter how bad or good the M's season has become, we will still link their stories. They won 8-3 last night – I actually watched – with Adam Lind supplying the power with two home runs, including a grand slam. ... Kyle Seager can't understand what happened to his once golden glove. ... Can Taijuan Walker ever bounce back?
• Seahawks: Football is all about teamwork, so it comes as no surprise that the Hawks are contemplating adding a team element to the growing civil rights protests. ... A former Seahawk has played a role in such things. ... Thomas Rawls' role Sunday is still to be determined. So is rookie lineman Germain Ifedi's. (Update 8:44: He's out for a while with a high ankle sprain.) ... Russell Wilson is a world traveler. ... The Hawks have a new award.
• Sounders: Seattle's franchise is a money machine. ... The L.A. Galaxy and Real Salt Lake played to a draw last night, a 3-3 draw. Yep, six goals in one match. And no one won.
•••
• By the way, just because it is football season, it's never too early to think about basketball. If you are interested in having your grade school team play in Spokane's AAU league, the time to sign up is running short. The deadline for guaranteed registration is Monday, Sept. 12. If there is space available, registrations will be taken through a week from today. Signups are accepted on the AAU website. Until later ...
---
---