Sat., Sept. 10, 2016
Memory Lane is fun to walk, especially if you still have a transistor radio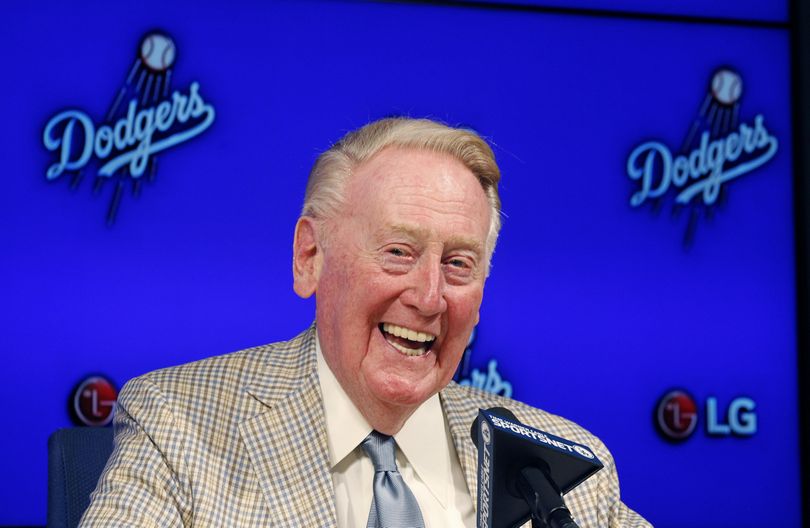 A GRIP ON SPORTS • Yesterday was September the ninth, 2016. Nothing special about the date, not one bit. Except September the ninth is sort of special to some boys. I'm one of them. Read on.
••••••••••
• Growing up in Southern California, there was a male voice that stood above all others – even your dad's or your priest's. Vin Scully's voice. The liquefied butter of the best baseball announcer of all time. This is, sadly, Scully's last year announcing Los Angeles Dodger games. There have been tributes galore. Players tip their hats, managers make the pilgrimage to Scully's booth, the biggest Hollywood stars take selfies. All appropriate. But yesterday, a tweet by Art Thiel propelled me toward a Salon Magazine piece from 1999 and a ball-bag full of memories. That year the magazine printed the transcript of Scully's ninth-inning call of Sandy Koufax's fourth – and final – no-hitter. A perfect game. A perfect description. And it transported me back a lifetime. Two actually. Maybe three. ... The first lifetime was as a boy back then. It was 1965. I was eight years old, about to turn nine. A boy born the day Don Larsen threw the World Series' only perfect game. A boy addicted to baseball. Scully was the pusher, of course. TV wasn't what it is today but radio, wow, radio was more. It was king of the air and Scully its monarch. My dad and I listened to Dodger games most nights, picking up the signal on KFI, the 50,000-watt station that could be heard up and down California – not that anyone north of Bakersfield cared. The Dodgers were in another pennant race – a half-game back of the Giants entering the game – and the Cubs stood in the way. Koufax needed to be the guy. He was. He almost always was. And so was Scully. Not almost always, just plain always. Yet this call was different. He had done many no-hitters before. Heck, he had called Larsen's perfect game. He had done three Koufax no hitters. He knew he wanted to make this one sound a bit different. He did. ... That's brings us to the second lifetime. As a younger man, I had a chance to cover a few Dodger games for the Orange County Register. And I had a chance to talk with Vin. With my name, it was a given. He was everything you would think he would be, everything that eight-year-old kid thought he was anyway. Maybe not perfect, but close enough. I took a chance once and asked him about a couple calls. The Koufax perfect game was one. He explained he always mentioned the date in the ninth inning of any no-hitter he called. Adds a little drama, don't you think? I did. But he had already done that for Sandy three times. So he added the time. More than once. A special little touch. I'm sure Scully told many people about it, but the way he passed it on to me, with his voice a bit softer – conspiratorial almost – it made me feel special, as if I was in the know. ... Which brings us to the third lifetime, the one we are all living today. In a month or so, that one will feel a little emptier. I know, those of us who live in the Inland Northwest haven't heard Scully much the past three decades, every since the Dodgers pulled their Triple-A team out of Spokane. (I've been told by people older than me that Dodger games were occasionally broadcast here after the Indians' season was over. I don't know, I was living in a place where all I had to do was punch a button and Scully's voice appeared, but I believe them.) It was possible, though, especially after satellite radio made an appearance. Heck, I bought XM one summer just to listen to Dodger games at night, spending way too much money on an over-the-air time machine. It was worth it, but that winter I let the subscription lapse. This year I've tried to catch as many games on TV as I could (Scully, 88, mostly does just home games these days), knowing the end is near. It will be here way too soon. And the best voice in the best baseball medium will be gone for good. But not really. As I sat down yesterday to re-read Scully's call of Koufax's perfect game, the voice in my head wasn't mine. It was Vin's. And it will always be there. Always. "It's time for Dodger baseball! Hi, everybody, and a very pleasant good evening to you, wherever you may be."
•••
• WSU: The Cougars need a win. Doesn't matter against whom or where – or what the last name of the opposing quarterback is. They need a win. Boise State stands in the way of that. Jacob Thorpe has his game preview and his two-minute drill. ... There is also an advance in the Times from Stefanie Loh. ... Espn.com's Ted Miller has his mailbag on the Pac-12 blog and there is also a short advance on each game. It's not a big day with lots of great matchups, though everyone seems to have an idea who will win. ... Arizona wants to force more turnovers. ... Oregon, rare among its Pac-12 brethren this week, is actually playing a Power 5 school. ... So is Arizona State. ... California travels down the coast. ... UCLA and USC are in the Los Angeles basin facing seemingly overmatched opponents. ... The best matchup is probably in Salt Lake City. ... Washington is hosting Idaho, so we have the UW stories listed in the Vandal section. ... Washington State is hosting a volleyball tournament.
• EWU: The Eagles are in the headquarters of FCS football these days, Fargo, N.D., home of the top-ranked North Dakota State Bison. Jim Allen has an advance of today's game that harkens back to the last time these two teams met. ... Montana State is home today. ... Portland State is on the road in San Jose. ... Montana also is facing a FCS heavyweight today, one the Eagles get next week. ... Southern Utah is at home while Weber State hits the road. ... UC Davis looks to bounce back at home.
• Idaho: The Vandals will try to post an upset of epic proportions against a UW team even Paul Petrino admits is the real deal. Josh Wright has an advance of today's game. ... There is a lot to watch today, even if the Vandals aren't scoring.
• Whitworth: The Pirates are in Southern California to face the Poets of Whittier College. It's Whittier's season opener. Tom Clouse has a short preview.
• Indians: Spokane's season is over. Everett won 8-0 last night to sweep the North Division championship series and move on to face Eugene. The most unique thing about last night's game is it was played at Safeco Field. ... The Emeralds rallied and won the last two games of the South series with Hillsboro.
• Preps: It hasn't been a good start to the high school football season for the Greater Spokane League. The one bright spot last night for the GSL was Central Valley's dominating win over Lake City. Kevin Dudley has that story. ... Elsewhere, the league struggled, beginning with host Gonzaga Prep dropping a triple-overtime decision to Skyline in a rematch of last year's 4A title game. Greg Lee has that story. ... Kamiakin traveled to Albi and thumped Lewis and Clark after Sandpoint had rallied back to edge Mt. Spokane. Tom Clouse has both those stories. ... We also can pass along a roundup of football action across the region. ... A Mead volleyball trio has been playing together a long time.
• Mariners: So you're telling me there is still a chance? Well, yes. The pressure was shed a while ago, so the M's are playing better. After last night's 3-2 win in Oakland, the M's are 3 1/2 games out in the wild card race. They have 21 games left. ... The bullpen may just be the key down the stretch, though better outings from Taijuan Walker would help.
• Seahawks: So the Hawks aren't going to protest. They are going to have a show of unity. Interesting. We'll see tomorrow. ... The injury report is interesting as well. ... With or without Marshawn Lynch, the Hawks are fine.
• Sounders: Every match in the Western Conference matters to the Sounders these days, including their own.
•••
• We have a couple college football picks today. Feel free to use them, as Jack Crabb would say, a reverse barometer. ... Boise State 35-28. I keep thinking back to what Gabe Marks said last week. This isn't last year's team. Especially on defense. Unless the guys on that side of the ball improved mightily over the week, and can force some turnovers today, I don't see WSU bouncing back. I'll be on sometime late tonight with Derek Deis on the postgame show, about an hour after the game ends. Listen in on the Cougar IMG radio network, on-line or on your phone using the WSU Gameday app (I recommend the last one if you live out of the area; it's easy). ... One more pick. North Dakota State 42-38. Eastern's defense was susceptible to the run last week against the Cougars, except WSU didn't use it much. The Bison will. Again, the name of the game in Fargo is turnovers. If Eastern can force a few, they will win. The problem with that is NDSU doesn't turn the ball over. That's one of the reasons it's won five consecutive national title. Until later ...
---
---