Tue., Sept. 13, 2016
Turning the other cheek isn't just a biblical admonition but good advice as well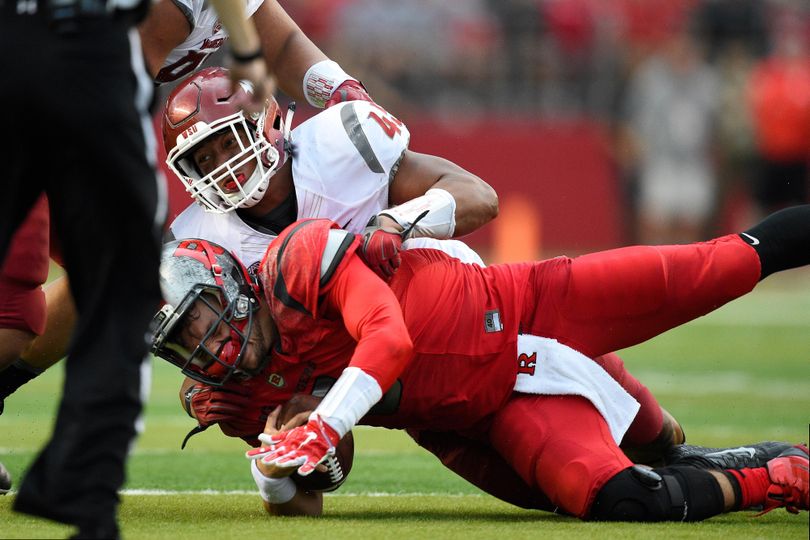 A GRIP ON SPORTS • The worst sequels are the ones in which the plot is almost exactly the same as the original, right? No one wants to see the same thing over and over again. Or read about the same dumb decisions either. Read on.
••••••••••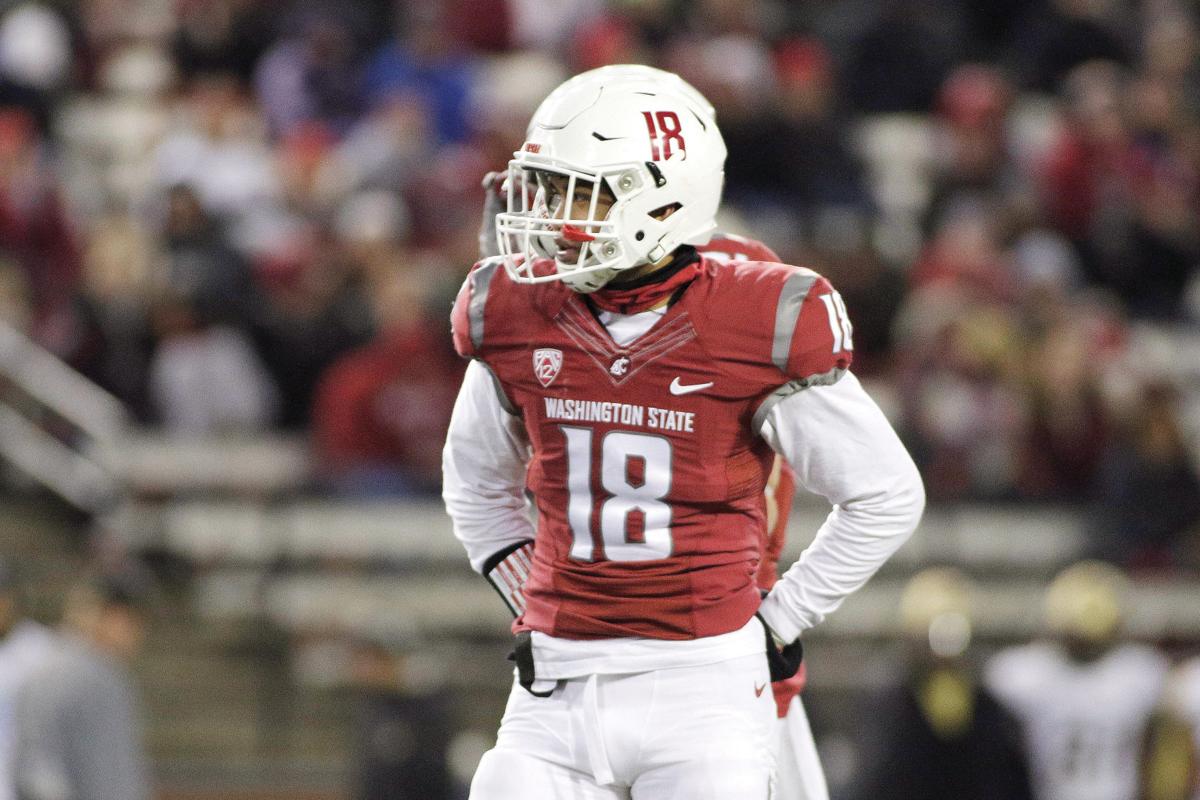 • Opened the paper this morning – the electronic version of it anyway – and saw a story by Jacob Thorpe about a Washington State football player being arrested for assault. A different Washington State football player. What the heck is going on? Let's recap for those of you who haven't been paying attention. There was a fight this summer in which some still-unidentified WSU players were allegedly involved. No one has been charged in that incident. Yet. Then starting safety Shalom Luani missed a week after an assault arrest. (That story moved forward yesterday; see below.) And now linebacker Logan Tago has been arrested, charged with assault and robbery in an incident that dates back to early June. Really? You thought Hangover II was bad, this is worse. And, in our version of Hangover III, we'll also say the same thing we said when Luani was arrested. This has to stop. Again, we don't have any idea of veracity of these charges. That has to be determined by the court system. But just the idea of high-profile athletes being even peripherally involved in such incidents makes us shudder. Pullman is a glass house. Has always been. A town for some 10,000 full-time residents intermingled with some 20,000 college students surrounded by miles and miles of farmland. An island. With the focus put on WSU's athletes. You might not know it, but there is a news story out of Pullman currently that doesn't involve that group. A rape investigation. Hear about it? Maybe not. It's important. It's awful. All such accusations are. But it hasn't received near the attention as Luani's arrest. Or any alleged incident involving WSU football players. Is that right? Nope. But it is the way it is. Look, Washington State athletes live in a figurative fishbowl. They stick out in a crowd. Which means that can't really step out of line, even a bit. If they do, they are immediately the focal point. So quit being involved. Walk away. Focus on what's important. No matter the outcome of Luani's case, everyone can probably agree a better decision or two may have defused any problems without an altercation. But something happened. And it cost Luani a game. The Cougars' best defender wasn't even in uniform in a game they lost by three points. A loss that ultimately could cost he and his teammates a bowl berth. Coaches preach all the time football is the pinnacle of team sports. Every play depends on every player doing his job, fitting in, being solid. That attitude needs to be carried off the field and into everyday life. Every action has to be seen through that prism. How what I do can affect not only myself, but also my teammates. It's not just my hard work that could get flushed down the drain, but theirs as well. When Mike Leach talked about toughness after Saturday's loss to Boise State, I'm pretty sure he was speaking about the mental kind. It takes mental toughness to be able to consistently make right decisions on the field. And off it. To do the right thing. To walk away from a confrontation. To see a situation going bad and just leave. It's that mental toughness WSU athletes need to exhibit every day. It's not easy, not in a place where everyone knows who you are, good or bad. But it has to happen.
•••
• WSU: We already linked Jacob's story on the Tago arrest but he also has another one on Luani's on-going legal problems. In a happier note, Jacob has a couple of on-field-related stories, one on Leach's thoughts after the Boise State loss and another on where defensive coordinator Alex Grinch intends to view upcoming games. ... Jacob also has video of Monday's press conferences, including Leach's and those of players Jamal Morrow, Parker Henry and Darrien Molton along with the official game notes. ... Luani's legal issues are covered by Stefanie Loh of the Times, as are Leach's comments and the Washington State depth chart. ... Elsewhere in the Pac-12, there is an interesting story out of Colorado on being a football coach's son. ...Washington has been playing well. Chris Petersen wishes more folks were watching. ... One game can thrust an unknown player into the national spotlight. ... One Oregon State player was thrust into the starting lineup at the last moment. ... A rivalry game can affect the next one. Utah is determined not to let that happen. ... UCLA gets to meet the team that lost that rivalry game. ... Stanford had a bye. Now it's time to play USC. ... Finishing games – and drives – is important to Oregon. ... Arizona has not been playing up to its coach's expectations. ... California is going to have some more money in its coffers. Too bad the Bears didn't play better Saturday.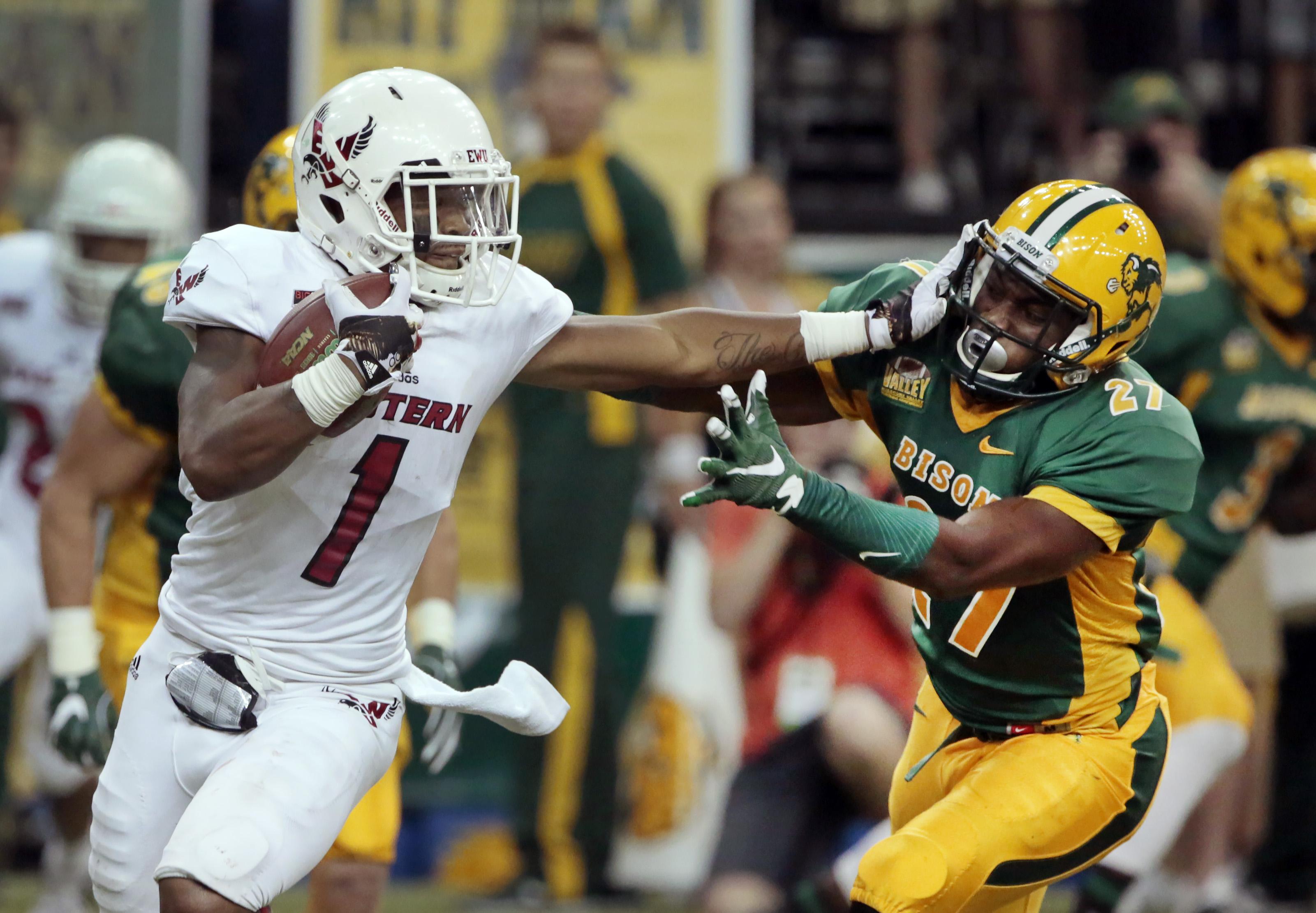 • EWU: The big news in Cheney in Monday was not who was practicing but who was not. Jim Allen has a story documenting all of the Eagles' injuries as they prepare for Northern Iowa. ... Elsewhere in the Big Sky, Northern Colorado had the conference's offensive player of the week. ... Montana moved up to seventh in the FCS poll after a road win at Northern Iowa. EWU is eighth, Northern Iowa 11th and Northern Arizona 24th despite being torched by Western Illinois. ... Montana State's offense is evolving.
• Indians: Everett went into Eugene and evened the Northwest League championship series at one-game apiece with a 7-1 win. The teams play tonight with everything on the line. ... Spokane finished third in short-season Class A teams.
• Gymnastics: The gold-medal winning Olympic gymnastics team will be performing in Spokane. Jim Allen has a story that previews what they will be doing at the Arena on Thursday night.
• Mariners: The M's continued their September run with an easy 8-1 win before practically nobody in Anaheim. It was the Mariners' sixth consecutive victory. ... Dan Vogelbach, the player Seattle received for left-handed pitcher Mike Montgomery, is with the team.
• Seahawks: So how is Russell Wilson's ankle? It's the only question Pete Carroll needed to answer yesterday and he did, saying it's sprained but that Wilson will be able to go Sunday. How well? No one is sure and Carroll didn't really offer an opinion. ... Jimmy Graham played Sunday. It was important to him and others. ... Doug Baldwin is showing the traits of a leader. ... This week's opponent, the Rams, started their first season back in Los Angeles with a shutout. Yes, they didn't score.
• Sounders: Even professional soccer players dream of America. ... The Sounders need Clint Dempsey.
•••
• A pretty busy Tuesday. This time of year, just about every day is busy. For everyone. Our friendly reminder for this Tuesday: Don't forget to get the fertilizer on your lawn. Until later ...
---
---