Wed., Sept. 14, 2016
There are a couple of hot topics for this Wednesday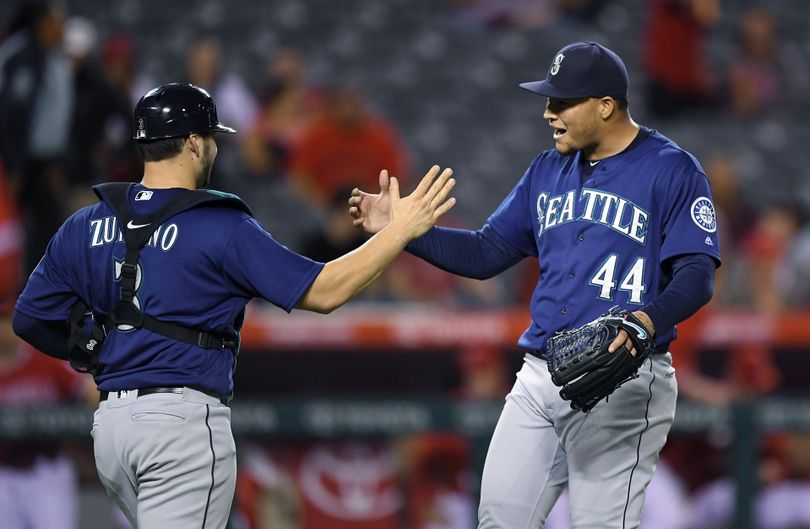 A GRIP ON SPORTS • What to right about today? How about the hottest team in the Northwest? Read on.
••••••••••
• If you thought this would be about the Washington Huskies, sorry. They are the hottest football team in the region, that's for sure. But we're going in another direction. The M's have won seven consecutive games. They are back in the thick of the wild-card race. And, for the second time in three years, about ready to break our hearts. How's that go, "fool me once, shame on me, fool me twice ..." If the M's do get close, well shame on us for believing in them. And if they actually make the postseason for the first time in the Harry Potter movie era, and play just one game, then shame on us again. No one should be satisfied with what's happening now. Is it better than having the M's just fade into oblivion as they seem to do most every September? Sure. Watching their games this week has been fun. But no one likes a tease and that's what the M's do. This team isn't good enough to win a division, it isn't good enough to win the World Series, heck we don't even know if it is good enough to win a wild-card game. After 14 years of basically zilch, it seems as if the organization should have blundered into one or two "good-enough" teams. As in "good enough to win a division title or a playoff series." But it hasn't happened. Even this year's group, with Robinson Cano having quite possibly his best season ever, Kyle Seager again taking another step, Nelson Cruz being, well, Nelson Cruz and Hisashi Iwakuma having drunk from the fountain of youth – or Russell Wilson's miracle water – remains a 50/50 proposition to make the playoffs. And it's the middle of September. Time is winding down. For those of you who still hold out hope that the M's will reach the postseason and, from there, "anything can happen," well, god bless ya. Hope is to be praised. And faith is a wonderful thing. It can move mountains. But can it overcome a patched-together pitching staff trying to deal with postseason pressure? I think not. It will take a lot more than faith for the M's to even get into the playoffs. And then something akin to Hermoine's magic for them to win a round or two.
• If you are mystified why I'm not writing in depth about Mike Leach's post-practice statements yesterday, it's mainly because I hate writing about a subject two consecutive days. Yes, Leach advanced the debate considerably, pivoting the onus from his players – who still have to clean up their act, no matter what the prevailing climate is in Pullman – and toward Pullman's police department. This is nothing new. I heard similar complaints in my time in Pullman. All off-the-record or couched so thoroughly as to have little or no impact. I'm sure my predecessors Glenn Kasses, Carter Strickland, Mike Sando and even Steve Bergum heard the same. The difference is Leach has said them publicly. Bluntly. He came within a hair of accusing the police department of discriminatory actions. How else can you interpret: "... How in the world can only football parties be guilty in events depicted like this? It is irresponsible to this town, this community and everybody to have some kind of a double standard where we only focus on one demographic, one group of people and then drag their name through the newspaper with a bunch of irresponsible comments," as Leach said; or "... the system has to be checked if with the number of people involved in these incidents the only ones accused are football players. If that's the case, then something is seriously wrong, which goes far deeper than whatever has even been alleged." That's pretty strong stuff. Much of what else Leach had to say mirrored some of what we wrote here yesterday, that WSU athletes stick out in Pullman and their actions, good or bad, are publicized and dissected well beyond those of others – and with greater emphasis than other places. Which also means they have to walk a straighter line, no matter the circumstances. It isn't easy. But it needs to be done.
•••
• WSU: Besides the Leach comments, which Jacob Thorpe transcribed in full here and here – yes, I did take a couple of his comments and pull them out, but I don't believe out of context; Leach is trained as an attorney and he didn't say those words without knowing full well their import and weight – and also covered in this story, there isn't all that much. Except Leach's feelings about officiating and his thoughts about how to improve it. ... Jacob also has his Pac-12 power rankings and will hold a live chat today at 10 a.m. That should be fun. ... Stefanie Loh covered Leach's comments in the Times and they became national fodder, through the magic of the Internet. Stefanie also has the news defensive line coach Joe Salave'a is a finalist for the Polynesian Hall of Fame and this piece on former linebacker Jeremiah Allison. ... Elsewhere in the Pac-12, there are opinions on the best teams and the best games this weekend. There is also the most inventive two-deep ever. ... California has a big test Saturday when it hosts Texas. The same can be said for Colorado, which travels to Michigan. ... Stanford and USC will test themselves against each other. ... Washington has built depth due to the blowout nature of their wins. ... A player who starred as a freshman has been missing in action for Oregon this season. ... A Utah running back is quitting the game. ... UCLA has a replaced the typical glue guy with a putty guy. ... Oregon State is still waiting for a player to get on the field. ... Arizona's new quarterback has to learn a few things. ... Arizona State's players are electronically monitored at each practice. ... Mike Riley is back in the Pac-12. Well, sort of.
• Gonzaga: The Bulldog men are off to their best start in soccer since 1980. Jim Allen has more on that and other happenings around the area in his college soccer notebook. ... Saint Mary's has a new media partner.
• EWU: Eastern is beat up. Some players are out for a while, others for the season. Jim Allen explains in this piece how the Eagles are dealing with the injuries. ... Around the Big Sky, Montana has some plans for its bye. ... Montana State believes Western Oregon is dangerous.
• Whitworth: The Pirates dropped their final East Coast match in men's soccer action.
• Indians: Eugene is your Northwest League champion in 2016.
• Preps: Colton's Josh Straughan has had a round-about road to his current role as Southern Illinois' starting quarterback. John Blanchette plays the role of GPS in this column. ... We also can pass along a roundup of Tuesday night's prep action.
• Mariners: Taijuan Walker was brilliant last night. It was the superb Taijuan, the one that appears on rare occasions and gives us hope for the future. It came directly on the heels of the awful Taijuan, one that appears way too often. Consistent he is not. ... The 8-0 win over the Angels kept the hope alive.
• Seahawks: The roster was shuffled a bit yesterday with some veterans returning and some leaving. The NFL life, indeed. ... The picture to the right is of the Hawks' color rush uniform for this season. OK then. ... Rookies have to be determined if they want to make the team. ... The Rams always are against Seattle.
• Sounders: The MLS is going to expand.
•••
• Sorry we are a little late this morning. A lot to do after a night of not sleeping well. I blame the noises I heard at 3:04 a.m. I do believe they were gunshots. Makes it tough to get back to sleep. By the way, we will be a little late with the links on Saturday morning. I have decided to drive to Pullman and do them there. We'll get into it a bit more later in the week. Until then ...
---
---