Thu., Sept. 15, 2016
Wait, what? We have to worry about baseball too this week?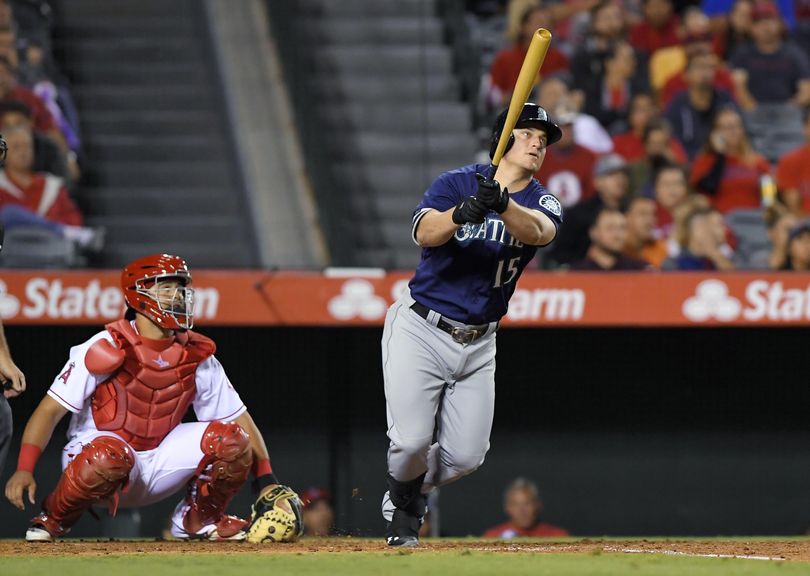 A GRIP ON SPORTS • A week ago we were all happily oblivious to the pennant race. Why bother? The M's were toast and football was back. Time to concentrate on the gridiron. Ya, right. Read on.
••••••••••
• Our cat sat, tense, staring out the back slider. On the grass was her nemesis, a squirrel. The cat's tail twitched. She wanted out. But, what happens if she catches the darn thing. A wild creature vs. a house cat? My money isn't on the one who sleeps on my bed 22 hours a day. Yet, the desire for combat was there. It was clear as the freshly cleaned glass. But desire is a fickle thing. Take the common Mariner fan and her/his desire for his/her team to be in a pennant race. We've caught the squirrel folks. What's is it going to do to us?
A lifetime ago I used to root heart and soul for the Dodgers. I was one of those guys. And it almost killed me over and over again. See, the Dodgers were usually darn good. Challenged for a playoff spot just about every year. I remember one summer, when Kim and I were vacationing in Canada, we stopped at about a half-dozen motels until we found one that had WTBS, just so we could watch the Dodgers and Braves – divisional rivals back then – go at it. The Dodgers won a key game when a late-inning groundball rolled right through the Atlanta's second baseman's legs. I'm sure by that time, however, I had no fingernails left. Tension. Drama. Uncertainty. All those things. And disappointment.
There can be only one winner. Sure, the playoffs have expanded. (Making the M's 15-year playoff drought even more maddening.) But there is a still a finite number of spaces. And only one World Series champion. The M's, deader than a 1972 Fiat 124 last week, have reeled off eight consecutive wins and dragged themselves back into contention. Games matter. Other games, in far-off exotic places like New York and Toronto and Kansas City, matter. It's fun, isn't it? If you have decided to get involved.
The M's fall from grace this season came later than most over the past decade. But it happened just around the time the football season was kicking in. The Seahawks opening training camp, playing preseason games. Washington and Washington State facing off with non-conference foes. Mike Leach hijacking the conversation. So our region's eyes shifted focus. Instead of nine innings of yelling at the umpire, we spend four hours yelling at referees. If you haven't been paying attention, Seattle has drawn within 1.5 games of a wild-card spot. The teams above them have gone into a tailspin. Kansas City, once the hottest team in baseball, has lost three consecutive games and is 3.5 games behind the M's. Toronto, recently atop the American League East, is playing even worse, having lost seven of its last 10 games. That's allowed Detroit and Seattle to have hope.
But hope only lasts as long as your next starting pitcher and nowhere is that more obvious than in Seattle. You wanted to catch the squirrel? You wanted a pennant race? You got it. Houston comes to town Friday. Felix Hernandez, for the past decade one of the best pitchers in baseball, is on the mound. The game kicks off a possible season-defining three-game series. The Astros are two games behind the M's. They know their season is over if they don't win at least two games this weekend. The M's know the same thing. The margin for error is tight. It's not life or death but it's at least a squirrel fight. Who wins? Mainly, us. If we are still paying attention.
•••
• WSU: Speaking of Leach, his comments about his players' recent legal struggles earned a response from the Pullman police chief. You knew they would. Tom Clouse has the story. ... Jacob Thorpe is concentrating on football headed into Saturday morning's battle of the Palouse, and has video of Leach's post-practice comments yesterday. Jacob also has his Pac-12 picks and a story on a plan emerging from WSU to balance the athletic department budget. ... Leach's comments also caught John Blanchette's ear and he has this column. ... ... Stefanie Loh also has a story on the Pullman police chief's comments. ... Around the Pac-12, the conference has quite a few players in the NFL. Washington State has four. ... Injuries play a big part in a football player's career. At UCLA, a player bounces back. At Arizona, one is happy his wasn't worse. ... Stanford's offensive line knows it needs a complete game against USC. Speaking of the Trojans, this story is not to be missed. ... A former Arizona State head coach is back in the Valley of the Sun for one game. ... Texas is a hotbed for recruiting for all teams, including California. ... Oftentimes when a quarterback is relegated to a backup role, he transfers. That's not the case at Washington this season. ... Oregon has been looking for quarterbacks for three years now. The guy it wanted is on the Nebraska sideline. ... The lower end, budget-wise, Pac-12 teams like Utah have to travel to play Group of 5 opponents. ... Colorado has a shutdown corner. ... Oregon State's former starting quarterback is now one of its best receivers.
• EWU: Of all the challenges Northern Iowa presents to Eastern this Saturday, No. 1 on the list might be the mobility of its quarterback. Jim Allen has that and more in this notebook. He also will be holding a live chat at noon here, so get on-board early. ... The Eagles' women's soccer team didn't win but it didn't lose either. Yes, it's soccer season. ... Elsewhere in the Big Sky, a Great Falls basketball player has decided to attend Eastern Washington. ... Portland State is traveling up Interstate 5 to play Washington, and Viking coach Bruce Barnum, a former Eagle, is entertaining everyone again. ... Defense has been Montana's strength thus far this season. ... A North Dakota defensive back goes to great length to defend receivers. ... Southern Utah has a receiver that is standing out.
• Preps: Cross country season is going full throttle, so Greg Lee has a feature on a Ferris runner who has taken an interesting path to running – and Spokane – as well as a preview of the season ahead. We also can pass along a roundup of Wednesday's action. ... The latest Associated Press football poll is out as is the latest Pick Six with Greg and Sam Adams. There are some interesting games on tap for this weekend and Greg has a preview. ... Greg also has a story on George Pfeifer resigning as Lewis and Clark's girls' coach.
• Mariners: Kyle Seager hit a solo home run to tie it, Nelson Cruz hit another to take the lead and the M's pitched well. It added up to a 2-1 win over the Angels. ... Next year's tentative schedule is out and there are changes.
• Seahawks: The Rams are something of a thorn in Pete Carroll's side and have been the past few years. So no one should be looking past them. They need to win, being it is their return to Los Angeles and all. ... Russell Wilson will play and he looked nearly 100 percent at practice yesterday. ... The Hawks have one of the best groups of cornerbacks in football, with depth that is probably unmatched.
• Sounders: Clint Dempsey returned to practice yesterday but we still have no idea what exactly his heart problem is or was. No one knows when he will return to the lineup either. ... Zach Scott is calling it quits when the season ends. ... Portland lost its Champions League match last night.
•••
• We are finally done. These mornings are long, let me tell you. It's almost as if I'm Clark Griswold and a squirrel has popped out of the Christmas tree every day. Until later ...
---
---