Fri., Sept. 16, 2016
Washington State's terrible, horrible, no good, very bad week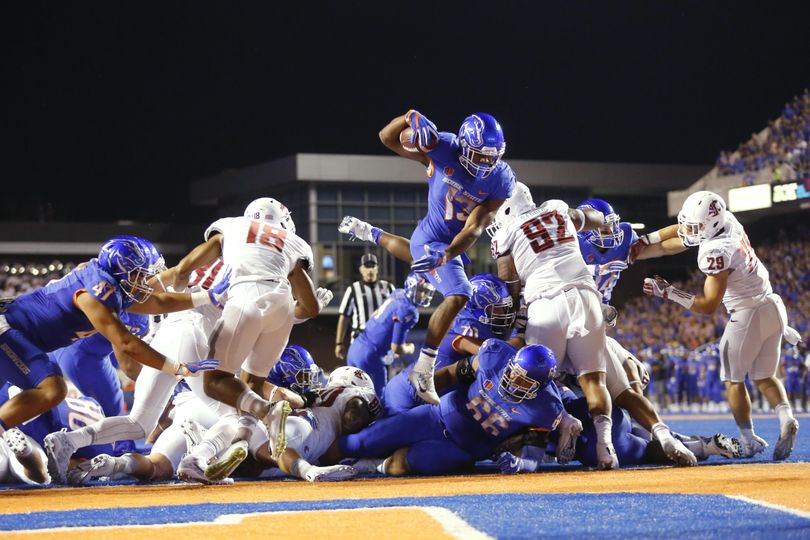 A GRIP ON SPORTS • Isn't there an old saw about any publicity being good publicity? Trying selling that load of fertilizer around the Palouse this week. Read on.
••••••••••
• The last seven days haven't been kind to Washington State's reputation, in too many ways to count.
It started with a 31-28 loss to Boise State, an eminently winnable game that included a pick-six, a blocked field goal and some questionable clock management. And that turned out to be the highlight of the week. Sunday was, publicity-wise, a "rest day," the calm before the hurricane, so to speak. And you could call it Hurricane Mike. Head coach Mike Leach blew up Monday, ripping his team, insulting junior college softball teams all over America and deriding the life work of folks who produce trophies.
Only prelude my friends, only prelude. That was also the day linebacker Logan Tago was arrested, charged with assault and robbery in an incident that dated back to early June. In and of itself, Tago's arrest might have been a blip on the radar – though it would have been a Independence-Day-alien-ship-sized blip due to the circumstances – except it wasn't in and of itself.
During WSU's summer, there was a brawl at a party, Tago's incident and safety Shalom Luani's arrest for an assault that occurred outside a pizza place. All of this added up for Leach. On Tuesday, he went off. He verbally assaulted the media's reporting of the incidents. That's fine. Blame the messenger. Happens all the time. But he also called out the investigations and the investigators, insinuating the Pullman police department unfairly targets football players. He's lucky he wasn't charged with arson that afternoon. His comments caused a firestorm that burned around the nation. Every major media outlet in America latched on, including ESPN and "Outside the Lines," which spent time on the issue. But closer to home, Leach's comments led to some discussion.
Wednesday, Pullman police chief Gary Jenkins denied Leach's accusations – did anyone expect him to say, "ya, coach is right, we go after his guys?" – and explained his force's actions. Did that damp down the blaze? Nope. Thursday, athletic director Bill Moos, new Washington State University president Kirk Schultz and Jenkins sat down and talked about it. Afterward Moos talked with our Jacob Thorpe about another conflagration: starting nose tackle Robert Barber had been expelled from school by the University Conduct Board due to his role in the brawl at the party. Except Barber was still practicing with the football team pending appeal. And, I presume, still attending class.
OK, so let's review. There has been a loss, an arrest, a couple of interesting press conferences, a high-level meeting and an expulsion. All since Saturday at this time. Which brings up two questions. What might happen today? And who do the Cougars play tomorrow? If ever there was a week in which ancillary news overshadowed a football game, this is it.
For the record, the Cougars host Idaho in an 11 a.m. game tomorrow. The Battle of the Palouse. Except this year, it's probably seen around Bohler Gym as less of a battle and more of a fire extinguisher. Maybe, just maybe, the game will change the conversation. And focus. Or maybe not.
•••
• WSU: In today's news, there isn't all that much, other than Jacob's story on Barber's troubles. ... Stefanie Loh has coverage of the high-level meeting at WSU yesterday as well as a story on Barber. ... Around the Pac-12, there is a lot of consensus about who will win this weekend's games. ... UCLA quarterback Josh Rosen did not play well against BYU last season. A new play caller may help him this year. ... Mike Riley has such a history with Oregon it's not funny. Yes it is. ... Even though Portland State is an FCS school, the Vikings have Washington's respect. ... When Utah running back Joe Williams (pictured) decided enough is enough, he started another part of his life. ... A former USC linebacker is in big trouble. So is a former Arizona running back. It hasn't been a good week for the Pac-12 football teams and run-ins with the law. ... California hosts Texas and hopes to pass the Longhorns by. Arizona State just seems to like the entire state. ... Is this the week Oregon State ends its losing streak? Yes it is. ... Stanford finally ran afoul of the NCAA. ... What's the key for Colorado this week?
• Gonzaga: If you don't live in the Spokane area but want to watch Gonzaga play, you are in luck again this year. The Zags will play 15 games on ESPN's family of networks. Jim Meehan has a story on that aspect of the upcoming schedule. ... The women's soccer team drew with Boise State. ... USF is looking for a new women's basketball coach.
• EWU: Jabari Wilson's tenure at Eastern has been shorter than he would have liked due to injuries. Jim Allen has a feature on the fifth-year senior running back today. ... Jim also held a live chat yesterday in a run-up to Saturday home opener vs. Northern Iowa. ... Portland State's non-conference schedule has been pretty darn tough. ... Montana State has a player who has pulled himself up from a slow start. ... Winless Northern Arizona is also opening its home schedule.
• Idaho: Matt Linehan isn't one of those college football players who see the media as an enemy. In fact, he wants to be part of the crowd one day. Josh Wright has a can't-miss feature on the Vandals' quarterback and soon-to-be play-by-play guy.
• Preps: There was a football doubleheader at Joe Albi Stadium last night and Greg Lee was there. He has the story of Gonzaga Prep's first win of the season as well as Lakeland's shutout of Rogers. ... We also can pass along a roundup of other prep action.
• Mariners: The M's were off yesterday before opening a key homestand with Houston. The basically treaded water in the wild-card race, as Baltimore and Detroit lost and Toronto won. The M's are two games out. ...
• Seahawks: Russell Wilson doesn't sleep. He doesn't sleep much, actually. He's been burning the early morning oil rehabbing his ankle. ... Earl Thomas stunk in the opener. It was sort of an anomaly. ... Thomas Rawls welcomes back his fullback. ... The Rams' Todd Gurley hopes to regain his form against the Hawks. ... Expect more of the same from Seattle during this week's anthem.
• Sounders: When Zach Scott graduated from Gonzaga, who knew he would become Mr. Sounder? ... Brad Evans is still hurting.
•••
• As we said earlier in the week, we'll have the links here tomorrow morning. They will just be a little late. And they will be live from Pullman. Until then ...
---
---