Sat., Sept. 17, 2016
The Battle of the Palouse is back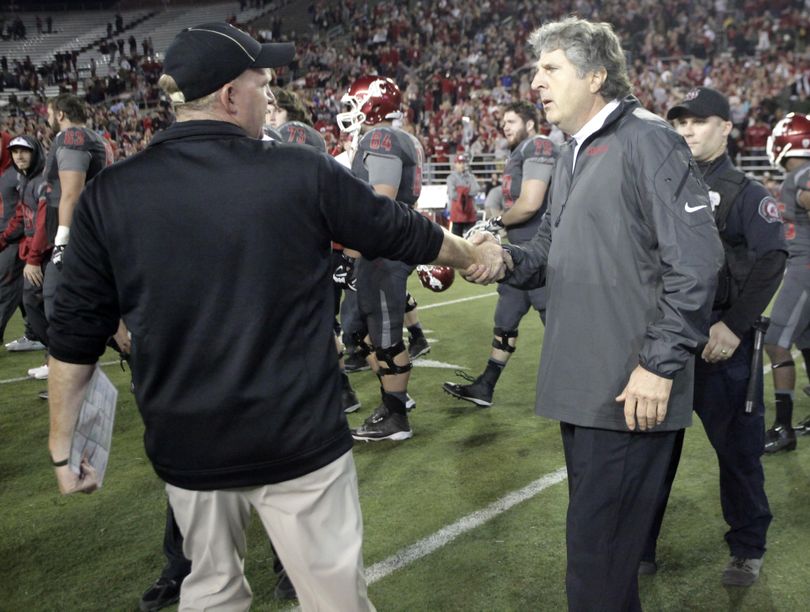 A GRIP ON SPORTS • No wasted time. No wasted effort. Let's get right to it. Read on.
••••••••••
• We started a bit late this morning, so we're not going to get into some existential discussion about the happenings in Pullman this week. Instead we will turn our focus toward the football game happening there this morning. Idaho and WSU. Neighbors. As close as two universities representing two different states as there is in this nation. So what happens on the field?
The thought here – and most everywhere, considering the spread – is Washington State will roll. Will it? I'm not so sure. I figure two things can happen. Idaho has spent the week preparing for the game, no distractions, no off-field problems. That's a good thing.
The Cougars are the opposite. As they've prepped for the Battle of the Palouse, they have dealt with, directly, their coach's anger for the way they played against Boise State. They have also had to deal with, indirectly, with the peripheral problems of an arrest, a coach's blowup, and a whole bunch of ancillary stuff. (I documented most of it yesterday morning. There was more yesterday afternoon.) If you think the players aren't affected by that stuff, sorry, but you're wrong. In this day and age, you can't get away from it. It's out there in the web-o-sphere. It's out there among your student peers. It's everywhere. It does have an effect.
So how do the Cougars react? As I said, one of two ways. They band together, us-vs.-them and take out their frustrations on the Vandals. In that case, give the points. Or the focus is fractured. There is worry about certain teammates' futures. They see the Idaho that was blown out last week in Seattle and let down. If that's the case, take the points. I will.
Call it Washington State 35, Idaho 17. A win, yes, for an embattled program, but not the blowout Mike Leach probably would like.
•••
• WSU and Idaho: Jacob Thorpe takes a look at the rivalry aspect of the game in this advance. He also has his two-minute drill and a story on the arrest of Robert Barber and T.J. Fehoko over the summertime brawl. ... One other thing. Jacob posted video of the joint press conference with Bill Moos and Pullman police chief Gary Jenkins. ... Mark Hendrickson was an exceptional athlete. That was easy to see when he was playing hoop for Mount Vernon High. John Blanchette has a column on Hendrickson as he is inducted into the WSU athletic hall of fame. There are others as well. ... The volleyball team had a quick day yesterday. ... Back to the game, Stefanie Loh has her keys to the game in the Times.
• EWU: Northern Iowa comes to Cheney this afternoon for a battle of highly ranked FCS schools. Jim Allen has the advance.
• Whitworth: The Pirates, 1-1, return to Southern California today. Tom Clouse has a preview of their game at La Verne.
• Preps: Greater Spokane League play got going in earnest last night, with Greg Lee covering Central Valley's win over Mead. We also have a roundup of other GSL action and games throughout the area.
• Mariners: The eight-game winning streak is toast as Felix Hernandez, for the second time in three years, couldn't come through in a key pennant race game. Granted, the offense was non-existent in the 6-0 home loss to Houston. ... Edwin Diaz has been lights out.
• Seahawks: Pete Carroll returns to the place of his greatest (second-greatest?) glory. ... More injuries but not Russell Wilson. He looks pretty good. ... Earl Thomas expects to shower after this week.
• Sounders: Jordan Morris, U.S. soccer star of the future? Discuss. ... Injuries are tugging at the Sounders this week.
•••
• That's it for today. The game will be starting soon. We'll have more tomorrow. I promise. Until then ...
---
---