Sun., Sept. 18, 2016
Saturday gave us another encounter with those who take chances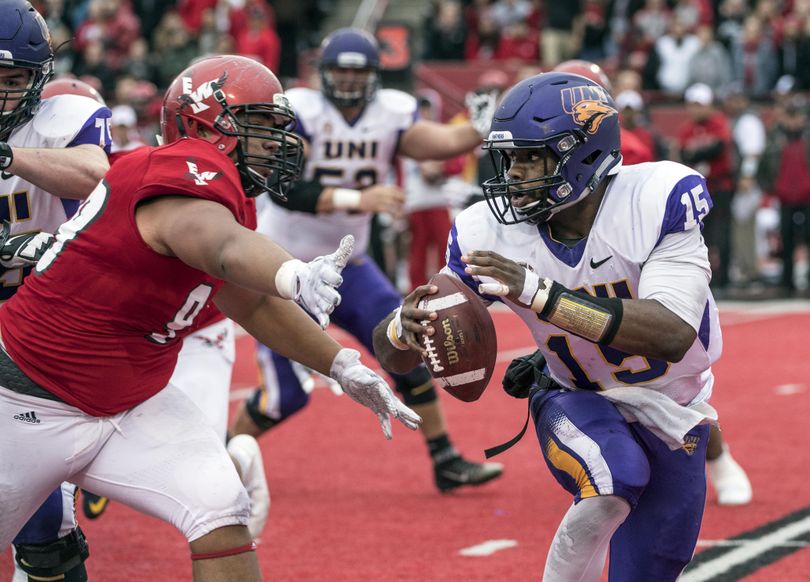 A GRIP ON SPORTS • It was a Saturday dominated by those taking chances. Or wasting them. Or making the most of their second ones. Read on.
••••••••••
• If you were out and about at all yesterday evening you were buffeted, literally and otherwise. It was a blustery day. And an eventful one. Especially out in Cheney, where Beau Baldwin took a huge chance and reaped the benefits.
Baldwin's Eagles, coming off an overtime road loss to America's new college football darling, North Dakota State, were locked in a back-and-forth battle with Northern Iowa. It was the FCS' version of Notre Dame/Texas or the like, a non-conference showdown between two of the nation's best. And it all, seemingly, was coming down to a 40-yard field goal. Into a gusting wind. Trailing 30-27. So Baldwin decided to take a page out of "Risky Business," say some magic words and throw caution to the wind.
A fake. A pass. A catch by the fourth-string tight end, Beau Byus, whose biggest accomplishment since leaving Central Valley High, seemingly, was to change his look by growing a mane of perfectly wild hair. And, now, catching a comeback-capping touchdown pass.
It was perfect. The perfect call. The perfect, if albeit, seemingly-slow-motion toss from quarterback/holder Reilly Hennessey, who had engineered the big comeback off the bench, and Byus' perfectly competent catch and rumble into the end zone. The result was a 34-30 win that should keep Eastern in the national spotlight for another week. And primes the Eagles for next week's Big Sjy Conference opener.
• Some 300 miles away, the Mariners proved once again they never miss a chance to break our hearts. An eight-game winning streak – most of which was done on the road – got them into the thick of the American League wild-card chase. And two home losses, including last night's 2-1 defeat, have killed the momentum.
It's an old story, one I'm sure we are all tired of hearing. M's start season with promise. Stumble around for a couple months. Catch fire. Extinguish same. Miss the playoffs. Only that last sentence has yet to be written this year. Every year since 2001, it's been etched in stone. They had their chance for a rewrite this weekend and fumbled it away.
• Speaking of fumbles, such things fell Washington State's way yesterday in Pullman. A blocked field-goal attempt bounced perfectly into Marcellus Pippins' hands and he returned it for a touchdown. A fumbled kickoff return bounced perfectly into Gabe Marks' hands and he returned it for a touchdown. In-between, the University of Idaho helped the Cougars end their two-game losing streak by dropping passes, bouncing throws and missing tackles.
Not that the Cougars didn't help themselves with a few second chances. Robert Barber, arrested Friday on charges related to a summertime brawl at a party, was the guy who blocked the field-goal attempt. Two other players facing legal difficulties, Logan Tago and Shalom Luani, also played a role in limiting Idaho to just two field goals in the 56-6 rout.
But it was a guy getting his first extended chance, running back James Williams, who really shined. His 126 yards rushing were the most for a Cougar freshman since Dwight Tardy in 2006. And Williams got better as the game went on. Of all the positives that happened in Martin Stadium yesterday, his emergence as a make-you-miss runner may have the most long-lasting impact.
• Leaving the on-field happenings for a moment, we have to point out The Spokesman-Review's highlighted front-page package today. Not front sports page, but front page. It concerns the arrests of football players in Pullman the past four-plus years. Tom Clouse and Chad Sokol documented all of them since 2012, showing most of the 29 arrests never made it to trial, dismissed for a variety of reasons. Why that is – Are the charges' bogus? Are prosecutors or judges too lenient? Other reasons? – may be subject to debate. Tom and Chad also examine how the school dealt with the incidents and whether Washington State is following a similar protocol to other schools.
The sheer number of arrests is one thing – saying it is the most in the nation is somewhat disingenuous in that there is no real hard, apples-to-apples, government-issued data to rely on – but the felony charges are another. As we have said here more than once, Washington State football players are in the public eye. As such they have to learn how to avoid conflict and defuse problems. How to walk away. To not instigate, to not engage, to not do something stupid. The record shows they haven't learned that lesson yet.
•••
• WSU: The 56-6 rout wasn't like a boulder that rolled over Idaho from the start. It was more like a snowball rolling down a hill, as the Cougars picked up momentum throughout. Jacob Thorpe has the game story, leading with the game-changing play by Barber. He also has a notebook, players of the game, the special plays of the special teams and scoring. On this blog, he adds video of interviews with Pippins, Wicks, Williams, Dylan Hanser, Luke Falk and Leach. ... John Blanchette has his perspective on the turmoil in Pullman and its interaction with the game. ... Stefanie Loh has her game story in the Times as well as sidebars on Barber and Williams. ... The volleyball team finished as the runner-up in Baylor's tournament.
Around the Pac-12 yesterday, California picked up the conference's biggest win, though it finished way too late for most to see – and had a controversial ending. The host Bears defeated Texas 50-43. ... Oregon had the worst loss, considering they failed on four two-point conversions and lost at Nebraska by three. Oregon may have lost their best running back. ... Conference play did get underway yesterday and it began just as 2015 ended, with Stanford picking up a double-digit win over USC. The Cardinal proved for the third consecutive time they are bigger and stronger than the Trojans. ... Washington rolled over Portland State to end non-conference play. ... UCLA and quarterback Josh Rosen proved to be less offensively challenged than BYU. ... Host Arizona cruised past overmatched Hawaii. ... Oregon State ended a long losing streak by putting another loss in Idaho State's ledger. ... Visiting Colorado shocked Michigan for much of the first half, but the highly ranked Wolverines took care of business after halftime. The Buffs lost their kicker. ... Utah started slowly but rolled over San Jose State. ... Finally, didn't get a link up yesterday about Arizona State's road win in San Antonio on Friday night, so we decided to catch up. And we also want to pass along the mailbag from ESPn.com's Pac-12 blog.
• EWU: There is a chance North Dakota State will be ranked this week. Not just in the FCS, but overall. It's possible. So where does that leave Eastern, whose only loss is an overtime one in Fargo with its best player sidelined for the second half? Who cares, actually? I'm sure Baldwin doesn't. He just likes to win. Jim Allen was in Cheney yesterday and he documents the win over Northern Iowa (there are also a lot of Dan Pelle pictures on this link) as well as passing along a notebook that leads with the game-winning play.
Elsewhere in the Big Sky, Weber State not only got its first conference win, the 14-7 decision over Sacramento State was its first win this year. ... Portland State couldn't keep up with Washington. ... Montana State had little trouble with Western Oregon. No trouble, actually. ... North Dakota got past South Dakota in double overtime while Cal Poly upset South Dakota State. ... Wyoming rolled over UC Davis.
• Idaho: Josh Wright was also at Martin Stadium yesterday and has this story with the Vandal perspective on the defeat. ... The Big Sky honored UI and EWU soccer players this week.
• Whitworth: Two trips to the L.A. basin and two football wins. Though yesterday's over La Verne was quite a bit tougher.
• Mariners: James Paxton pitched well. But two runs turned out to be one too many. ... The Dodgers have Corey Seager, Kyle's little brother. They would love to have a matched set, but there is no chance that will happen. Right? ... What does Nori Aoki's future hold? I'm pretty sure it won't be in Seattle. ... The M's have a hard-throwing relief pitcher who struggles with his mechanics. His name is Arquimedes. That's sort of ironic. ... The postseason seems to be fading away.
• Seahawks: The Rams don't win a lot of games. But they do give the Seahawks fits most of the time. Won both games last year, actually. And now are playing their first regular season game at the Coliseum for the first time since I was a young man. Today could be tough. ... Pete Carroll's ties with Los Angeles include football, of course. He did coach at USC. But there is more. Lots more. ... Russell Wilson hopes to be completely healthy today. We'll see.
• Sounders: There is no doubt Seattle needed a win. The Sounders pressed and pressed and didn't score. Not until the match was nearly over. But Jordan Morris' goal was all they needed for a 1-0 win over Vancouver. ... Portland picked up a win as well. ... Real Salt Lake lost its first home match this season. ... San Jose picked up a draw at Colorado.
•••
• It's almost time for the NFL to take over our Sunday. It does it every week. Oh well, it's a great excuse not to mow the lawn. After fertilizing this week, it needs it. Until later ...
---
---