Wed., Sept. 21, 2016
If one of your most time-honored traditions is watching players excel after they leave, that's not good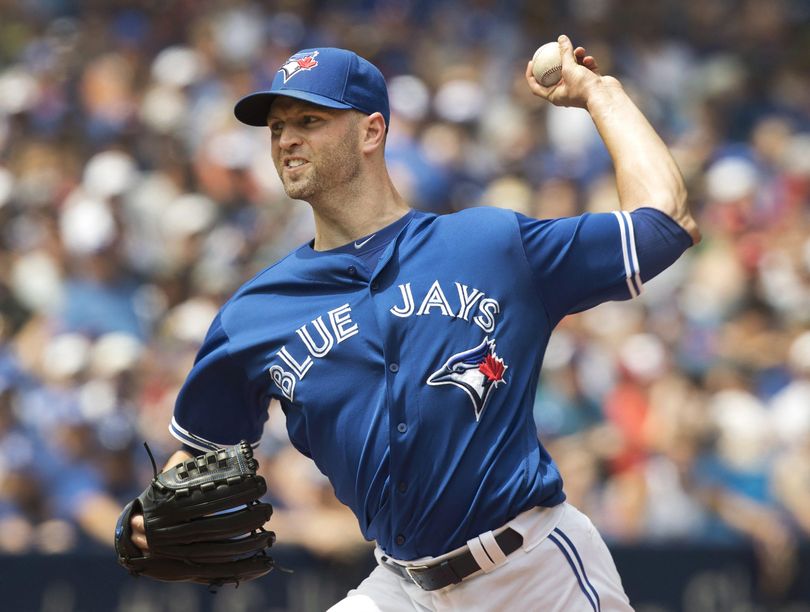 A GRIP ON SPORTS • There have been a few memorably awful trades in the Mariners' past. Most of us can tick them off without even pausing. Adam Jones et al for Erik Bedard anyone? But there may not be one player who has been involved in two trades – coming and going – that have hurt the M's recently more than J.A. Happ. Read on.
••••••••••
• Last night the M's lost for the fourth time in five games on their season-defining homestand. At the heart of the 10-2 defeat was Hisashi Iwakuma's – Seattle best starting pitcher this season – inability to get the Toronto Blue Jays out in the fourth inning. But also contributing was the paucity of offense against Happ, the former Mariner.
When the game was over, Happ could point to one number and laugh. Twenty. As in 20 wins. The left-hander hit a magic number this season few reach anymore. Oh sure, wins as a starting pitcher measuring stick has lost luster these days. But winning 20 times in a season is still an accomplishment, no matter what the pitcher's other numbers are. Heck, it might be even more of an accomplishment than it was in the past. Five-man rotations, five-inning starts, the explosion of offense, they all have combined to make the 20-game winner rarer than a no-walk game from Felix Hernandez.
And, in Happ, who would have seen it coming? No one cried too much – or celebrated excessively – when the M's traded Michael Saunders to the Blue Jays for Happ back in December of 2014. After all, Saunders was always hurt. He had some potential, sure, but he never was in the lineup. And Happ gave the M's another left-handed starting pitcher they could count on.
Except, last season, they couldn't. He was average-to-poor in his 20 starts for the M's, with an earned run average of 4.64. That's not good, the season was a disaster, and so the M's gave up. Sent him to Pittsburgh. Washed their hands of him. Got a minor league pitcher back for a guy who was going to become a free agent at the end of the year. Nothing wrong with that.
Or was there? Happ made 11 starts with the Pirates. Won seven times. Gave up less than two earned runs a game. May have been the best starting pitcher in the National League the last couple months of the season. Crap.
And hit the free agent market with some cachet. The Blue Jays wanted him back. Gave him a three-year deal for $36 million. And he's delivered. Happ is 20-4. His ERA is 3.28. He's averaged six innings in his 30 starts. He's a Cy Young dark horse. And Saunders? He had a great start to this season, making the All-Star team. His 24 home runs have also played a part in Happ's gaudy win total, as a two-run dinger did last night.
Let's recap. The Mariners, battling for a postseason spot in late September, lose to a pitcher they once had in their rotation with the go-ahead runs scoring on another former player's home run. And the loss may just have sealed their wild-card fate. Has there ever been a more Mariner-like defeat?
But don't worry. There's a chance some day Adrian Sampson will win 20 games. Probably not in Seattle, sure, but somewhere.
•••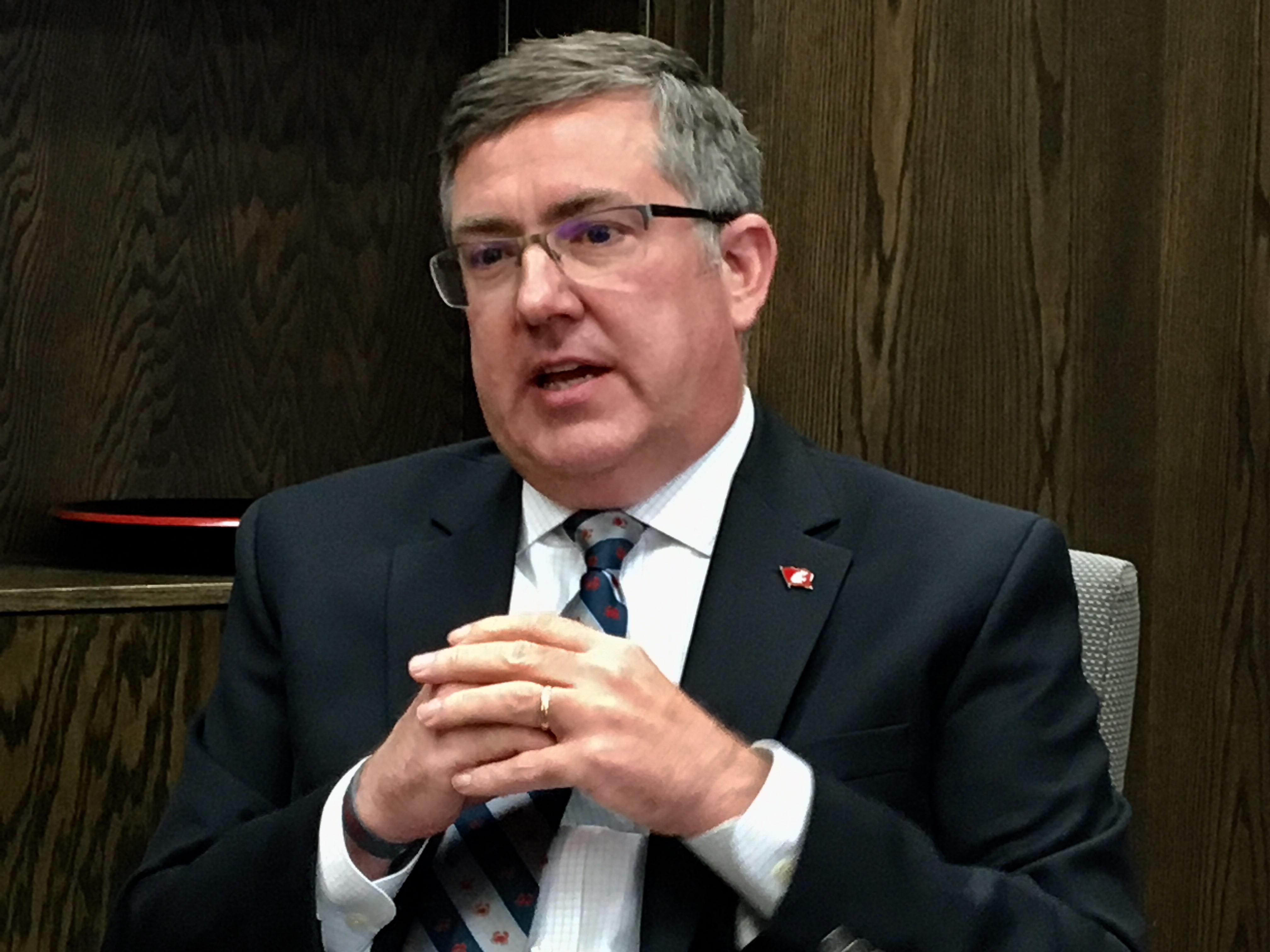 • WSU: Hear that? It's a drumbeat. It keeps pounding away concerning the Cougars' recent arrests. The Spokesman-Review's Shawn Vestal weighs in with a column today, taking new president Kirk Schulz (pictured) to task on his response. And there is this from the Moscow-Pullman Daily News on the upcoming timeline. ... Jacob Thorpe writes about football during this bye week, with his Pac-12 power rankings and his conference notebook. ... Steve Christilaw, writing in the S-R's Voice section, covered Mike Leach's Spokane booster lunch Monday. ... The WSU volleyball team hopes to carry its non-conference momentum into Pac-12 play. Jim Meehan has more in this notebook. ... Why did a WSU commit change his mind? ... Around the Pac-12 in football, there are power rankings and notebooks galore, due to yesterday's coaches' conference call. ... Washington, with Jake Browning playing well, travels to Arizona this week. ... Stanford has defeated UCLA eight consecutive times. ... USC's change in quarterbacks isn't getting the Trojans worked up as they prepare for Friday's game at No. 24 Utah. ... Oregon is going to have to replace some key players against Colorado. The Buffs, however, may have to replace their top player. ... California is coming off a big win but now has to travel to Arizona State, which has yet to lose. ... Oregon State handled Idaho State, the worst (or second-worst) team in that state. Now the Beavers host the state's best team.
• EWU: There isn't a quarterback controversy at Eastern. It's just, as Jim Allen's story shows, there is a competition. And there will be all week. ... Take the money and run – out of the tunnel. ... The Grizzlies have to defend Cal Poly's triple option offense this week. ... Montana State will have a key player available this week against North Dakota. ... Idaho State played Oregon State tough.
• Idaho: The Vandals took home the WSU Cougar Cup women's golf competition.
• Preps: We can pass along a roundup of volleyball and soccer competition.
• Mariners: Iwakuma lost it quickly after Chris Iannetta over-ran a foul pop up with one out and no one on in the fourth. ... The M's had a lot of success on the field in the minors this year. And yet they are switching a couple of franchises around. ... The M's actually encourage Canadians to come watch them play. Fine. But jeez, turn them into Mariner fans will you? The atmosphere this week in Safeco is demoralizing.
• Seahawks: Jimmy Graham feels as if he's ready to really contribute. ... This week's opponent, the 49ers, isn't all that good right now. Neither are the Hawks. ... Will Thomas Rawls be healthy? And can the running game get healthy? ... There were some minor roster changes this week.
• Sounders: Clint Dempsey was not at practice yesterday.
•••
• If you are wondering, Sampson is the pitcher the M's received from the Pirates for Happ. He made one start for them this year. It didn't go well. And he's injured. Out for the year. Crap. Until later ...
---
---