Fri., Sept. 23, 2016
When your Saturday is (somewhat) free, you have to fill it with football, right?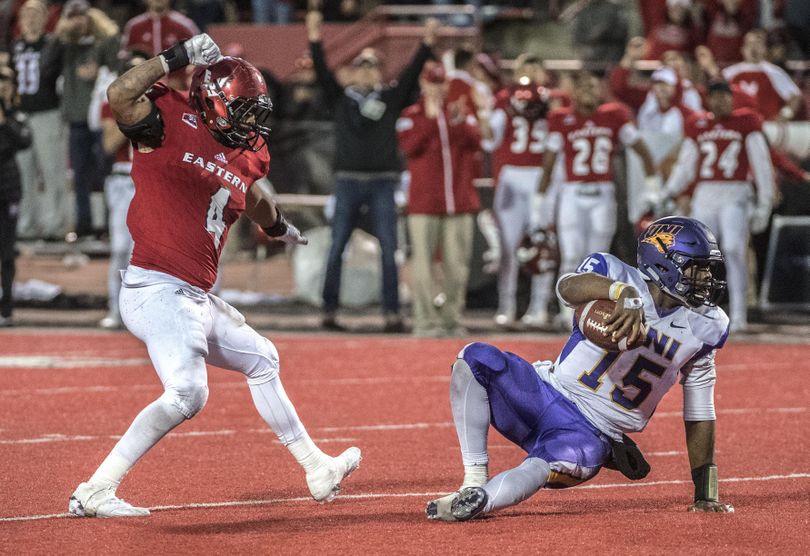 A GRIP ON SPORTS • Are you looking forward to tomorrow? I am. It's a football Saturday and, for once, there is some time available. Read on.
••••••••••
• One of the drawbacks of having a hand in coverage of one college football team, as has been the case the past decade for this guy, is it makes it nigh-near impossible to follow other teams in person. Well, that, and I am incredibly lazy.
But honestly, when the Washington State Cougars have a home game, that is all there is for that Saturday. The drive down, the time before the game, the game, the postgame show, the drive home. Unless the Cougars play late in the evening, my college football watching on those weekends usually consists of snippets here and there.
Away weekends are better. There is more time to sit and watch full games not including WSU. And bye weeks? Let's just say I wish the Eastern Eagles were playing in Cheney this week. I would head out for sure. (As they are in Flagstaff, that's an easy statement to write. I'm not sure it's 100 percent true, but it sure sounds good.)
Without Eastern in town, I have already put together a schedule for tomorrow vis-a-vis football watching on television. And, whether you care or not, I'm sharing.
I'm still torn about the 9 a.m. games. A week ago, Florida State would have been a must-see team – the Seminoles play at South Florida on ABC – but after its shellacking against Louisville, I'm not so sure. Maybe Nevada at Purdue, because I kind of root for the Wolf Pack. All in all, though, it's not a great slate. If Tyler wants to watch Arsenal play, I'll cede him the big TV and watch on the backup one.
The 12:30 p.m. games are better. I'm pretty sure I will be flipping back-and-forth between a trio of games, with Boise State at Oregon State my go-to stop. But Florida at Tennessee – the big, bad SEC my friends – and Duke at Notre Dame – it's Notre Dame for goodness' sakes – have appeal as well.
After that it gets a little dicey. Colorado is at Oregon beginning at 2:30 so I'll probably have to tune in there but the 12:30 games will still be going on. And the Eagles kick off their game in Flagstaff at 4, so that has to be accounted for somehow.
The game of the day in the Pac-12 starts at 5 in the Rose Bowl. I know my older sister will be in her seats, rooting for her Bruins against Stanford, so if I miss anything, I'll have to b.s. my way through the Sunday morning phone conversation about it. I better pay attention to that game.
The worst part about tomorrow? Possibly the two most exciting Pac-12 games are on at the same time. California at Arizona State begins at 7 and probably will end around 2 a.m. – if anyone gets a stop. And Washington plays on the road for the first time this season in Tucson, beginning at 7:30. My guess is that game will finish before the one from Tempe. But it won't matter to me. There is no way I'll be awake for either finish.
• The one wild card (somewhat literally)? The Mariners are on from Minnesota starting at 5 p.m. If they win tonight, then there is no way I can miss a playoff-race game, is there? Darn it, even on weeks when I have a little free time, I have no free time. And don't get me started about Sunday ...
•••
• WSU: The Cougars practiced yesterday and Jacob Thorpe spoke with Mike Leach afterward. Video of that interview is available and Jacob used the thoughts expressed by WSU's coach as the basis of this bye-week story. ... Around the Pac-12, the picks for the week continue to trickle in, even as the conference slate kicks off tonight. There is a chance the South title race could be decided in Salt Lake City, where Utah hosts defending South champion USC, but there are four other schools that will have something to say about that. ... Oregon's speed causes everyone problems, in more than one way. Colorado has worked on dealing with it all week. ... The Stanford game at UCLA may just come down to a field goal. ... Oregon State is playing the lone non-conference game but there may be a more important item on the Beavers' agenda right now. ... California and Arizona State are always looking to score and score and score. ... If Arizona can find a way to upset heavily favored Washington, will the new Pac-12 field-storming rules be tested?
• EWU: College football is serious stuff. Ask any coach. Yet the Eagles have their share of goofball-inspired fun. Jim Allen has the story. ... Northern Arizona doesn't know what to expect from EWU. ... Eastern opened Big Sky volleyball play last night with a 3-1 win at Montana. ... Elsewhere in the Big Sky, Cal Poly is one of the few teams in college football that still uses a fullback all the time. ... North Dakota has a player the Montana State defense will focus on. ... The trip to Cedar City to play Southern Utah isn't anyone's idea of fun.
• Chiefs: The WHL season begins Saturday night and we can pass along capsules on each U.S. Division team. ... Everett is looking to fine-tune its offense.
• Preps: The weekend's football slate began at Albi Stadium with Central Valley holding off Mt. Spokane and Mead getting past Lewis and Clark. Our Greg Lee covered both games. Colin Mulvany has a photo gallery from the early game. ... We also have a roundup of other prep action.
• Golf: Corey Prugh won the Northwest PGA Championship in a playoff.
• Mariners: No game yesterday as the M's traveled to Minneapolis, so it may come as no surprise we can pass along a piece elaborating on the franchise's plans for next season. That will be the year they make the postseason, right? ... Don't drink and tweet guys. It sure seems as if that's what injured catcher Steve Clevenger (pictured) did and it will probably cost him the rest of his career. ... Scott Brosius left college baseball for the minor leagues. Again.
• Seahawks: It's hard to believe the Hawks are 100 percent focused on the 49ers this week. Doug Baldwin spoke out yesterday about police shootings and offered a plan. ... Russell Wilson is feeling better. So is Jimmy Graham. So do they team up this Sunday? ... Can the defense force a turnover or two? ... Somewhere out in the universe there is a planet just like ours. And where its version of the Seahawks has an offensive line.
•••
• You know what's going to happen, don't you? Kim will come home from work tonight with all these plans for our "free" Saturday. And guess which of us will get our way? Until later ...
---
---