Sat., Sept. 24, 2016
Thank goodness there is more to sports than just scores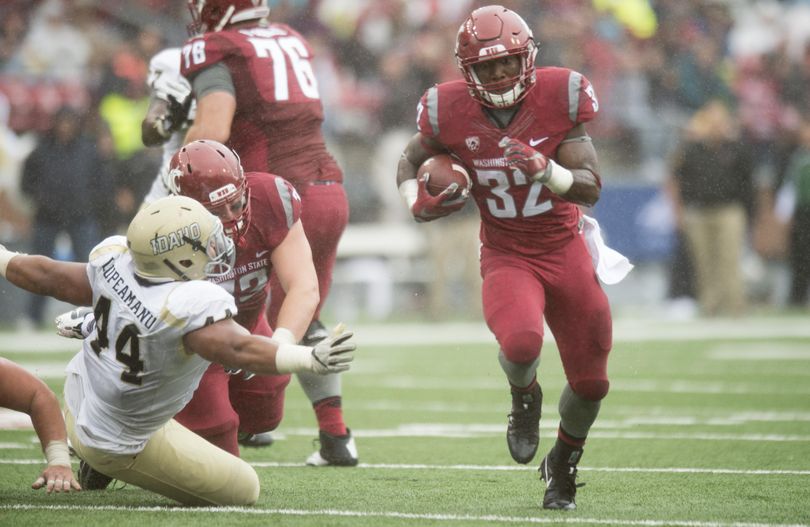 A GRIP ON SPORTS • It was a little dusty in the home office this morning. Just got finished reading a few stories that tugged at my sentimental side. Read on.
••••••••••
• Perseverance. Longevity. At the heart, that's what made me get a little choked up this morning as I read a couple stories. But that's not all. Part of it is how, no matter what is going on the world, the deep-down goodness of folks continues to shine through. Day after day, year after year. So each of those days, we might want to remind ourselves of that.
• James Williams ran for considerably more than 100 yards last Saturday for the Cougars against Idaho. The first freshman to do that since Dwight Tardy 10 years ago. But that isn't what's remarkable about the guy his teammates call "Boobie." What is remarkable is the journey his family went through to get him to Pullman.
The Times' Stefanie Loh details their path from Toledo to Los Angeles, where the Williams made a life for themselves and also one for their children. It wasn't easy. It wasn't always linear. There were ups and downs. But, like the younger James on a sweep, the corner seems to have been turned.
And it reminds us that a college football team is made up of more than 100 guys. They come from all walks of life. They reflect society in every aspect, good or bad. Trouble happens. But good things too. Earlier this year Jacob Thorpe wrote about the tough last year center Riley Sorenson had to endure. That story made us choke up a bit as well. Yet, such stories of perseverance and determination give all of us hope.
• No one will ever do what Vin Scully has done – as well or as long.
The Dodgers held a so-long party for the 88-year-old broadcaster last night and, in true Hollywood awards fashion, it ran really long. Big deal. He deserved it. When I look back at all the nights I fell asleep with Scully's voice coming through the radio, or the history lessons I learned via a single ear-bud coming out of the transistor, up my shirt and hidden from Sister Patrice during the World Series (while she was teaching something boring from the Middle Ages), I can't believe Scully won't be around anymore. In the baseball sense.
It makes me feel old. And thankful.
•••
• WSU: So how have the Cougars done the first quarter of the 2016 season? Not as well as hoped. They are 1-2 after all. Jacob examines each position's performance in this story. ... Loh also grades the team through the first three games. ... There was one Pac-12 game last night. Afterward, a friend, a USC graduate, sent me a text. It was dusty in a different way at his house. The Trojans aren't doing too well this year. They had another lead last night at Utah and saw a Southern California kid lead the Utes down the field for a game-winning score. ... In Pac-12 action today, Oregon host a much-improved Colorado team that hopes its special teams are special. ... Stanford wants to continue its long winning streak as it invades the Rose Bowl and faces UCLA. ... There is a chance the scoreboard may overload as Arizona State hosts California. ... Visiting Washington is a heavy favorite – in a couple ways – but Arizona hopes to spring the upset. ... There is one non-conference game, with Oregon State hosting Boise State. ... It is Saturday, so we have Ted Miller's mailbag from ESPN.com's Pac-12 blog.
• Gonzaga: Former GU player Mike Hart has been named an assistant at Colorado College.
• EWU: The Eagles are in Flagstaff tonight to face Northern Arizona and finish their September schedule from perdition. Jim Allen's advance mentions the peak they had at the Grand Canyon en route to NAU. Let's hope they also got a view of Yosemite (pictured) as well. ... Elsewhere around the Big Sky, Cal Poly hosts Montana in what should be a warm Central California day. ... Montana State needs to continue to take the ball away against North Dakota. ... Southern Utah hosts Portland State. ... Weber State travels to UC Davis. ... Idaho State hosts Sacramento State.
• Idaho: The bright lights of Las Vegas beckon as the Vandals visit UNLV today. Josh Wright has a preview of the non-conference matchup.
• Chiefs: The WHL season begins tonight, with the Chiefs starting in Tri-Cities against the Americans. Tom Clouse has an advance for the season. ... With a new general manager in place, Spokane decided to extend coach Don Nachbaur's contract a year. Tom also has that story.
• Preps: The best football matchup last night pitted Coeur d'Alene hosting southwest Washington power Camas. The Papermakers won, 49-30. Greg Lee has the story. ... Ferris picked up its first win of the season, shutting out North Central 24-0. Kevin Dudley has the game coverage and Colin Mulvany has a photo gallery. ... Kevin also has the coverage of Shadle Park's 18-0 win over University. ... Host Gonzaga Prep defeated Rogers 49-7. ... We can also pass along a roundup of other games from Friday night around the area.
• Mariners: James Paxton is showing signs of dominance more and more often as the season progresses, including last night's five-hit, seven-inning performance against Minnesota. The 10-1 win allowed the M's to stay pretty much where they were in the wild-card chase. ... Steve Clevenger won't be collecting paychecks anymore from the M's.
• Seahawks: Each week in the NFL is filled with drama – on and off the field. ... For the Hawks this week, the drama was centered around health issues with the starting quarterback – he's better – and the starting running back – he's not.
• Sounders: Seattle could really use some help from Dallas against Real Salt Lake.
•••
• There is a little more than a week left in the baseball season. Then comes the World Series. Wait, that was a flashback to my youth. Sorry. Then comes the long postseason trek. And then winter. No wonder I was choking up this morning. Winter is coming. Until later ...
---
---