Wed., Sept. 28, 2016
In general, hospital soap operas have always been the best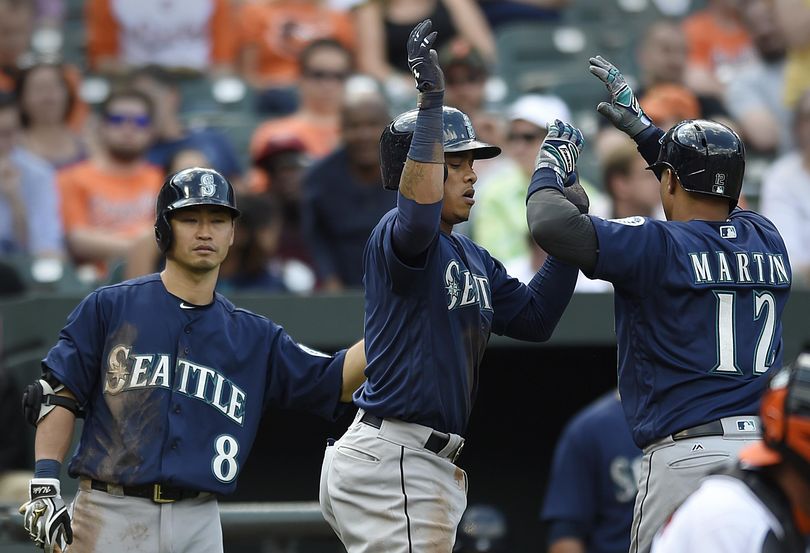 A GRIP ON SPORTS • As the world turns, these are the days of our lives. We trust a guiding light to help us with all our children. Got an idea where I am going with this today? Read on.
••••••••••
• Some of the biggest news in sports recently seemed to be ripped straight from the plot of some old ABC soap opera. Don't laugh. Soap operas were (are?) important. They kept my mom happy, that's all I know. And gave us something to talk about during pre-practice stretching back in my college baseball days – the endless foibles of Luke and Laura seemed to dominate the discussion as I remember.
But soaps ancient power couple can't hold a candle to the drama going on in Houston right now. Or in Los Angeles. Or in Eugene. Now that's theater.
• The Mariners are actually playing meaningful games as September winds down. That's the good news. The bad news? Every mistake, small, big, whatever, is magnified. Ketel Marte made a mental one last night and then a physical one. As result, the M's postseason hopes were tossed away.
OK, there wasn't a lot of hope anyway. Too many teams were in the same boat as the M's and some of them had a head start in the form of better play earlier in the season. Seattle has been playing catch up since July. Yet, there the Mariners were, on the fringes of the playoffs, needing a win last night to get within one game with five left.
Then the sixth inning happened.
With one out, Marte (pictured) took a ground ball about 10 feet from second base. A quick flip to Robinson Cano. A double play and the inning was over. A 4-2 lead would be intact. But Marte, who is still learning on the fly, decided run the ball to second and make the play himself. He couldn't. His throw to first sailed wide, the inning continued – and was helped along later by an Adam Lind error – and the M's, behind Felix Hernandez, lost 8-4 to the Astros.
Five games left, two games out. With the Tigers still between the M's and Baltimore.
• Clay Helton has been USC's football coach for about 27 minutes. But he's lost game after game. The Trojans are 1-3 this season, with their only win this season coming at home over Utah State. They have lost to Alabama (blown-out), Stanford (out-muscled) and Utah (out-thought and out-fought).
So where does that leave Helton? There are USC supporters who want another change. Isn't Les Miles available? The grass at the Coliseum is edible, right?
The guy making the decision is one Lynn Swann, who was a standout USC wide receiver in the mid-1970s (and probably a Days of Our Lives guy) but whose experience running an athletic department is less than most guys in his spot. As in none.
Will Swann make a change? If he does, it would seem appropriate to make it after the Arizona State game this week. After all, Lane Kiffin was fired following a loss to the Sun Devils. And Helton has been given about 51 weeks to show what he can do. That's more than enough, right?
• Oregon is 2-2 this season. The losses have been on the road in Nebraska and at home to Colorado. Let me repeat that. Colorado. No wonder there is drama in Eugene.
•••
• WSU: Next up for the Ducks are the Cougars of Washington State. In Pullman. Saturday night. The place is sold out. Jacob Thorpe will be there (me too) and he has plenty to pass along today, starting with a quick look at the speedy Ducks. Then there is a story on Mike Leach's thoughts about the graduate transfer rule and Jacob's Pac-12 power rankings. Jacob also passes along video of interviews with Clay McGuire, Jim Mastro and Leach. ... Oh yes, Jacob has a basketball story too, about WSU's off-season trip to Italy. I wonder if they played against any of my relatives. ... It is Wednesday, so Jacob will have his live chat at 10 a.m. ... Oregon expects the Cougars to blitz, though WSU is not doing that much this season. And one of Oregon's assistants should know what's up. ... The Pullman Police may change how they release information concerning arrests. ... Around the Pac-12 today, the conference's best teams, at least what most people feel are the best teams, meet Friday night in Seattle. Washington is probably a bit healthier than Stanford and that might just make the difference. ... Arizona State is undefeated. The Sun Devils are not, however, unscored upon. How many will USC be able to put up? And will it be enough? ... UCLA drops a lot of passes. It may not matter against Arizona. ... Oregon State seems to have gotten its starting quarterback back from injury. Colorado knows that it is OK without its usual starter. ... California, and its bend-and-break defense, will try to burst Utah's undefeated bubble. ... Finally, the WSU volleyball team had a great weekend. It resulted in this award.
• Gonzaga: It's golf season. OK, much of the year is college golf season.
• EWU: The month from perdition is over but the 3-1 Eagles are not letting down as they get ready to host UC Davis to open October. Jim Allen has the story. ... Jim also has a soccer notebook, which leads with the Eagles' hot start. ... Back to football, the Big Sky, a freshman from Mt. Spokane is Montana's breakout star. ... No. 24 Southern Utah has a chance to make a statement Saturday. ... North Dakota has intercepted a lot of passes already. ... The bottom line for Idaho State: It won.
• Preps: As we mentioned yesterday, the WIAA has revamped how the state basketball tournaments will be played. Greg Lee checked in with a couple area coaches and has this story on the changes. ... We can also pass along a roundup of Tuesday's prep action as well as the state volleyball rankings.
• Mariners: The 8-4 loss has to be put into the rearview mirror quickly. Another game with the Astros looms this afternoon. ... Robinson Cano has put together one of the best year's of his career. ... Bullpen tryouts for next season are occurring now.
• Seahawks: So what should the Hawks do with Russell Wilson? A couple of Puget Sound columnists believe the best thing is to rest him this week against the Jets and then let him heal through the bye week. I'm guessing Wilson thinks that's a dumb idea. ... The running game is back in gear despite injuries to key elements. ... The Hawk defense is given the freedom to make decisions. Sometimes the wrong one turns out to be right. ... There was a lot to like about the win over the 49ers.
• Sounders: The team made it official Tuesday. Clint Dempsey's year is done. His heart ailment, whatever it is, will not get better in time to allow him to help this season. ... Portland won its Champions League match last night.
•••
• Over the years my taste in soap operas, and how I viewed them, changed. Now I would rather digest more nuanced shows like Downton Abbey, Game of Thrones, American Gothic and the like through binge-watching. I still hate myself for even having a modicum of interest, but at least I don't have to sit down at a certain time anymore. That's progress, right? Until later ...
---
---