Thu., Sept. 29, 2016
Is it better late than never? We're not sure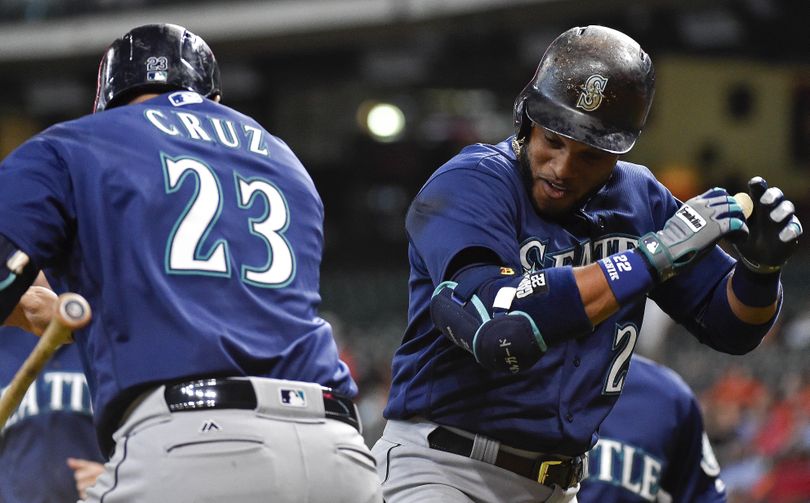 A GRIP ON SPORTS • There are a couple reasons why this post is later than usual today. And no, none of it has to do with me being up late partying last night after the Mariners' big win. They won, yes, but we didn't celebrate. Read on.
••••••••••
• Why should we? There are four games left in the season. The M's are still two games behind. Two teams are ahead of them. It looks bleak for the Mudville Nine right now. But less bleak than it would have with a loss.
What was lost last night, from about 2 to 4 a.m., was sleep. Ever had a kid get sick in your room in the middle of the night? Ya, happened to me too years ago. Now the culprit is a dog. And sick wouldn't be the right word considering what I had to deal with. He's fine now, but after spending an hour cleaning up and another hour trying to get back to sleep, is it any wonder I overslept?
So we'll say we are sorry again and get right to the links.
•••
• WSU: Jacob Thorpe get the rest of your week off on the right foot, though not necessarily the right way, with his Pac-12 game picks. ... Jacob also has a great feature on how Marcellus Pippins' touchdown celebration got off track and the news former WSU quarterback Connor Halliday is back in football. ... This is one of the things – one of many things, actually – that got my goat when I was the Washington State reporter. Why not communicate with the person who is at practice every day, not the person who works for the Seattle paper? And, while you are at it, her name is Stefanie Loh. ... Washington State won at Oregon last year in double overtime. As Gabe Marks reminded us, this is not last year's team. But the stakes are the same for both teams this time around. Actually, Oregon needs a win even worse as their season fades away. Luckily for the Ducks, it looks as if Royce Freeman will be back. ... Alivia Brown is playing well for the WSU women's golf team. ...
Back to football around the Pac-12, though we agree with these power rankings, which have Stanford on top, we also think Washington, with a new lead running back, will win Friday. At home. ... Colorado's offense has been fueled by an influx of talent at the receiver spot. Oregon State will have to deal with it. ... Utah will have to deal with the nation's most prolific receiver at California. And the Bears secondary will be tested as well. ... Arizona will try to get UCLA off the field on third down. ... USC knows Arizona State will be explosive. Heck, even the Sun Devils' kicker is explosive. The Trojans will need their explosive players to respond.
• Gonzaga: USF has hired a new women's basketball coach. The Dons replaced a former Stanford guard with a former Stanford guard.
• EWU: This week's opponent, UC Davis, likes to keep possession of the football. Jim Allen has that nugget and more in his Big Sky notebook. ... Jim will also hold a live chat during the lunch hour. ... Around the Big Sky, Southern Utah is the defending champion. It faces its first big test this weekend in Missoula. ... Montana State wants to get off to a fast start against Sacramento State.
• Whitworth: Kevin Thomas was a quarterback at Gonzaga Prep. Now he's a receiver for the Pirates. Tom Clouse tells us how he got there in this feature.
• Chiefs: Spokane gave up eight goals in their opener last weekend. The Chiefs traded for another goalie yesterday. Tom has the story.
• Preps: Some sports are handed down from parents to children. Greg Lee has a feature on a Shadle Park volleyball player, Josie Walser (pictured), who has followed that path. ... It's not often a high school football team has a bye. That's part of Greg's football notebook. ... We can also pass along a roundup of Wednesday's prep action as well as the state football rankings. ... Stop the presses – or is it kill the internet connection? Greg is trailing in his Pick 6 competition with Sam Adams.
• Mariners: The bats came alive yesterday in Houston and, thanks to a 12-4 victory, the M's stayed alive in the wild-card race. ... But thanks to wins by others, they are still two games out with four to play. And the Tigers and Orioles in front of them. ... Dan Vogelbach is trying to improve his defense. ... Now this was funny.
• Seahawks: Pete Carroll is old enough to be Russell Wilson's grandfather. And he sounded just like that yesterday when speaking of Wilson's chances of playing this week. Don't bet against Wilson being on the field. ... A veteran running back was available, so the Hawks moved quickly to shore up the position by signing C.J. Spiller. ... The Hawks hope to have some help available this week on the offensive line. ... Brandon Williams is the son of a police officer. He sees both sides of the debate.
• Sounders: The Sounders needed a win yesterday. They got it, 1-0 over the worst team in the east, the Chicago Fire. The three points put them in the playoffs' group for the first time this season.
•••
• Sorry again about the late post. We'll try to do better tomorrow. Until then ...
---
---