Kent: Greatness awaits Flynn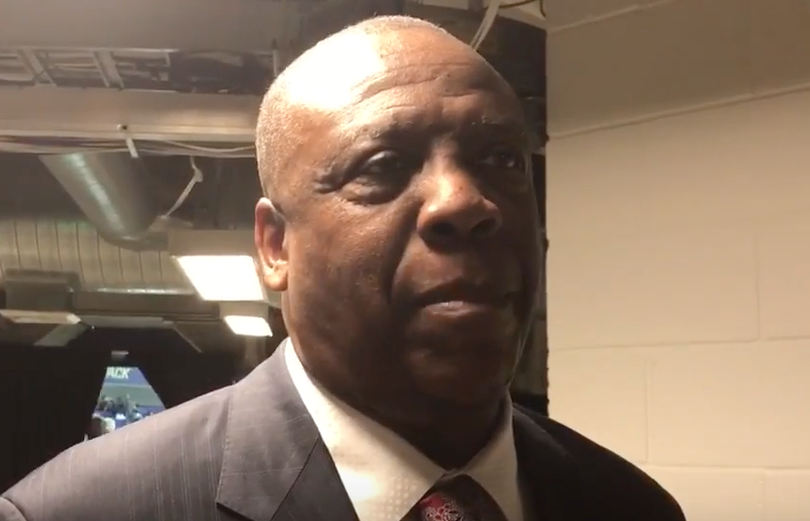 ERNIE KENT
One of the New Year's resolutions, or even coming into the year, that we've talked about and you've heard me say this before. We want to get rid of the label of Cougin it. We want to turn it into a whole new meaning that we Couged It Out. Because to me, Cougars hunt you down. They stay on the prowl, they finish off, they close it out, and that's what this team did again in this game. They had several opportunities to do it this year and I couldn't be any prouder of them.
I thought Washington was exceptional in this game. As hard as we prepared for them – we knew everything they were going to do – we could not stop them. We stopped them in the zone. We had a hard time stopping them in man, and the zone did it and we switched up a couple times down the stretch just to keep them off balance. And I thought they did a tremendous job in the first half. We did a tremendous job with our defense in the second half to give us a chance to regain composure.
I've often talked about Malachi, and I've compared him to Luke Ridnour and Aaron Brooks. I don't know if Brooks could have played like this in his freshman year. He did his senior year. But for a freshman to come back home, in this environment, and have the poise – not only want the ball but have the poise to make the plays consistently, that shows you his potential greatness down the road.
I thought he was exceptional in the game. And obviously, Josh Hawkinson, to be able to come over here one more time was just fantastic.
(What did Malachi show you early in the season that made you confident in him down the stretch?)
When I saw him in high school, I remember calling my assistants and saying "He's Luke Ridnour." He even kind of looks like Ridnour. He just controlled the whole game. He took over games and they had a pretty good team, but he had to do a lot on that team.
When he came in, we were shocked at his basketball IQ. Here's somebody who is one of the smartest students in the classroom on the team, tremendous basketball IQ and probably has the best work ethic on the team. We didn't know his greatness until we went to Italy. We saw him over in Italy against bigger, stronger, more physical players who were going to body him up. His composure just controlled whole games over there. That's when we knew we had a really good point guard sitting here, it was just a matter of teaching him offense, Ike accepting it, Charles accepting it and playing off the ball, giving him the opportunity to grow into the position and he's done a really good job.
(What sparked that second half run?)
Utah State at home. Montana State at home. Rallying for Curtis Allen, who has a heart attack over in the Virgin Islands. Utah Valley. Santa Clara. They've shown flashes all year long of what they can be. And when they talk in that spirit, they just play at a different level. What we talked about in the locker room is we just didn't play very well in the first 10 minutes. They dominated the game. We were down seven and we were getting the ball. Now let's regain our composure. We knew the zone could lock them up, and the confidence just came. Confidence and emotion came into the game. We got up-tempo and started running it, and everything started clicking after that.
(What was it like seeing so many WSU fans in attendance?)
We definitely noticed their presence. We're playing up in Spokane so that in a bad weather time of year fans do not have to come down the road to us, we're going to bring the show up to them and I'm hoping that people will come across town and come out and see this team. They deserve a good crowd up there in their second conference game, because they will respond. They will respond to the energy and the emotion of the building. Even though we had great Coug fans here, they even responded to Washington's energy in the building. It took us to another level as well, too.
(Did you urge Malachi to be aggressive at the end?)
He knows when I call his number what he's supposed to do. And those are the exact same plays we ran for Ridnour and Brooks down the stretch. Those high ball-screens, three screens, two screens. He just picks and chooses the mismatch and takes off. I thought he was exceptional down the stretch and just having poise. Knowing when to go and knowing when to slow.
(What can this win do for the team's psyche after last year?)
I'm hoping that it allows them to understand how good they can be. And they can leave footprints. Particularly Josh and Ike, who have been through so much losing. They can change their fate right now. All they have to do is keep playing with that energy and that confidence. They're a good enough team to do it. And this was a big step to not lose confidence in this hostile environment to regain their composure.
(How did Fultz look in person?)
Exceptional. I mean, for a freshman to do what he does. He's got size, he's got skill. You know he's going right and he still goes right and scores on you. I just think he's a very, very gifted player.
(Was it a big moment for your team when Viont'e Daniels made a layup while shielding the ball from Fultz' block attempt?)
It was a huge moment for him making the steal and the layup. A huge moment for Robo (Robert Franks) getting a block and rebound down the stretch. For those two local kids, for Josh Hawkinson to get 26, for Malachi to win the game. Those are four kids from this side of the mountain over here who we want to continue to recruit over here. So I'm happy for them to have success. It will give Viont'e and Robo a tremendous amount of confidence to come over and do this.
---
---