Wed., Dec. 31, 2014
Spokesman.com blog redesign goes live!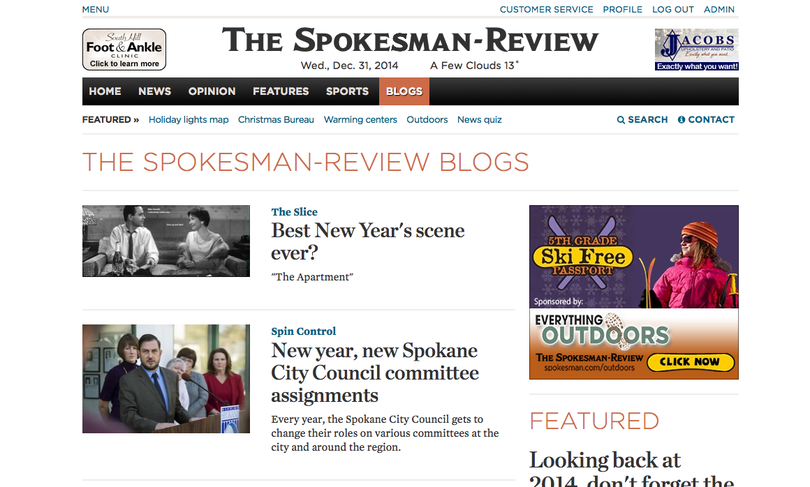 We've been hard at work building new templates for the entire network of spokesman.com blogs, and they're going live tonight! (Yay, we know how to party like it's 1999).
If you're familiar with Rich Landers' Outdoors blog, the new designs are almost exactly the same, with a clean, classic feel inspired by the great typography of our print newspaper.
Here are some of the highlights:
There are no longer two different versions of our blogs. It's now all reunited as one easy peasy responsive design. Oh yeah.
Much larger and cleaner typography, making it easier for audiences both young and old to enjoy.
A newly redesigned blog home page that is much more pleasant to use and much more useful for users to discover all of the great content from our 15 (and counting) newsroom blogs.
Bigger images. Better image galleries. Better video embeds.
Some features to look forward to in the new year from our blogs:
Jody Lawrence-Turner's new Education blog will go live next Monday! Yay school!
Separate Disqus settings for the blogs vs. the rest of spokesman.com
Perhaps we'll even see a blog from award-winning author and comrade in arms Shawn Vestal?
As with anything new, there will be some worts we need to work out, but for the most part I'm downright happy with the results. We'll work on some legacy content cleanup (some embeds and such are not responsive), but things should be real snappy :)
Thanks to everyone involved!
--Dan Gayle
p.s.
On a down note, the Down To Earth website is no more, having served the Inland NW for some years now as an advocate of greener living and a better environment. Most of the content lives on, however, either as a legacy story on spokesman.com or in the retired blogs section of our blogs. You can also follow the DTE radio show on Twitter at @DTE_Spokane
---
---