Wed., Nov. 5, 2014
Internet Archive working toward classic game preservation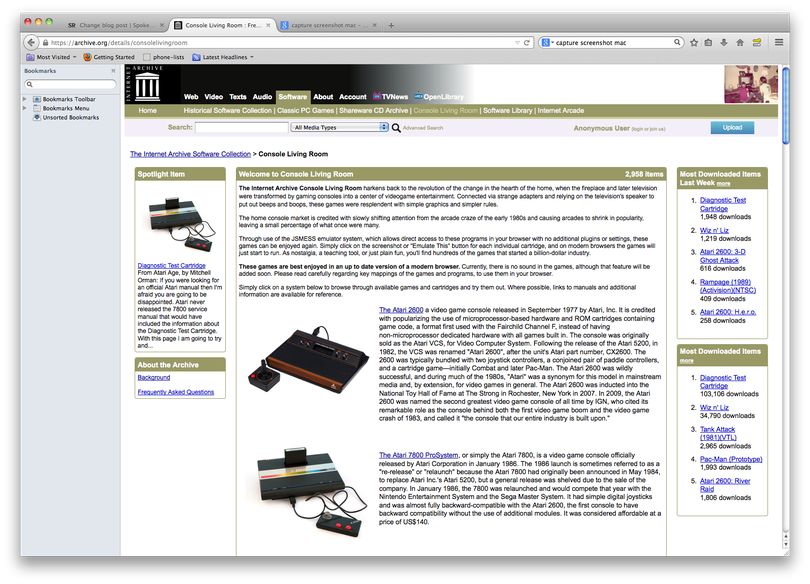 Video games being a relatively nascent medium in comparison to film, literature, and television, the realm of classic video game preservation is just beginning to emerge. Downloadable emulators allow PC enthusiasts to access huge classic game libraries, but their questionable legality and confusing reliance on accompanying ROMs limit their ability to act as a reliable, accessible means of game preservation. Currently, the video game medium lags severely behind others in the area of preservation.
The Internet Archive is working to change that. Founded in 1996, the non-profit web organization pursues its goal of providing "universal access to all knowledge" by allowing users to upload content to their gargantuan database. The Archive provides free downloads of a multitude of feature films, books, television shows, music, and, most recently, classic video games.
The section of the Archive handling console games is called the Console Living Room. Upon navigating to the page, users are presented with a list of 21 classic consoles -- everything from old juggernauts like the Atari 2600 and Sega Genesis to more obscure systems such as the Epoch Super Cassette Vision and Emerson Arcadia 2001.
More recently, the Internet Archive added an Internet Arcade section, which expands the reach of the Archive beyond consoles and into arcade cabinets. This section of the Archive boasts access to a wide variety of arcade games spanning 1970s, 80s, and 90s: everything from Galaga to Paperboy to ZZYZZYXX is here.
In all, over 3,400 classic games are playable from the Console Living Room and Internet Arcade, each complete with instructions and support for game-pads hooked up to modern machines.
The legality of the Archive has been called into question on occasion by various commercial outlets such as Omni magazine and The Grateful Dead, wherein the non-profit was accused of copyright infringement. However, the Archive's Terms of Use stipulate that all uses of the site "will be noncommercial and will be limited to noninfringing or fair use under copyright law," meaning that the video games archived on the site likely fall under such categories contrary to the aforementioned exceptions. Gamers may be more inclined to access preserved classic games when the legality of the content is not under scrutiny.
Furthermore, The Internet Archive trumps competing classic game emulators in the realm of accessibility. All of the games available on the site are playable in-browser. No extra emulators, ROMs, plugins, or downloads of any kind are required to start playing.
One major pitfall (no pun intended) of the Archive's library is that all of its supported games lack sound. The Archive has promised to add this important feature, though only on the vague timeline of "soon." Until the Archive's games are capable of providing players with the sweet serenades of classic video games, the library will likely have trouble competing with emulators, which currently provide the most faithful experiences.
However, those wary of emulators for their infringement on copyrights and general instability may finally have a way to access their favorite games of yesteryear. If all goes according to plan, The Internet Archive could turn out to be just the preserver that the video game medium direly needs.
Check below for specific analysis of a handful of the games available on The Internet Archive.
Title: Pitfall! - Platform: Atari 2600 - Released: 1982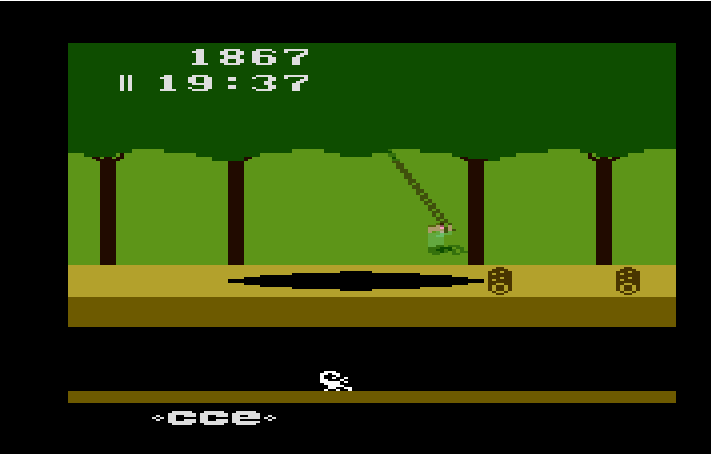 Playing on a decent iMac sporting a 3.05Ghz processor and 4GB of RAM and using Firefox version 31.0, the Console Living Room's version of Pitfall! was an experience marred by serious issues. For those who don't know, the game puts players in the shoes of Pitfall Harry, who must navigate a series of single-screen platforming challenges within a twenty-minute time-frame. The keyboard controls constantly freaked out on me, forcing Pitfall Harry forward when I didn't have any fingers on the keys. The game ran choppily, freezing constantly, which made timing my jumps correctly a difficult proposition. The issues were so readily apparent that they prevented me from yielding much of any enjoyment from the game.
Title: Mortal Kombat II - Platform: Sega Genesis - Released: 1993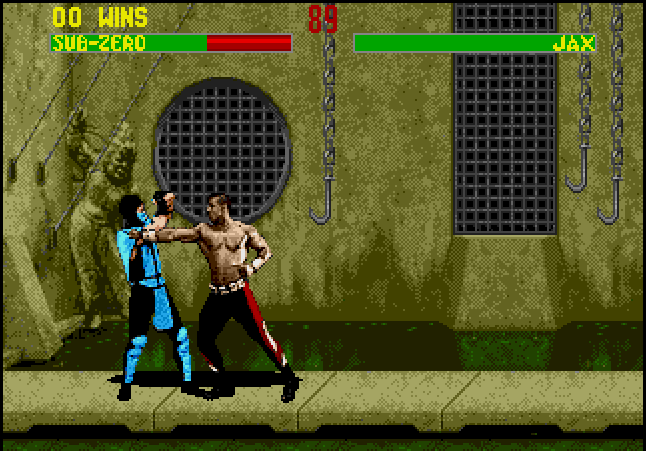 Mortal Kombat II's performance on the Archive redeemed my faith in the site. Though it still chugged along at a less-than-ideal frame-rate, the game is perfectly playable and runs relatively consistently. The keyboard controls are awkward but usable, and the game even sports support for two players to face off against each other in local matches. It's definitely not the definitive MKII experience, but the Archive provides a passable, faithfully blood-soaked experience.
Title: Galaga - Platform: Arcade - Released: 1981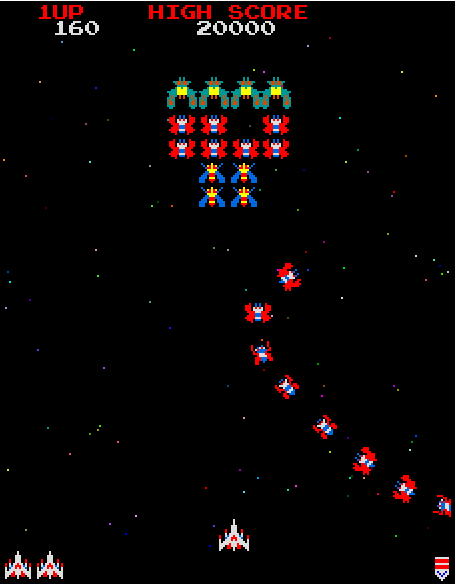 Galaga on the Archive is a painfully inconsistent experience. Though the frame-rate stays consistent and relatively smooth much of the time, Galaga will randomly freeze up for elongated periods before randomly resuming without any warning. The ship controls smoothly, but it's impossible to fire at the high rates possible in the original arcade version. If you get lucky and manage to avoid any crazy freezes, the Archive's version of Galaga is solid enough. But for seasoned Galaga veterans, that probably won't cut it.
Title: Joust - Platform: ColecoVision - Released: 1982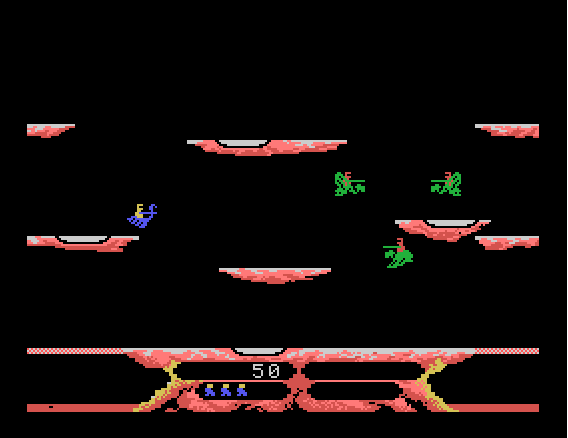 The strongest out of the handful of Archive games that I played, Joust is a nearly flawless port. I did encounter the aforementioned strange issue where my character moved eternally in one direction without any input from myself, but this problem came up only once over the course of my time with Joust. The game runs quite smoothly; I did not experience any of the major hiccups or freezes that most of my other trials suffered from. The imprecise nature of the keyboard controls did not seriously hamper my enjoyment of the game; its silly, ostrich-riding premise is so absurd that I found myself smiling for the majority of my playtime.
---
---