Mon., Nov. 17, 2014
Call of Duty: Advanced Warfare brings more of the same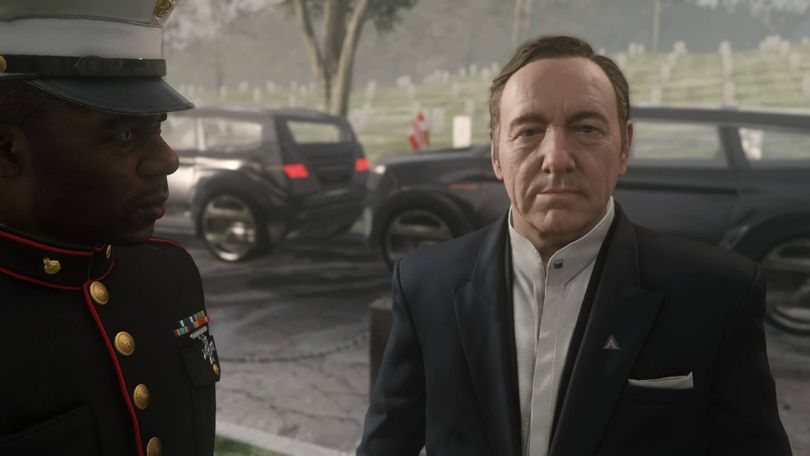 Title: Call of Duty: Advanced Warfare
Platform reviewed on: Playstation 4
Developer: Sledgehammer Games
Publisher: Activision
Release Date: Nov. 4, 2014
It would be difficult to overstate the influence the first-person shooter genre has had on gaming. While competitive gamers traditionally flock to fighters, the advent of AAA, high-production value blockbusters in the industry can be most fairly attributed to the decision to pin the player's vision behind the barrel of a gun and throw enemies in front of them to shoot.
And among those franchises most responsible for the bombastic state of online console shooters today has to be Call of Duty, the series whose origins lie in the height of World War II. But with 2007's Modern Warfare title, the franchise burst into the present day and hasn't looked back since.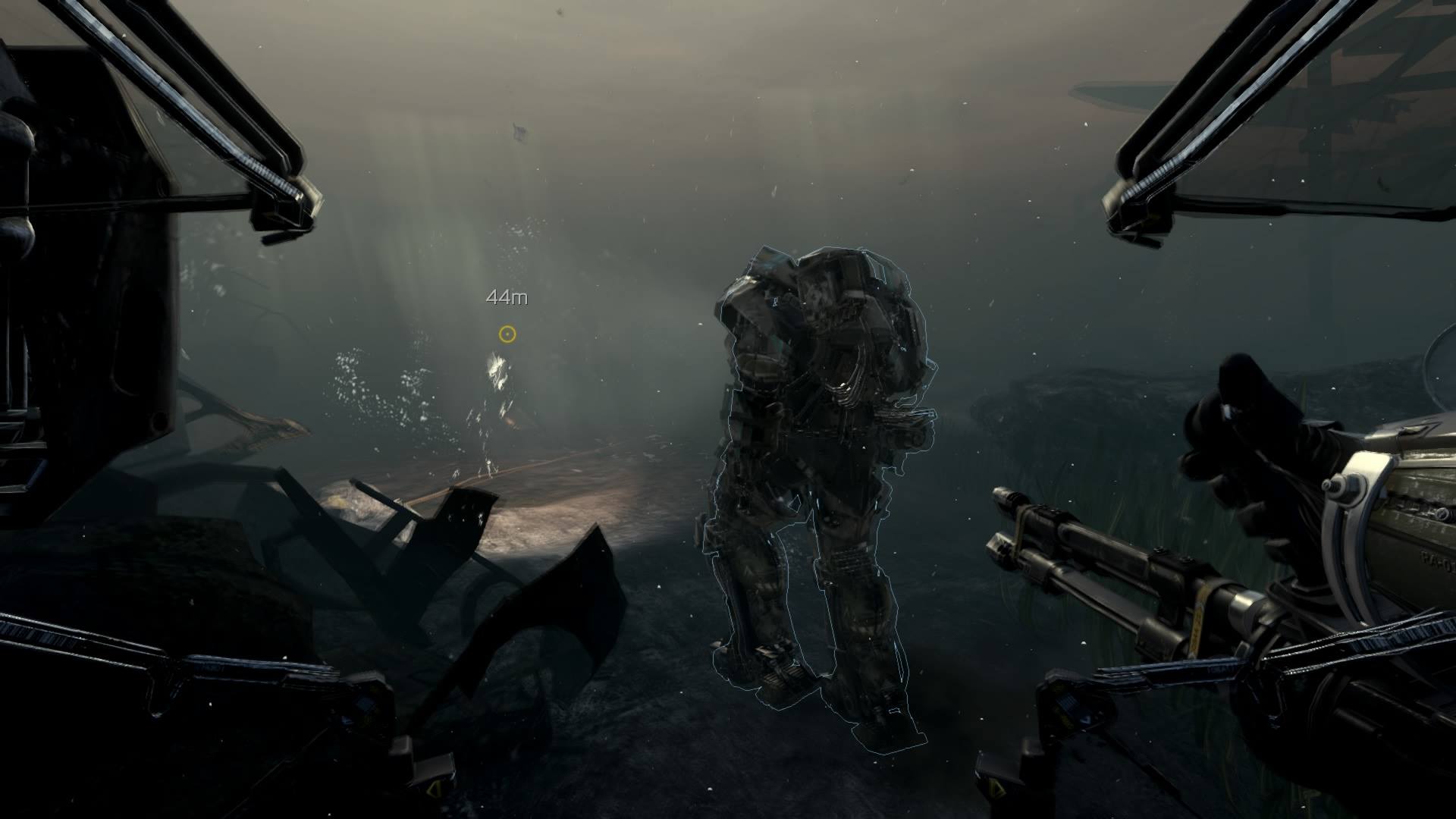 I mean, really, what would advanced warfare be without an underwater mech suit battle?
Advanced Warfare has developer Sledgehammer Games, the team behind Modern Warfare 3, thrusting players into the near future. Ballistic guns are still the main weapons in the game, but new metal suits that grant the player bionic abilities make their appearance to presumably alter the gameplay, and Academy Award winner Kevin Spacey is on hand to provide the title some gravitas.
How unfortunate, then, that Advanced Warfare doesn't feel advanced at all, and in some respects weighs down the franchise. While the campaign is undoubtedly slick and highly polished, and Spacey's performance elevates the usually drudgery of Call of Duty stories, there's not enough here to justify a truly next-gen experience in the franchise.
You play as Jack Mitchell, a Marine who loses his arm – and a dear friend – in the game's opening moments, an assault on South Korea by North Korean forces. In true Call of Duty fashion, we're never really given enough time to forge a relationship with this character whose death is supposed to drive much of Mitchell's motivation throughout the game. The death is just one of a series of "weighty moments" that continue to fall flat in the series.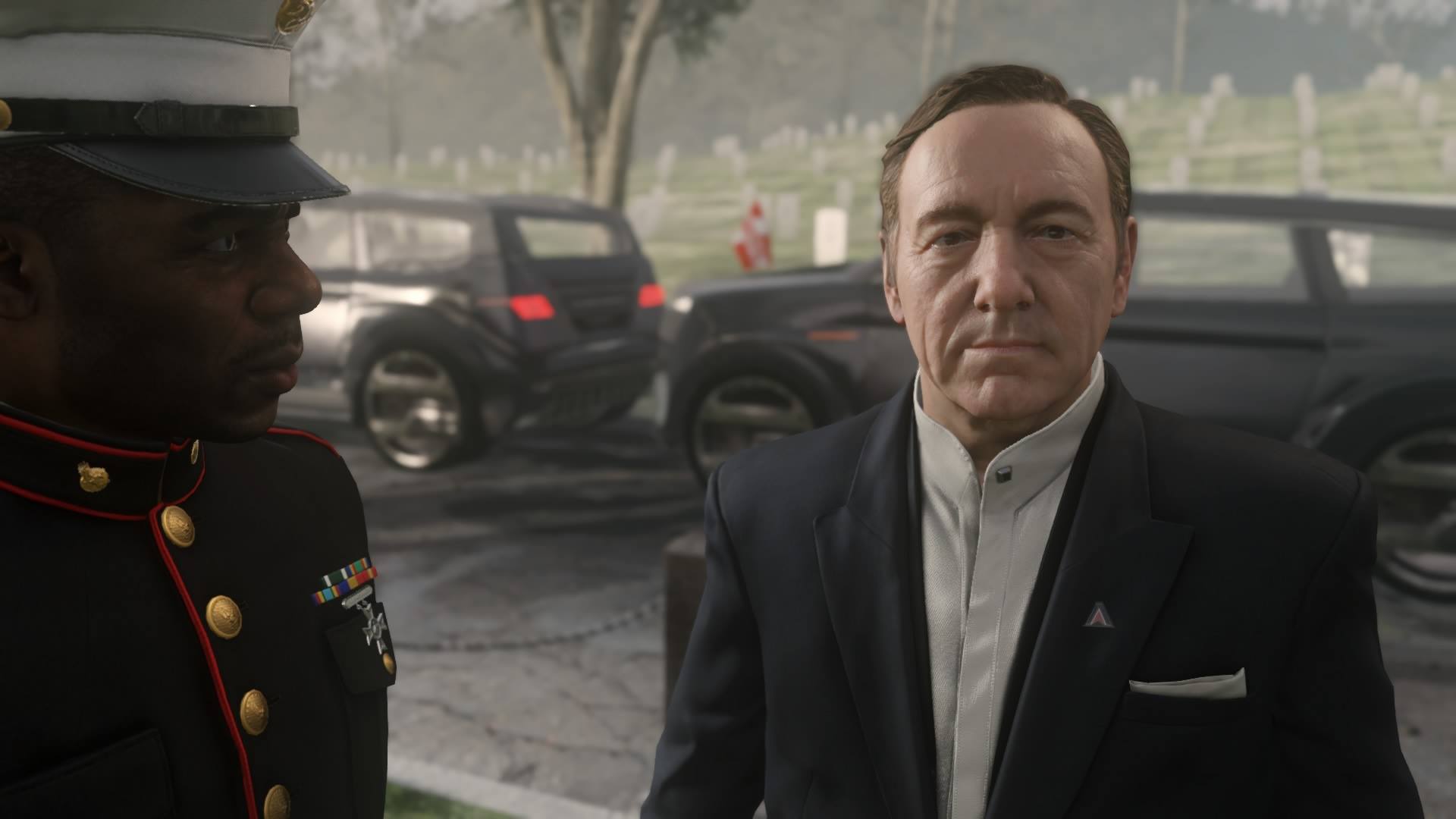 The character models in 'Advanced Warfare' are some of the most detailed in gaming history.
None of those letdowns can be placed on the shoulders of Spacey, who plays Jonathan Irons, the father of Mitchell's slain comrade. Irons, as head of the Atlas Corp., gives Mitchell a new arm and trains him to become a supersoldier, carrying out contracts for the company. What unfolds over the next 12-13 hours is what we've come to expect in the franchise: Go here, kill these guys, then learn allies are foes and foes are allies. Rinse and repeat.
This is not to say Sledgehammer has not created a technically sound backdrop for this meandering and familiar play to take place. Shooting is still just as satisfying in Advanced Warfare as it's ever been, and the game is significantly sped up and made more aerial with the addition of "exo suit" abilities. Want to get over a flaming car? Just use your boost jump. Use a harpoon-looking grapple that shoots out of your wrist to scale buildings. A cloak ability renders you almost invisible with a "Predator"-like hazy silhouette, perfect for avoiding enemy patrols.
The problem is that not all of these abilities are always available. The game invents a mechanic to make only a few available at any given time (two different types of suits) and the mission design constricts the way you play. While there are some stand-out stealth moments in Advanced Warfare, none of them come close to the "All Ghillied Up" mission in the original Modern Warfare. Sledgehammer continues to hold your hand throughout, giving you tons of toys to play with but only narrow windows in which to bring them out of the box.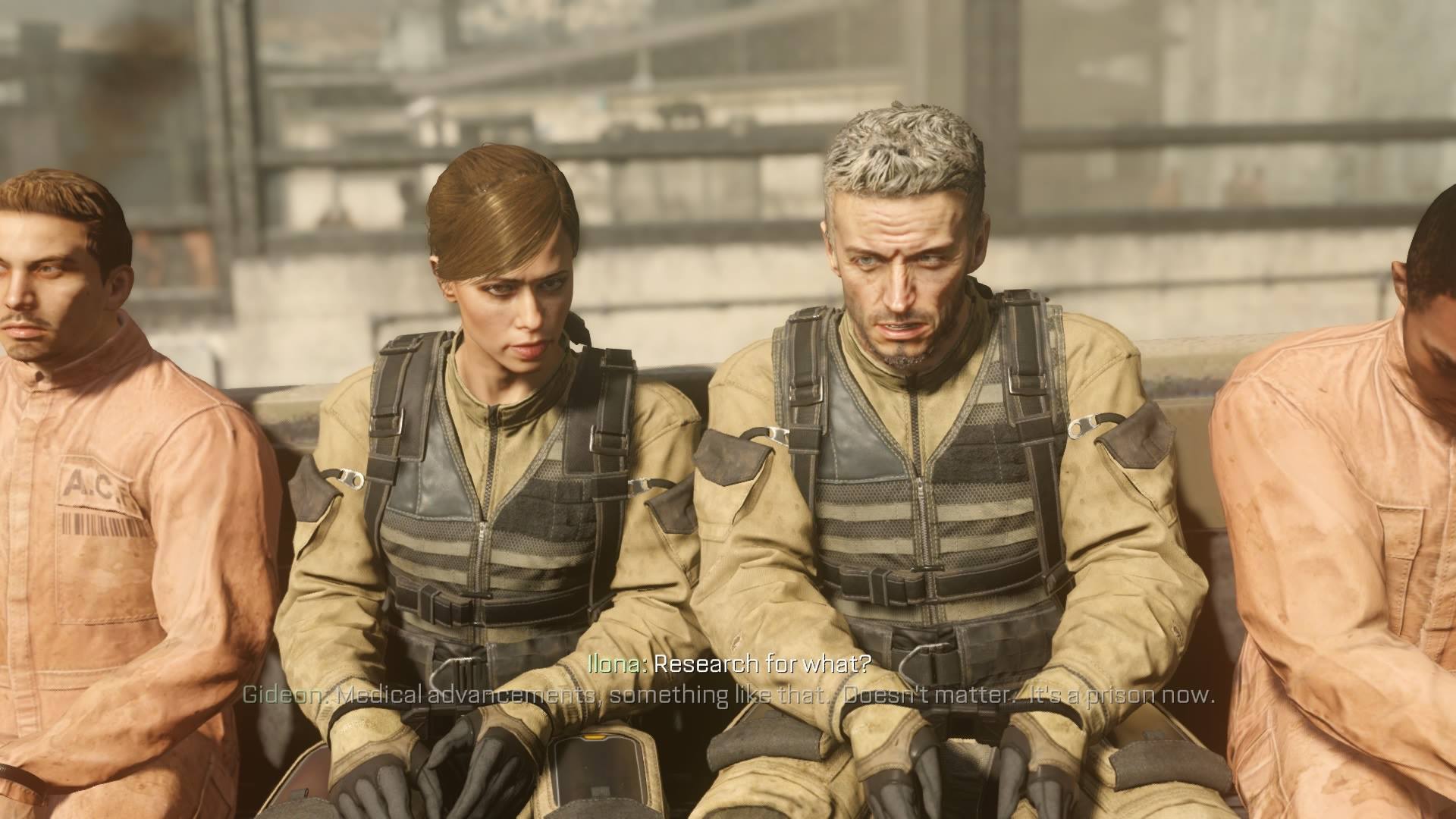 Hmm. It's almost as if Sledgehammer included this sequence as a metaphor for how they tie your hands in gameplay.
That criticism does not hold for Advanced Warfare's multiplayer suite, arguably the reason most Call of Duty fans continue to buy the latest game in the franchise every year. Back are favorite game modes like traditional Team Deathmatch, Kill Confirmed and Domination, each with the particular twists of the exo suits subtly changing how you will play. Advanced Warfare feels much faster than its predecessors, and the customization options are opened up by allowing players to pick which exo suit abilities they want in their loadouts. However, the game also feels familiar enough online that franchise veterans will feel right at home, and if you hate the exo suits there are playlists that disable their abilities as well as the classic "hardcore" game modes with limited heads-up display and friendly fire damage.
Call of Duty franchise fans will get more of what they crave in this newest installment of the now-annual blockbuster series. But don't expect it to carry the lofty weight of the promise in its title.
Verdict: 3/5 stars
---
---